Music
Here are the nominees for the 2016 Boston Music Awards
Pop stars Meghan Trainor and JoJo are among the artists up for awards.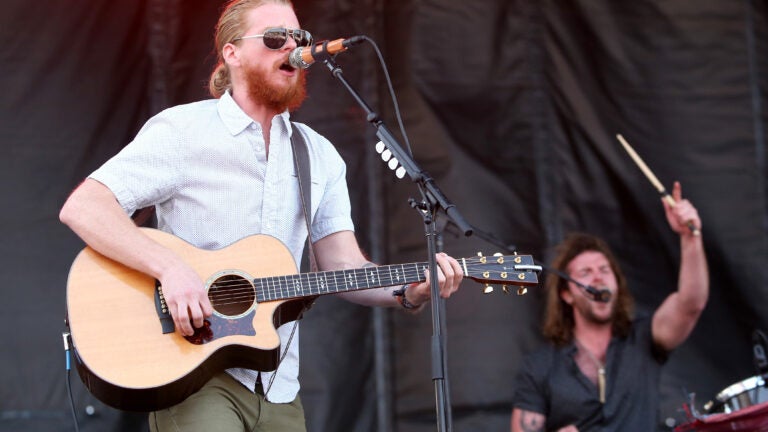 The nominations for the 2016 Boston Music Awards were announced Friday morning, with nationally recognized artists like Nantucket's Meghan Trainor and Foxborough's JoJo competing alongside local favorites like Bearstronaut and Michael Christmas.
Founded in 1987, the BMAs showcase the best musicians in Massachusetts across multiple genres, as well as producers, engineers, music blogs, venues, and other integral parts of the Boston music scene. Voting for the awards is open to the public, and can be accessed through the BMA website.
Tickets are available for the December 8 awards show ceremony at the House of Blues, where more than 10 of the nominees will perform. For those who want to wait and see who will appear before buying a ticket, expect a lineup announcement on October 10.
Here's the full list of 2016 nominees:

Artist of the Year
Cousin Stizz
Marissa Nadler
Michael Christmas
Palehound
PVRIS
The Ballroom Thieves

Album/EP of the Year
Bearstronaut, "Telecoast"
Cousin Stizz, "Monda"
Julie Rhodes, "Bound to Meet the Devil"
Reks, "The Greatest X"
The Hotelier, "Goodness"
Worshipper, "Shadow Hymns"

Song of the Year
Air Traffic Controller, "On the Wire"
Contact, "Never Stop"
Cousin Stizz, "Where I Came From"
Marissa Nadler, "Janie in Love"
PVRIS, "You And I"
Speedy Ortiz, "Death Note"

New Artist of the Year
Animal Flag
Julie Rhodes
Lady Pills
Salem Wolves
Token
Weakened Friends
Live Artist of the Year
Cousin Stizz
The Ballroom Thieves
The Devil's Twins
Tigerman WOAH
Walter Sickert & The Army of Broken Toys
Worshipper

Rock/Indie Artist of the Year
Black Beach
Palehound
Pile
Speedy Ortiz
The Devil's Twins
Vundabar

Hip-Hop Artist of the Year
Cousin Stizz
Dutch ReBelle
Michael Christmas
REKS
Slaine
STL GLD

Pop Artist of the Year
Clinton Sparks
Contact
JoJo
Meghan Trainor
PVRIS
Rachel Platten

R&B Artist of the Year
Bad Rabbits
Barrence Whitfield & The Savages
Jesse Dee
Marcela Cruz
Nancia
Shea Rose

Americana Artist of the Year
Honeysuckle
Julie Rhodes
Session Americana
The Ballroom Thieves
These Wild Plains
Tigerman WOAH
Blues Artist of the Year
Barrence Whitfield & The Savages
Matthew Stubbs & the Antiguas
Peter Parcek
Shor'ty Billups
The Silks
Willie J. Laws Band

DJ/Producer of the Year
DJ Knife
DJ Slipwax
Frank White
Joe Bermudez
Kon
Leah V

Electronic Artist of the Year
Bearstronaut
CMB
Contact
Freezepop
Party Bois
Radclyffe Hall

Folk Artist of the Year
Dan Blakeslee
Darlingside
Honeysuckle
Tall Heights
The Ballroom Thieves
The Novel Ideas

International Artist of the Year
Debo Band
Dub Apocalypse
Rebecca Zama
Roberto Morbioli
Shun Ng
Ubuntu Band

Jazz Artist of the Year
Alison Keslow
Amanda Carr
Esperanza Spalding
Grace Kelly
La Vie en Rose
Yoko Miwa

Metal Artist of the Year
Converge
GOZU
I Am Become Death
Protean Collective
Revocation
Worshipper

Punk/Hardcore Artist of the Year
Actor|Observer
Ascend/Descend
Choke Up
Rebuilder
Somos
The Hotelier

Singer-Songwriter of the Year
Abbie Barrett
Lori McKenna
Marissa Nadler
Nate Leavitt
Ruby Rose Fox
Will Dailey

Female Vocalist of the Year
Abbie Barrett
Casey Sullivan (Air Traffic Controller)
Julie Rhodes
Lyndsey Gunnulfsen (PVRIS)
Ruby Rose Fox
Sadie Dupuis (Speedy Ortiz)

Male Vocalist of the Year
Chris Cote
Dietrich Strause
Evan Kenney
Louie Bello
Walter Sickert
Will Dailey

Studio Producer of the Year
Benny Grotto
Brian Charles
Dave Brophy
Ed Valauskas
Sean McLaughlin
The Arcitype (Janos Fulop)

Live Production Engineer of the Year (New Category)
Benjamin Stoppelman
Brendon Downey
Chris Johnson
Dan Gonzales
David Hughes
Reid Calkin

Video of the Year
Air Traffic Controller, "The House"
Kyle Bent, "Supplier"
Palehound, "Molly"
PVRIS, "You and I"
Ruby Rose Fox, "Dance of Frankenstein"
Slaine, "Pusher"

Best Music Night
Corrosion at Brighton Music Hall
Emo Night at The Sinclair
Fresh Produce at Good Life
Heroes at Middle East
Soulelujah at ZuZu
The Workout KBX at Laugh Boston

Best Live Music Venue
Brighton Music Hall
House of Blues
Paradise Rock Club
Royale
The Middle East Downstairs
The Sinclair

Best Live Intimate Music Venue (new category)
Club Passim
Great Scott
Lizard Lounge
O'Brien's Pub
ONCE Ballroom
TOAD

Best Live Ongoing Residency
Baker Thomas Band at TOAD
Dennis Brennan at the Lizard Lounge
OldJack's Last Saturdays at the Lizard Lounge
The Blue Ribbons at TOAD
The White Owls at TOAD
Tim Gearan at Atwood's

Session Musician of the Year (New Category)
Dave Brophy
Duke Levine
Jonathan Ulman
Lyle Brewer
Matthew Girard
Paul Ahlstrand

Best Music Blog
Allston Pudding
Boston Hassle
Guestlisted with Jed Gottlieb
Killer Boom Box
Red Line Roots
Vanyaland

Best Promoter
Aaron Gray, Grayskull Booking
Alyssa Spector, Lysten Boston
Jason Trefts, Illegally Blind
Lisa Finelli, Xperience Creative
Randi Millman, Atwood's Tavern
Ryan Agate, RTT Presents

Best Live Music Photographer
Ben Stas
Coleman Rogers
Eddy Leiva
Johnny Anguish
Joshua Pickering
Rich Gastwirt