Music
Boston Pops combining new twists with Christmas tradition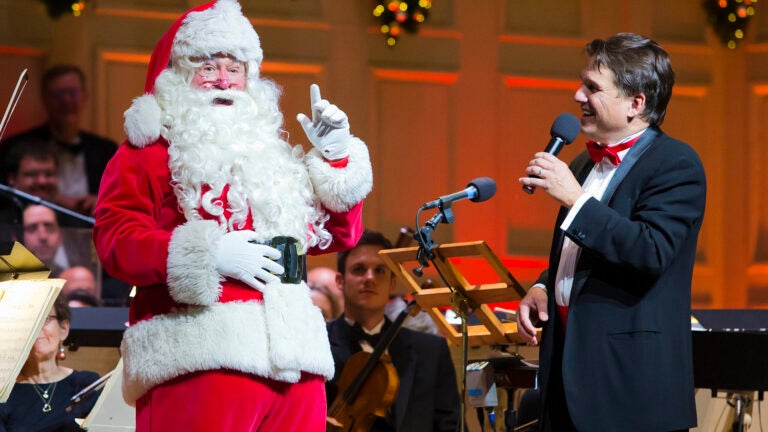 BOSTON (AP) — The Holiday Pops, a New England Christmas tradition, kicks off this week with a variety of offerings featuring old favorites with some new twists.
The Boston Pops and the Tanglewood Festival Chorus, under the direction of conductor Keith Lockhart, open the 2016 Holiday Pops season on Wednesday at Boston's Symphony Hall, the first of 44 shows in a month.
"It's grueling for everybody, and a very intense period of time, but it's very exciting," Lockhart said. "This is what we love to do."
The 43rd annual program features two new arrangements, including David Chase's Home for the Holidays medley including "I'll be Home for Christmas," and a Mark Cumberland's angel-themed medley that includes "Angels We Have Heard on High," and "Hark! The Herald Angels Sing."
"The real strength of this every year is the stuff that we commission, that nobody else has," Lockhart said. "That way it always stays fresh but with enough tradition to please everyone."
The "A Company Christmas at Pops" fundraiser is in its 33rd year. To date, it's raised nearly $1.2 million for the BSO's Education and Community Engagement programs. Special guests for the concert include Broadway and TV star Megan Hilty and Gov. Charlie Baker narrating "Twas the Night Before Christmas" with the orchestra.
The 2016 season also features seven matinee shows for children at which Santa Claus will appear.
"I have people come to me and say their parents took them to the Holiday Pops when they were 10 years old, and now they are bringing their 10 year old children," Lockhart said.
Fans won't have to visit Boston to enjoy the show. Lockhart will take the Boston Pops Esplanade Orchestra on the road for performances in Storrs, Connecticut; Manchester, New Hampshire; as well as Worcester and Lowell, Massachusetts.
The thrills continue even after Christmas with three performances of the entire score from the 1985 time-traveling movie "Back to the Future," with conductor Constantine Kitsopoulos (Lockhart finally gets some time off) in conjunction with screenings of the film starring Michael J. Fox and Christopher Lloyd.
Ticket holders will even have the opportunity to win a ride in a DeLorean refurbished to look exactly like the car from the movie. The car will be on public display outside Symphony Hall for the weekend of the concerts.
The 2016 season wraps up with a New Year's Eve concert by the Boston Pops Swing Orchestra, featuring bandleader Bo Winiker and "America's Got Talent" winner Landau Eugene Murphy Jr.
___
This story has been corrected to delete references to shows in Providence, Rhode Island, and Portland, Maine, that were inadvertently included on the BSO's press release.