Music
Natalie Portman won't be at Boston Calling this year after all
The Harvard alum's 'film experience' is being replaced by a comedy showcase headlined by Hannibal Buress.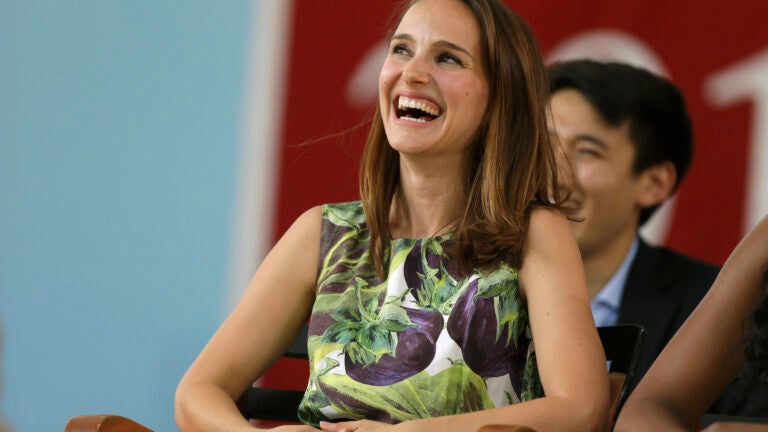 Boston Calling is swapping film for funny.
Organizers for the music festival announced Wednesday that 13 comedians will join the 45 musical acts at Boston Calling this spring for a "comedy experience," replacing the previously announced "film experience" curated by Natalie Portman due to scheduling conflicts for artists involved in the showcase.
According to a statement from Boston Calling, Portman plans to reschedule for a future edition of the festival.
The comedy showcase will be headlined and hosted by Hannibal Buress, best known for his numerous Comedy Central and Netflix standup specials and his roles on Broad City and The Eric Andre Show.
Buress also gained notoriety as the comedian who catalyzed the firestorm of accusations surrounding Bill Cosby. After jokes Buress made in 2014 about Cosby previously being accused of rape went viral, numerous women came forward shortly afterward to accuse Cosby of sexual assault.
"I'm excited to take a break from my construction business to bring my unbridled energy to the Boston Calling festival," Buress said in a statement. "When Boston calls, I send it to voicemail 3 times and then text it at 3am., 'You up?'"
Other comedians set to perform include Lexington natives Pete Holmes (The Pete Holmes Show, HBO's Crashing) and Eugene Mirman (Bob's Burgers, Delocated), and Tig Notaro (In A World…).
Though you must have a ticket to Boston Calling to see the comedy showcase, single-day and three-day passes are currently still available on the festival's website.
Here's the full lineup for all three days of the Comedy Experience.
Friday, May 26, 2017
Pete Holmes
Eugene Mirman
Lamont Price
Kelly MacFarland
Saturday, May 27, 2017
Hannibal Buress
Phoebe Robinson
Jordan Rock
Bethany Van Delft
Sunday, May 28, 2017
Tig Notaro
Kate Berlant and John Early
Josh Johnson
Nick Chambers