Music
15 can't-miss concerts in Boston this May
From Boston Calling to Porchfest, Rosanne Cash to Wale.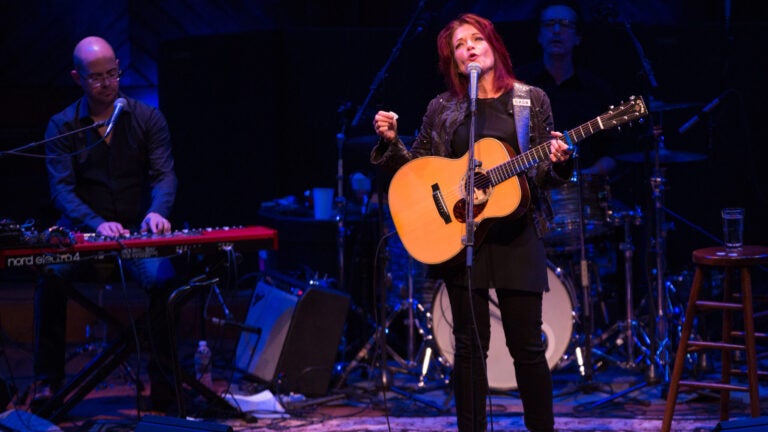 A reinvented local festival and a huge bill of country music royalty are just two great music events hitting Boston in May.
Spring festivals
Deep Shred Fest
Local promoters Deep Shred will pack six bands into the tight confines of Middle East Upstairs for the inaugural version of this festival, welcoming sets from groups including Math the Band, Nice Guys, and Halfsour. The event will also act as an album release party for New York's Tall Juan. (Thursday, May 4 at 8 p.m.; Middle East Upstairs; $10; 18+; with Math the Band, Nice Guys, Tall Juan, Halfsour, Salty Greyhound, Puppy Problems; tickets available here)
Porchfest
Each year, for one day only, residents of Somerville open up their porches, yards, driveways, and stoops to bands and audiences. This year's citywide, not-for-profit event will feature a range of genres, from rock and folk to show tunes and Grateful Dead covers. (Saturday, May 13 from noon to 6 p.m.; various houses; free; all ages; info available here) Editor's note: The author of this article is performing at the festival.
Together Festival
Returning for the eighth year, Together will bring some of the best in electronic music to a number of venues around Boston and Cambridge. This year's lineup includes Simian Mobile Disco, Com Truise, Princess Nokia, Octo Octa, and many more. (Sunday, May 14 at 8 p.m. through Sunday, May 21 at 8 p.m.; various venues; various prices; ages vary; info available here)
Boston Calling
Boston's multi-day, multi-stage, outdoor music festival returns after a break this past fall. Along with a new location and a comedy showcase curated by Hannibal Buress, this spring's festival will feature sets from Chance the Rapper, Tool, The xx, Bon Iver, and more. (Friday, May 26 through Sunday, May 28; Harvard Athletic Fields; $269 for a weekend pass; all ages; tickets available here)
Up from Brooklyn
Real Estate
Jangly rock collective Real Estate recently released its fourth full-length album, In Mind, the quintet's first with a brand-new lineup. The band will swing by The Sinclair in support of the new record, along with fellow Brooklynites Frankie Cosmos. (Friday, May 5 at 6 p.m.; The Sinclair; $20; 18+; with Frankie Cosmos; tickets available here)
Landlady
The quirky New Yorkers in Landlady are returning to Boston to play the newly opened Sonia, and they're equipped with a zany new album, The World Is a Loud Place. The quintet, led by Boston-bred Adam Schatz, will be joined by popular locals ABADABAD and Kid Mountain. (Thursday, May 11 at 6:30 p.m.; Sonia; $12; all ages; with ABADABAD, Kid Mountain; tickets available here)
Nick Hakim
Berklee-bred soulful songwriter Nick Hakim is returning to town to headline his biggest Boston show yet. The singer has already found success with his viral single "Bet She Looks Like You," and this show will act as a preview for the release of his debut full-length, Green Twins, due out May 19. (Saturday, May 13 at 8 p.m.; Brighton Music Hall; $13; 18+; tickets available here)
Told Slant
Cerebral indie popper Felix Walworth, who performs under the name Told Slant, takes semi-frequent trips up to Boston, but each time they do, they accumulate a greater following. They will lead a loaded all-ages bill that also includes Hello Shark and Anna McClellan. (Monday, May 15 at 7 p.m.; Middle East Upstairs; $10; all ages; with Hello Shark, Anna McClellan; tickets available here)
Hip-hop heavy hitters
Ab-Soul
West Coast lyricist Ab-Soul may not have the name recognition of label-mates like Kendrick Lamar and Schoolboy Q, but his rhymes pack a similar punch. The rapper will make a stop at Middle East Downstairs as a part of his The YMF Tour. (Monday, May 8 at 7 p.m.; Middle East Downstairs; $25; all ages; with Little Simz; tickets available here)
Wale
D.C. hip-hop star Wale will release his sixth album, Shine, in early May, despite the fact that singles from the record such as "My PYT" and "Running Back" have already found major success. To celebrate the release, the rapper will stop in Boston to headline a huge show at House of Blues. (Saturday, May 27 at 7 p.m.; House of Blues; $27.50-$45; all ages; tickets available here)
Acoustic melodies
Rosanne Cash
The Memphis-based songwriter from one of country music's great families will team up with fellow legends Mary Chapin Carpenter and Jerry Douglas to lead a massive Southern-charged bill at one of Boston's oldest concert halls. (Wednesday, May 3 at 7:30 p.m.; Orpheum Theatre; $33.50-$127; all ages; with Mary Chapin Carpenter, Jerry Douglas, Karen Matheson, The Milk Carton Kids, Aoife O'Donovan, Declan O'Rourke, and John Paul White; tickets available here)
Laura Marling
British songwriter Laura Marling is only 27, but has already released six studio albums, the latest of which, Semper Femina, came out in March to critical acclaim. The singer will appear at The Paradise amidst her U.S. tour. (Tuesday, May 16 at 7 p.m.; Paradise Rock Club; $25; 18+; with Valley Queen; tickets available here)
Punk royalty
Pixies
The local legends are back with their sixth album, Head Carrier. It's the band's second record after a lineup change and a recording hiatus of more than 20 years, and the group will play a rare string of shows at House of Blues and The Paradise. (Saturday, May 20 at 7 p.m. at House of Blues and Sunday, May 21 at 7 p.m. at Paradise Rock Club; $55-65; all ages; with Cymbals Eat Guitars; tickets available here)
Black Lips
Georgia punk vets The Black Lips are back with a Sean Lennon-produced new album, Satan's Graffiti or God's Art?, due out May 5. Touring behind the record, the band will play the modestly-sized Brighton Music Hall. (Monday, May 8 at 7 p.m.; Brighton Music Hall; $18; 18+; with Surfbort; tickets available here)
Wavves
San Diego surf-punk crew Wavves has amassed a devoted following in less than 10 years, releasing six albums, launching a record label called Ghost Ramp, and appearing on Adult Swim and MTV shows. The band will play Brighton Music Hall with the help of Post Animal, featuring the actor who plays Steve on Stranger Things. (Wednesday, May 15 at 7:30 p.m.; Brighton Music Hall; $20; all ages; with Post Animal; tickets available here)