Arts
Long before Boston Calling, there was the Amandla Festival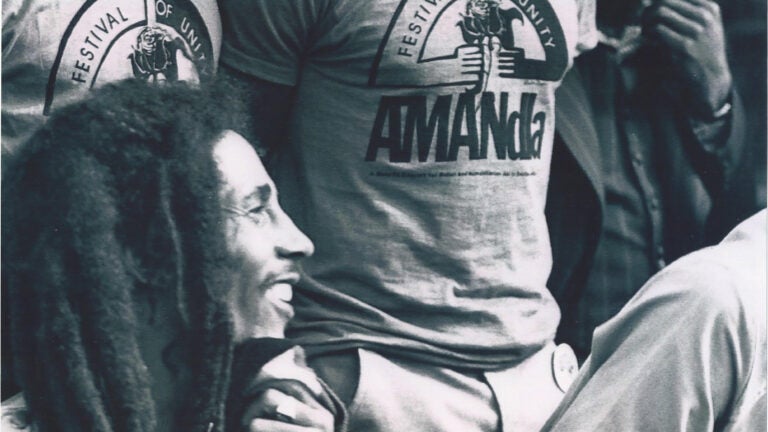 This weekend, a brand-new edition of the Boston Calling Music Festival will launch in Lower Allston. Organizers have swapped the concrete of City Hall Plaza for the grass and open space of the Harvard Athletic Fields.
It will be a special treat to see bands play within the athletic complex—a show of this magnitude hasn't taken place there in decades. Still, it wasn't too long ago that it was one of the premier summer music venues in Boston.
In the early '70s, Harvard Stadium played host to Shaeffer Brewing Company's Summerthing music series, featuring performances from Van Morrison, Grateful Dead, Miles Davis, and others. The stadium was even the site of Janis Joplin's final live show in August of 1970.
However, one of the most powerful performances to ever fill the venue was the Amandla Festival on July 21, 1979.
Amandla was headlined by Bob Marley and the Wailers and featured sets from Patti LaBelle, pianist Eddie Palmieri, and drummer Babatunde Olatunji, plus words from comedian Dick Gregory.
Amandla's name was derived from the South-African Zulu language and means "power," "strength," and "energy."
Boston in 1979 was in need of all three of these things. Amidst the heat of Boston's busing crisis, racial and community tensions were thicker than ever.
"It was the time of busing, and we decided we wanted to act local and think global," said Janine Fay, now 71, who was one of the festival organizers and is now a Somerville-based retired real estate agent and educator. "So it was a benefit to raise consciousness both about what was going on in Southern Africa and Apartheid, and what was going on in South Boston."
Fay, along with Reebee Garofalo, Janet Axelrod, Shelley Neill, Felipe Noguera, George Pillsbury, and Kazi Toure, formed a collective to produce Amandla. Fay and Garofalo met in 1978, and the full team came together based on their mutual work at Haymarket People's Fund, a local organization founded by Pillsbury that raises money for different grassroots social justice groups.
These producers wanted a headlining act with a big name, one that appealed to many different groups of people, and that had an important message. They decided that, together, they were going to get Bob Marley to come to Boston and play the show.
The first obstacle was finding a venue.
"There was also a major divestment campaign going on at Harvard, and we thought we could use that to our advantage to help get the stadium," said Garofalo, now 72 and working as an author and professor at UMass Boston.
Fay recalled that Harvard would only be convinced if the organizers brought in someone with a track record of promoting music. They contacted Chester English, who owned a supper club in the South End called Lulu White's. It was English who not only got Harvard on board, but went the literal extra mile to convince Marley to sign on.
"We were talking to people in Jamaica about Bob coming up, and Chester just got on a plane and went down there and played soccer with him," Fay said.
English camped out near the reggae icon's house and, by sharing the mission of the concert, enlisted Marley and the Wailers. According to Fay, the band didn't even require advance payment.
One of the ways in which Fay and Garofalo said that they and their coworkers adhered to the mission of the festival was to train their own "People's Security" and keep all paid municipal law enforcement off of concert grounds.
"We drew people from every neighborhood in Boston to do this," Garofalo said. "These people trained together for about six months."
This training included learning South African current events, the workings of crowd control, and even the basics of martial arts. 
Introduced by an impassioned Dick Gregory, Bob Marley and the Wailers tore through a set in front of 15,000 that included hits such as "Get Up, Stand Up," "No Woman, No Cry," and "Exodus."
Between songs, Marley shared brief political sentiments, which was rare for the artist during live performances.
"If Africa don't feel free, no one will be free," Marley told the crowd before the encore of "Zimbabwe." 
According to a Boston Globe review of the show, the event raised more than $100,000 for humanitarian aid in Southern Africa. 
Some critics commented on the irony of the event itself, The Harvard Crimson's J. Wyatt Emmerich writing, "Bob Marley, the king of reggae, singing 'You Belly Full, But We Hungry' before thousands of Bostonians who were able to fork-out 10 to 12 bucks for the ticket. Add to this, Harvard's Soldier Field Stadium. This is the same place thousands of graying, pudgy Harvard and Yale alumni sit each year in racoon coats drinking Johnny Walker Red, restraining their sphincter muscles and occasionally letting out quiet moans of excitement as they relive their repressed and dignified college days."
Others, such as the Globe's Steve Morse, spoke to the success of attracting an audience from all over.
"The 'people's' tone of the festival was reflected by the relaxed, communal makeup of the audience," he wrote. "Many also hailed from Third World countries."
In the same Globe article, showgoer Barbara Synhorst summed up the event by saying, "This was truly a festival of unity."
Not since that summer day in 1979 has there been a music event inside Harvard Stadium with a superstar as big as Bob Marley, but it wasn't due to any lack of success by Amandla.
"What we wanted to do was bring people physically together, and have the music join us together and move us ahead," Fay said. "People [at the festival] talked and spoke to what were were trying to raise consciousness about."
This month, as the Harvard fields have been prepared to host 45 bands, the topic of race has once again appeared in local headlines. From acts of discrimination at Fenway Park to the critical remarks of a Saturday Night Live writer, Boston's complicated relationship with race continues.
"Boston is still very racially stratified," Fay said.
Boston's busing crisis carried well into the '80s; Amandla provided a small opportunity to unify and create a dialogue on the local level. Garofalo said that he doesn't believe that music or an event like Amandla can solve issues of race, but that they can energize people to do more.
"Music can help fuel a movement," he said.