Music
15 can't-miss concerts in Boston this June
From Paul Simon to Kendrick Lamar, Liz Phair to Frank Turner.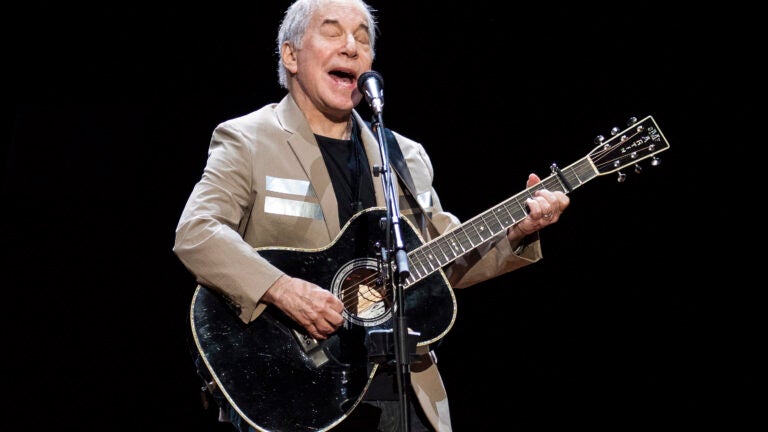 or an essential guide to the city, sign up for How to Boston, Boston.com's weekly culture and lifestyle newsletter.
Some of hip-hop's hottest names will play one bill as labelmates. We'll see the final Boston show of a songwriting legend. Those are just a few of the music events hitting Boston in June.
Folk heroes
Bonnie Prince Billy
When he's not behind the camera snapping photos or featuring in films on the other end of the camera, everything-man Will Oldham is performing his thought-provoking folk under the moniker Bonnie Prince Billy. Having put out more than 20 studio albums over the past 20 years, the artist will make his way to The Wilbur, along with equally prolific songwriter Six Organs of Admittance. (Saturday, June 9 at 8 p.m.; The Wilbur Theatre, Boston; $25-$35; all ages; with Six Organs of Admittance; tickets available here)
Lucinda Williams, Steve Earle, Dwight Yoakam
Three acoustic stalwarts are joining forces for one big tour this summer. Southern blues singer Lucinda Williams, grizzly folk picker Steve Earle, and Kentucky country crooner Dwight Yoakam will headline the LSD tour, which will make a stop at Blue Hills Bank Pavilion, along with LA alt-country newcomers King Leg. (Tuesday, June 12 at 6:30 p.m.; Blue Hills Bank Pavilion, Boston; $29-$99; all ages; with King Leg; tickets available here)
John Prine
One of folk's and country's most celebrated acoustic pickers, John Prine released his 24th album, "The Tree of Forgiveness," this spring, and is hitting the road to bring it to the live stage. The legendary songwriter will play the Boch Center Wang Theatre, joined by Boston's own Peter Wolf. (Friday, June 15 at 8 p.m.; Boch Center Wang Theatre, Boston; $63.75; all ages; with Peter Wolf; tickets available here)
Paul Simon
Veteran New York songwriter Paul Simon has had an illustrious career, both as half of Simon and Garfunkel and in his eclectic solo pursuits. One of the iconic voices of his generation, Simon is making his farewell trek around the world, bringing more than five decades' worth of material to Boston one last time. (Friday, June 15 at 7 p.m.; TD Garden, Boston; $120-$170; all ages; tickets available here)
Hip-hop heavy hitters
Top Dawg Entertainment: The Championship Tour
A handful of hip-hop labelmates are touring the States as a family affair, and it just so happens that some of the names are current hip-hop royalty. Kendrick Lamar tops a bill that will also feature 2018 Grammy favorite SZA, LA lyricist Schoolboy Q, label CEO Jay Rock, and more. (Tuesday, June 5 at 7:30 p.m.; Xfinity Center, Mansfield; $39-$209; all ages; with Kendrick Lamar, SZA, Schoolboy Q, Jay Rock, Ab-Soul, SiR, Lance Skiiiwalker; tickets available here)
Joyner Lucas
Worcester's own Joyner Lucas made waves this past fall with his thought-provoking video for "I'm Not Racist." Given the surge of popularity, the local lyricist is hopping straight to the big stage to headline House of Blues as part of his I'm Kind of A Big Deal Tour. (Tuesday, June 7 at 7 p.m.; House of Blues, Boston; $22.50-$35; with Eli; tickets available here)
Logic
Maryland-bred mixtape king Logic has had a big 2018, riding the success of last year's album "Everybody" while also putting out another mixtape, "Bobby Tarantino II." Bridging the two works, the rapper will appear at Xfinity Center as part of his Bobby Tarantino vs. Everybody Tour, along with Michigan hip-hopper NF and West Coast up-and-comer Kyle. (Friday, June 8 at 7 p.m.; Xfinity Center, Mansfield; $25-$99; all ages; with NF, Kyle; tickets available here)
The '90s live on
Liz Phair
This year marks the 25th birthday of Liz Phair's beloved debut album, "Exile in Guyville." To celebrate the occasion, the Chicago rocker is releasing a special box set that includes remastered audio of her early demos, known as the "Girly-Sound" tapes. She will play The Sinclair, along with New York bedroom popper Soccer Mommy. (Wednesday, June 8 at 7 p.m.; The Sinclair, Cambridge; $35; 18+; with Soccer Mommy; tickets available here)
Hot Snakes
West Coast post-hardcore heroes Hot Snakes have recently found their way back to the touring circuit after reforming in 2010. With the recent release of their first album in 14 years, the band will play Brighton Music Hall, along with Boston's own Vundabar and Chicago punks Meat Wave. (Friday, June 8 at 8 p.m.; Brighton Music Hall, Boston; $26; 18+; with Vundabar, Meat Wave; tickets available here)
Stephen Malkmus & The Jicks
Pavement frontman Stephen Malkmus has continued to evolve his buzzy sound long after his original band's split. His latest record with backing band The Jicks, entitled "Sparkle Hard," will have him touring through The Sinclair with Portland post-punks Lithics. (Tuesday, June 12 at 7 p.m.; The Sinclair, Cambridge; $25; 18+; with Lithics; tickets available here)
Psychedelic sounds
King Gizzard & the Lizard Wizard
Prolific Australian rockers King Gizzard and the Lizard Wizard have released a whopping 13 studio albums since 2012, including five in 2017 alone. The seven-man collective has plenty to choose from in its vast catalog when it performs, and will appear at Royale to do just that, along with fellow Aussies Amyl and the Sniffers. (Thursday, June 14 at 8 p.m.; Royale, Boston; $30; 18+; with Amyl and the Sniffers; tickets available here)
Washed Out
Over the course of his three studio records, Georgia-based producer Washed Out has woven through electronic styles from chillwave to synth-pop to more ambient styles. Touring behind 2017's "Mister Mellow," he'll bring his psychedelic live show to The Paradise. (Saturday, June 16 at 8 p.m.; Paradise Rock Club, Boston; $25; 18+; tickets available here)
Grab bag
Ledisi
New Orleans soul star Ledisi has had a productive 18 years of releasing solo music, putting out eight albums, racking up Grammy nominations, and performing at the White House seven times. Stitching together elements of jazz, soul, and gospel, Ledisi will play The Wilbur in support of last year's "Let Love Rule." (Monday, June 4 at 8 p.m.; The Wilbur, Boston; $35-$125; all ages; tickets available here)
Frank Turner and The Sleeping Souls
Frank Turner may hail from an ocean away, but over the years, the British songwriter has carved out a home away from home for himself here in Boston. Upon the release of his seventh studio album, "Be More Kind," the punk-turned-folkateer is doing a six-show residency at Royale, featuring an impressive selection of different openers each night. (Tuesday, June 26 at 6:30 p.m., Wednesday, June 27 at 6:30 p.m.; Friday, June 29 at 7:30 p.m., Saturday, June 30 at 7:30 p.m., Sunday, July 1 at 6:30 p.m., Monday, July 2 at 6:30 p.m.; Royale, Boston; 18+; $35; with Speedy Ortiz, The Homeless Gospel Choir on June 26, Jeff Rosenstock, Restorations on June 27, Tim Barry on June 29, Dave Hause & The Mermaid on June 30, The Hotelier, War on Women on July 1, and Kevin Devine & The Goddamn Band, Trapper Schoepp on July 2; tickets available here)
Umphrey's McGee
Chicago jam vets Umphrey's McGee have the versatility to journey from funk to metal to electronic to psych-rock all within a single set. Known for shredding guitar solos and playful covers, the band will bring the party to House of Blues, along with Carolina alt-rockers Big Something. (Friday, June 29 at 6 p.m.; House of Blues, Boston; $35-$55; all ages; with Big Something; tickets available here)
https://www.youtube.com/watch?v=rgKqEqlel8c