Music
Berklee alum Charlie Puth returned to the school for a private show
The performer gave words of encouragement to the assembled students in between songs.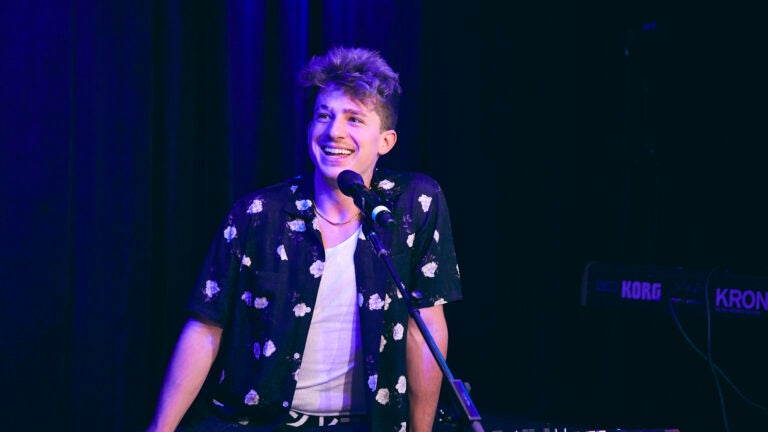 Almost a decade after he first attended Berklee College of Music for a five-week summer program as a high schooler, singer-songwriter Charlie Puth returned to campus Thursday night with music streaming giant Spotify for an intimate performance in support of his new album, "Voicenotes." Puth, the pop singer behind hits like "See You Again," "We Don't Talk Anymore," and "Attention," graduated from the music college in 2013.
Following a short workshop for Berklee students alongside Grammy-nominated songwriter (and Puth's former teacher) Kara DioGuardi, Puth played a five-song set at the school's Cafe 939 for a select group of students and high schoolers attending summer programs at the music college.
"Cafe 939 is the first place I ever did a show at," Puth told the audience. "Last night, I performed in front of 15,000 people in Toronto, and now I'm back here. It's come full circle."
Puth's five-song set included his new single, "The Way I Am," and concluded with a performance of "See You Again" featuring members of a Berklee choral group in support.
In 2017, the music video for "See You Again" became the most-viewed video of all time on YouTube, passing the music video for fellow former Berklee student Psy's "Gangnam Style." While "See You Again" currently has more than 3.6 billion views, it is now the second-most-viewed video of all time, behind the music video for Luis Fonsi's "Despacito," which has more than 5.3 billion views.
Puth made sure to give words of encouragement to the assembled students before he left the stage.
"You guys are all brilliant," Puth said. "It took me 10 years to get here, and you can do it too. It's just about persistence, but enjoy Berklee while you're at it!"