Music
Where to see your favorite local band play as your favorite band this month
Some of Boston's best bands are dressing up, too — as Dolly Parton and Johnny Cash to Pearl Jam and Oasis.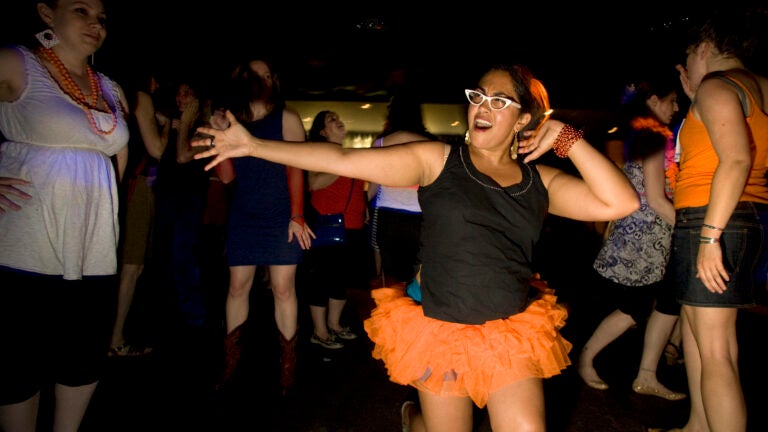 As Halloween season approaches, Boston bands will once again dust off costumes of their own for a longstanding local tradition. Your neighborhood rock venue is likely to host shows that will allow bands to ditch their own material for the night and perform the catalog of an artist of their choice. 
This year's crop of costume shows includes classic rockers like The Beatles, Johnny Cash, and Roy Orbison, local legends like The Cars and Pixies, and more modern sensations like St. Vincent, Michelle Branch, and Good Charlotte. Start coordinating your costume, and plan your Halloweek around some rock 'n' roll. 
Halloween Cover Show at O'Brien's 
Hosting its first of three Halloween celebrations this season, the Allston bar shines a light on a few different generations of punk. O'Brien's regulars Great Lakes USA and hard rock power-trio OK DOK will combine to play short-lived but long-remembered ska-punk heroes Operation Ivy, Matthew Spence, formerly of western Massachusetts punks The Stereo State will do an acoustic take on Chicago legends Alkaline Trio, indie rock quartet Depressors takes on Jenny Lewis-led LA rockers Rilo Kiley, North Shore skate punks Couch Sex try their hand at prolific West Coast fuzz rockers Fidlar, and Evan and pals, a supergroup of Allston punks, will come together to play the hits of power pop quartet The Exploding Hearts. (Friday, Oct. 25 at 7 p.m.; O'Brien's, Boston; $8; 21+; tickets available here) 
No Theme Halloween at Lizard Lounge
Soulsters Old Jack will host some special guests as part of their longstanding Last Saturday residency at Lizard Lounge. While the collective will be playing its own tunes, they will be joined by power pop quartet The Lights Out taking on Boston new wavers The Cars, rock orchestra The Boston Ill Harmonic dressing up as The Beatles, fuzz pop quartet Scamper playing a set of tunes from New York alt-rockers Nada Surf, and The Rationales vocalist David Mirabella kicking things off as gentle British folkateer Nick Drake. (Saturday, Oct. 26 at 9 p.m.; Lizard Lounge, Cambridge; $10; 21+; tickets available here) 
Halloween at State Park
Kendall Square watering hole State Park will get a little haunted for the holiday, hosting psychedelic strummers Lady Pills teaming up with gazey slowcore rockers Horse Jumper of Love to take on '80s Minneapolis buzz rockers The Replacements, melody makers The Way Way's covering Idaho indie heroes Built to Spill, and Mikey Holland of power pop collective The Dazies performing tunes by the recently deceased songwriting legend Daniel Johnston. (Sunday, Oct. 27 at 10 p.m.; State Park, Cambridge; free; 21+; more information here) 
Disposable America Halloween at Great Scott
Local record label Disposable America takes to Great Scott to host a handful of its labelmates in costume. Gazey trio Horse Jumper of Love will play '90s Britpop superstars Oasis, twee-punk rockers Lilith will don tattoos as pop-punk brother duo Good Charlotte, Roslindale power-poppers Me in Capris are trading for ripped jeans to play a set as Pearl Jam, and jangly harmonizers Pushflowers will open the night paying homage to hitmaking songwriter Michelle Branch. (Monday, Oct. 28 at 8 p.m.; Great Scott, Boston; $10; 18+; tickets available here) 
Halloween at Charlie's Kitchen
Charlie's Kitchen in Harvard Square gets in the Halloween spirit with punk quartet Rebuilder dressing up as Swedish post-punk revivalists The Hives, riff rock power trio Zip-Tie Handcuffs trying their hand at Memphis garage rock legend Jay Reatard, Lady Pills returns for a second night to take on local heroes Pixies, and will pull double-duty by teaming up with indie three-piece Pet Fox to perform selections from the "Tony Hawk's Pro Skater" soundtrack. (Monday, Oct. 28 at 8 p.m.; Charlie's Kitchen, Cambridge; $5; 21+; tickets available at the door; more information here)   
Devil's Night Out at O'Brien's 
Night two at O'Brien's will be a mashup of musicians trying their hand at some iconic hard rockers. Local supergroup tribute Babes of Mutilation will play a set as Boston indie legends Pixies, Fury Things will keep with the Bay State theme providing a set as Western Massachusetts noisemakers Dinosaur Jr., garage punk trio The Knock-Ups will tear through the hits of Courtney Love buzz rockers Hole, a collaboration of members of Happy Little Clouds, PowerSlut, SEA and more will play in a group dubbed Queers of the Stoned Age and will play the hits of SoCal alt-rockers Queens of the Stone Age, and Lowell glam punks Corner Soul will hit the stage as Motor City luminaries The Stooges. (Wednesday, Oct. 30 at 8 p.m.; O'Brien's, Boston; $10; 18+; tickets available here) 
Halloween Night at O'Brien's
Halloween night at O'Brien's will see bands playing music that spans five decades. Allston basement punks Nice Guys will reprise their role as jolty new wave heroes Devo for another year, members of halfsour, Horse Girl, and The Urinelles will join forces to rock out as "The Adventures of Pete and Pete" house band Polaris, fuzzy collective Love Strangers will play 2000's New York rock revivalists The Strokes, Connecticut-based post-punks Hellrazor will dig into the catalog of '90s alt-rock shredders Hum, and members of alt-folk crew Puppy Problems and garagey noise rockers Black Beach team up to tackle emo-folk heroes Bright Eyes. (Thursday, Oct. 31 at 8 p.m.; O'Brien's, Boston; $8; 21+; tickets available here) 
A Very Girls Rock Campaign Boston Halloween at ONCE Ballroom
ONCE Somerville hosts a very special cover show from Girls Rock Campaign Boston, a local non-profit that empowers girls, transgender youth, and gender non-conforming youth collaborate through music and performance. This year's Halloween event features a costume contest, raffle, and special sets from GRCB bands doing Julee Cruise, Dolly Parton, The Go Go's, Siouxsie and the Banshees, St. Vincent, Johnny Cash, Yeah Yeah Yeahs, Queens of the Stone Age, Pixies, Joan Jett, and Green Day. (Thursday, Oct. 31 at 8 p.m.; ONCE Ballroom, Somerville; $10; all ages; tickets available here) 
Halloween at the Lilypad
Inman Square's Lilypad will host some of Boston's finest covering a wide range of musical styles. Ethereal vintage poppers Littlefoot will deliver the hits of golden-voiced balladeer Roy Orbison, bedroom rocker Gia Greene will take on British trip-hop pioneers Portishead, psych-rockers New Aura and Kremlin Bats will team up as Now Y2K performing hits of the new millennium, and members of The Swettes and The Mothballs will combine forces to pay tribute to Los Angeles blues punks The Gun Club. (Friday, Nov. 1 at 9 p.m.; Lilypad, Cambridge; $10; all ages; tickets available at the door; more information here) 
Stand Back! Tribute Night at the Foundation Room
The House of Blues Foundation Room houses two locals paying tribute to two champions of the '70s and '80s. Soulful rockers John Powhida International Airport will don purple to span the catalog of Prince, and will be joined by a supergroup themselves Stevie Chicks featuring members of Weakened Friends, Jenny Dee & The Deelinquents, Set Fire, the Andrea Gillis Band, Magen Tracy & The Missed Connections, Gene Dante and The Future Starlets, and Sidewalk Driver who will tackle the vast canon of Stevie Nicks. (Friday, Nov. 1 at 8:30 p.m.; House of Blues Foundation Room, Boston; $15-$20; 21+; tickets available here)