Music
Boston.com's Bruce Springsteen experts react to his new album—and they want to hear from you
Bruce Springsteen's 20th studio album, "Letter To You," was released Oct. 23.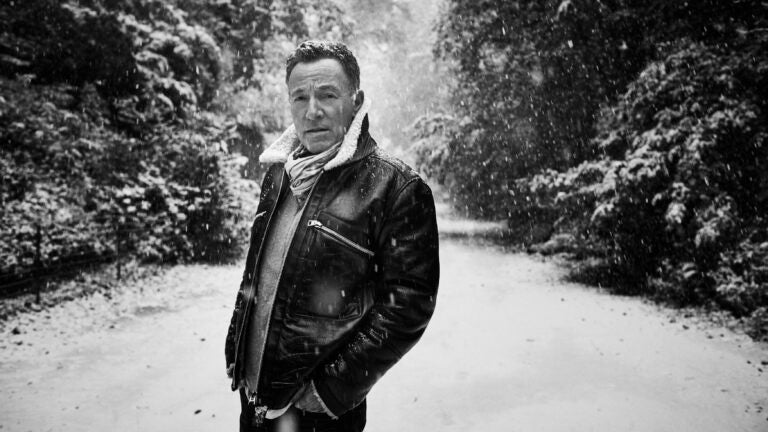 Bruce Springsteen — the veteran rocker who made a splash in Boston recently when he delivered the convocation speech at his son's alma mater, Boston College, and tore up Fenway Park with the Dropkick Murphys — announced recently that his new album with the E Street Band, "Letter To You," would be released Oct. 23. The news was well received here at Boston.com, particularly among three staffers who've followed the Boss's career for years. 
General assignment editor Pete Chianca has been administrator of the Springsteen news blog Blogness on the Edge of Town since 2007; night editor Rami Abou-Sabe is a New Jersey native and freelance music writer who once ran into Springsteen on the way to the men's room at Rolling Stone; and staff writer Christopher Gavin is the rare non-Jersey millennial who's also a literal lifelong Bruce fan, having been raised by his father to appreciate all things Springsteen.
To mark the new release, the three of us listened to the album together (virtually, of course) and recorded our reactions in real time. Below you'll find our unadulterated initial responses to all 12 tracks as we first heard them on "Letter To You," which — after Springsteen's detours to the Great White Way for "Springsteen on Broadway" and to the front of an orchestra for 2019's "Western Stars" — has proven to be a real return to E Street glory.
Meanwhile, we also want to know what you think — scroll down and let us know in the poll at the bottom of the story.
One Minute You're Here
Springsteen kicks off the album with a "big black train coming down the track" on this subdued meditation on loss and life's ephemeral nature.
Pete: So much for a rousing rock 'n' roll start.
Rami: Acoustic Bruce, instantly makes me feel better about that awful Pats game Sunday.
"Autumn carnival on the edge of town; we walk down the midway arm-in-arm … One minute you're here, next minute you're gone."
Chris: This feels like an extension of "The Last Carnival" [from 2009's "Working on a Dream"]. I want to say that ended with a train?
Pete: We should drink whenever he mentions a carnival or a train.
Chris: Waterfall throughout any accordion solo.
Pete: "The edge of town" gets a mention!
Chris: Waiting on the county line lyric.
Rami: Hah, beat me to it, Chris.
Pete: So, a nice start — feels like he's easing us into an album that's going to be about loss.
Rami: His voice sounds distinctly older too.
Chris: To indulge myself I just looked up the lyrics from "The Last Carnival," the song he wrote after [E Street Band member] Danny Federici's passing. The second-to-last verse has this part about the train moving on:
"We'll be riding the train without you tonight
The train that keeps on moving its black smoke scorching the evening sky
A millions stars shining above us like every soul living and dead
Has been gathered together by a God to sing a hymn over your bones"
The stars line comes back here too.
Pete: Yep, feels like he's picking up where that left off. 
Rami: I wonder if there will be more references like that, interesting choice.
Letter To You
The album's first single has Springsteen summing up his life's work on a track with a classic E Street sound.
Chris: Ahh, back to the main single.
Rami: There's your rock 'n' roll, Pete!
"Things I found out through hard times and good, I wrote 'em all out in ink and blood. Dug deep in my soul and signed my name true, and sent it in my letter to you."
Chris: Now, Pete, I think you convinced me with what you said a few weeks ago about Bruce speaking to his audience here. But with so much reflection on death, I feel like he could be talking to someone who isn't here anymore too.
Pete: If this and [the second pre-release single] "Ghosts" are any indication, he's speaking both to his audience and to folks who've passed on.
Chris: There's something about that E Street piano … The Professor [Roy Bittan]!
Pete: You're right, that's an E Street sound if we've ever heard one.
Rami: Hammond B3 organ! (I think.)
Chris: I still love a good organ in modern music … critically underrated.
Pete: I'd argue Roy is really the through-line when it comes to the Springsteen sound — he was there through the "other band" years too, so there's that consistency.
Chris: Yes, absolutely.
Rami: I get the feeling that Bruce's time on Broadway had a pretty big impact on his songwriting. There's something very theatrical about his delivery, unlike past records.
Pete: It felt like he had started building toward that with some of the stuff on [2012's] "Wrecking Ball," and really honed it on Broadway.
Chris: To add to Rami's point, I think this song encapsulates Bruce's recent turning over of his relationship with his audience. His look back in the Broadway show and through his autobiography have made clear he's been considering his legacy considerably lately, although as any Bruce fan will tell you, he has always been extremely image-conscious.
Pete: That ongoing "conversation" with his audience he always talks about has become less metaphorical, more direct.
Chris: "Letter to You" could have very well been the bookends to the Broadway show.
Rami: As an aside — my one complaint about the "Springsteen sound" on "Letter to You" is that it lacks some of the higher bell tones that I think really brighten up some of his more pop songs. I wonder if we'll hear that at all.
Chris: A hard agree, Rami. I think that's why I didn't love it as much as I wanted to. It's that drop off in the chorus.
Pete: I thought I heard rumblings about the use of glockenspiel on this record — the suspense is killing me.
Burnin' Train
The album's first true rocker features a classic Springsteen character "on fire" for a mystery woman, and on another train.
Chris: Organ! And glockenspiel!
Rami: And a bell! This feels even more Springsteen-y. I love it. 
"We were out over the border, I washed you in holy water; we whispered our black prayers and rose up in flames …"
Pete: Biblical imagery, drink!
Rami: Either of you know who's singing those harmonies?
Pete: I'd guess Stevie [Van Zandt] — it sounds like Bruce, but no overdubs on this, right?
Rami: That's what I read, yeah.
"Take me on your burnin' train … Something shiny in the light 'neath your breast, the thick smell with you on my chest …"
Pete: Hmm … I'm starting to think the "Burnin' Train" is an analogy for her Pink Cadillac, if you get my drift.
Chris: For anyone who doesn't consider Bruce a guitar god, I have to say, he has a signature solo sound. It's a very piercing, Telecaster overdrive.
Rami: Oof, and the way the full band drives him into the end of those solos … that's what keeps me coming back. Such a tight group. The glock hit on the one after the solo just makes you smile waiting for a sax solo to pick it up.
Pete: You're right, where was Jake [Clemons, Clarence's nephew and the current E Street saxophonist]? But that was some tight rock 'n' roll right there.
Chris: Really enjoyed the energy in this one.
Rami: Cool tune, can't wait to see how it translates live. Whenever that happens.
Chris: Could see this one being a part of the opening medley, maybe second or third without stops, whenever live shows come back.
Janey Needs a Shooter
One of three songs on the album that Springsteen wrote in the '70s but never officially released, and featuring the obtuse Dylanesque lyrics that Bruce favored at the start of his career, this one was the loose inspiration for the late Warren Zevon's 1980 track "Jeannie Needs a Shooter."
Chris: Been waiting for this one.
Pete: Our first "old" song.
Chris: The diehards can finally rejoice.
Rami: Haha.
Chris: Already getting hints of the '77/'78 era. Could fit in easily anywhere with "Darkness on the Edge of Town" or "Tracks." 
Rami: Wonder what Zevon would think of this?
Pete: Poor Zevon … I'm only vaguely familiar with the bootlegs of the unreleased tracks Bruce recorded for this album, but this is a great arrangement.
Chris: Harmonica! Man, this should have been on "Darkness."
Rami: Best thing so far on the record for me.
Chris: Correct.
Rami: Probably not a coincidence that it's from a bygone era.
Pete: He doesn't sound old on this one! That sounds like old Bruce. Er, by which I mean young Bruce.
Chris: This is pretty lengthy too for Bruce. Anything over five minutes is pretty indulgent for him. But I'm not complaining.
Pete: This is starting to have a TWTIATESS [1973's "The Wild, The Innocent and the E Street Shuffle"] feel. Worst acronym ever, BTW.
Rami: That did not feel like an almost seven-minute song.
Chris: I'm interested in how this will fit into the larger album. I don't think it's just coincidental Bruce dusted these off now. (Putting [2014's outtakes collection] "High Hopes" in a box for now.)
Pete: You can keep it there.
Chris: Hahaha.
Pete: "Janey" was better than anything on "High Hopes" IMO.
Chris: This is correct, although I do love the Tom Morello "Ghost of Tom Joad."
Rami: My initial reaction to new music is always a bit more positive than my take on it a few months later, but that might be my favorite thing he's put on record in a long, long time.
Chris: I would have to agree with that. I love Bruce. But the last album of his that I really loved was [2007's] "Magic."
Pete: Looking forward to diving deeper into this track on future listens — I still can't tell you exactly what it was about. But it moved me! I'm a big "Wrecking Ball" fan, but "Magic" was probably his last real rock record.
Chris: I remember when "Radio Nowhere" [the first single released from "Magic"] came out, my dad played it for me on the computer. He turned to me with a smile and said, "You can tell Bruce is really going to rock this one." He was right.
Rami: What, you guys aren't big fans of "Working on a Dream" and the greatest Bruce song ever, "Surprise Surprise"?
Pete: Er, I actually kind of liked that one. It was bouncy.
Chris: I'll take "Queen of the Supermarket," leave the rest.
Pete: I think my favorite on WOAD was [Bruce's paean to longtime married couples] "Kingdom of Days," because I am old.
Last Man Standing
Springsteen recounts his earliest band-member memories on this unashamedly nostalgic track.
Chris: This one we know will be about The Castiles — Bruce is the last man standing among his high school band.
"Snake-skin vest and a shark-skin suit, Cuban heels on your boots. Kick in the band and side by side, you take the crowd on their mystery ride … Knights of Columbus and the Fireman's Ball, Friday night at the Union Hall; the black-leather clubs all along Route 9. You count the names of the missing as you count off time."
Rami: That's a guitar tone we don't hear often. Good call.
Chris: Was just thinking that. Some references to the early gigs in there. Route 9, you know, the one Bruce tore out of town on in "Born to Run." 
Pete: Billy Joel's "Keeping the Faith" also referenced Cuban heels, FWIW. Again, I am old.
Rami: Every once in a while his lyrics really make me feel the Jersey roots in my blood, and that verse just did it.
Pete: There's the sax!
Chris: Hmm, hearing the sax as he says "last man standing" can't help but feel like a tip of the hat to the Big Man [Clarence Clemons] too.
Pete: It's a darn pretty song, and you can tell the nostalgia is well-earned.
Rami: Max [Weinburg, the ESB drummer] sounded great on that song.
Pete: I'm not sure if that was an instant classic but it certainly fits well into the theme.
Chris: Something I was thinking about at large with all of this is how Bruce's modern songwriting — that directness you mentioned, Pete — is so clearly from his world now. He doesn't need the characters he used to lean on in his early days. He has his voice, wiser, grown up.
Pete: This last track was basically lifted directly from his memoir.
Rami: He has his own stories now and doesn't need to communicate through the lens of those characters you mentioned, Chris.
Chris: I also want to outright reject the notion going around that this could be Bruce's last salute. I think this man will go until he dies on stage.
Pete: He'll be on a stool like B.B. King when he's 88.
Chris: Thinking of that Ben Stiller bit.
Rami: Touring? Yes. I'm not convinced we'll see another full band record though.
The Power of Prayer
A piano intro that sounds straight out of '70s AM radio kicks off a track that mixes religion and romance in classic Springsteen fashion.
Pete: I just thought of Styx for some reason.
Rami: I … don't have a good feeling about this.
"Summer nights, summer's in the air; I stack the tables with the chairs. It's closing time and you're standing there … Baby, that's the power of prayer."
Chris: [A] lot of imagery from "Magic" on here — summer scenes, closing down a bar perhaps.
Pete: "I'll Work For Your Love," Part II.
Rami: I am pleasantly surprised so far. Not thrilled with the chorus, but the verses and bridge were pretty cool.
Chris: I really liked that one. Feels a bit of a filler song. Bruce was once famously known for his lack of album filler — he's let that slip in his older years. But also a sign of his confidence that's matured.
Pete: Thinking he could have given that one to Bob Seger.
Rami: Hah, yeah, doesn't quite feel like it fits the rest of the record so far.
Pete: I think Rami's right about the chorus — it's kind of treacly.
Rami: I will say, the music itself was top-notch.
Chris: Musically, it hit a lot of the E Street notes.
Rami: Once the sax kicked in.
Pete: If history serves I'll love it by tomorrow.
House of a Thousand Guitars
Bruce extols the healing power of live music in maybe the most piano-heavy song ever written with the word "guitars" in the title.
Chris: Lots of delicate intros on this album.
Rami: That's NOT how I expected this song to start. Feels like an A/B with the last tune, just the intros at least.
"The blood moon shines across the vale; bells ring out through churches and jails. I tally my wounds and count the scars, here in the house of a thousand guitars …"
Chris: Churches and jails!
Pete: We're in "Jungleland" territory.
Chris: Gimme the Magic Rat for 500! Beyond the themes of loss and death, there is a lot of secondary focus on music on this record. From bands to gigs on down to the instruments themselves.
Rami: The whole thing feels very much like a reflection of his career, like you said earlier about the legacy focus.
Pete: This is a musician's record, seems to me … lots of it aimed at people who've ever been in a band, successful or not.
Chris: Pete, you're definitely right about this. I'm thinking of my high school band's gigs listening to Bruce. I would love to see Bruce and the band play a Jersey Knights of Columbus to kick off the next tour.
Rami: Don't get me excited, Chris! 
Pete: That song was nothing like I expected.
Rami: Nothing like I expected either, but I could see that being a big extended live tune. I think it will grow on me.
Chris: I can hear a lot of "la, la, la's" from the crowd.
Rami: Weird comparison, but this album feels a little like the Bond movie "Skyfall." The band's back together again and tons of old references, nostalgia, and some new pieces to keep it modern.
Chris: We are living in the age of sequels and revivals.
Rainmaker
In this swampy shouter, Springsteen weaves a tale of desperate people who put their faith in a con man who takes them for all they've got.
Chris: I think "Rainmaker" is the one Rolling Stone pegged as a Trump response, but a vague one.
Pete: Written pre-Trump but appropriate to current times — like "My City of Ruins" for 9/11.
Chris: Good context.
"Rainmaker, a little faith for hire, Rainmaker, the house is on fire; Rainmaker take everything you have. Sometimes folks need to believe in something so bad, so bad, so bad, they'll hire a rainmaker …"
Rami: Surprises me this wasn't more of Trump response, to be honest.
Chris: Hearing "Ghost of Tom Joad" lyrics. "Unloading buckshot into low clouds" — an old Bruce line if there ever was one.
Rami: What is his vocal delivery reminding me of here?
Chris: Kinda reminds me of "The Rising" sound.
Rami: Yeah, I can definitely hear that.
Chris: That slide guitar, that's key to it — assuming that's Nils [Lofgren]. I think this is a solid one. I like his tenor here.
Pete: Interesting that the one "political" song doesn't rail against the powers that be so much as try to explain why people might be inclined to believe in those powers, as sketchy as they might be … Not an angry song so much as resigned. And empathetic, typical of Bruce.
Chris: I think that Bruce has always been extremely effective at providing perspective as a writer. "41 Shots" is the prime example … plus anything off of "Nebraska."
Rami: I enjoyed that one, not overly political but still gets the message across.
If I Was the Priest
The second "old" song on the album leans even more heavily into Dylan-worthy imagery and Bob's raucous mid-'60s sound.
Pete: I probably listened to the bootleg recording of this once or twice a long time ago.
"'Cause there's just too many outlaws trying to work the same line … Well sweet Virgin Mary runs the Holy Grail saloon, for a nickel she'll give you whiskey and a personally blessed balloon …"
Rami: "Outlaws."
Pete: "Personally blessed balloon" is so Dylan.
Chris: Early-Bruce's thesaurus style coming in strong.
Rami: This is good listening music — summer backyard barbecues.
Chris: That piano lick is very Dylan. Getting "Blonde on Blonde" vibes. "One of Us Must Know…"
Pete: The bootleg is very sparse, right? Loving this arrangement.
Rami: This is another one that feels informed by his Broadway experience.
Chris: Oh God, the Dylan coming in hot here.
Rami: Hahahaha.
Pete: Feels like a whole world wrapped up in there — he really brings it to life. And yes, Bobby is hovering over the proceedings.
Chris: Is that Robbie Robertson in the back? Haha, just kidding.
Rami: Oh no! Don't cut that solo short!
Chris: That was so good.
Pete: You know there's five more minutes of that solo somewhere.
Chris: Probably my favorite so far.
Rami: Tied with "Janey" for me I think.
Chris: Yeah, we can guess why. But no artist should be held to their past like that.
Pete: He had the advantage of being able to sit on these older songs for 40 years and then filter them through his experience since. Plus bring a wider musical palette to the table. Also he wrote them before he started taking antidepressants. So there's that.
Rami: Dave Matthews Band, who I think get compared to E Street for many different reasons, did something similar on their last record and fans ate it up. Three older songs that fans had been clamoring for mixed into the new stuff. I think it helps the diehards keep up, but I wonder what impact it has on the artistic integrity/vision. And it's something an artist like Dylan would never do.
Chris: Dylan has not coddled his audience as much as Bruce. Probably the wrong word to use here, but Bob don't give a damn like the Boss does. He also had a masterful record this year of his own.
Pete: Dylan has said he thinks it's weird people want to sing along with him, which is why he changes the arrangements in concert — to throw people off. So it's not exactly a crowd-pleaser type of situation. And yes, that's a great record.
Ghosts 
The album's second single, another track about lost bandmates and the joy and redemption that comes from playing live music, is a propulsive rocker that fans predict could open the next Springsteen tour, if there is one.
Chris: The side B single, so to speak.
"I hear the sound of your guitar, coming in from the mystic far … The stone and the gravel in your voice, come in my dreams and I rejoice …"
Pete: Where is "the mystic far," exactly?
Chris: I do love the guitars on this track. That's got to be Stevie's 12-string going into his Vox.
Pete: This is the best Patti [Scialfa] track so far, I think.
Chris: This feels like the coda to "Last Man Standing."
Pete: I was just going to say that! Feels like it covers the same ground but in a more compelling way (IMO).
Chris: Again, that 12-string chime, coming in with that '60s Byrds tone. A musical nod to his musical past.
Rami: Those big harmonies are great.
Pete: Patti and Stevie both shining on this one.
Chris: I think here, Bruce has that same theme, but the chorus allows his audience to come in with him. I can see a lot of people singing along with this … We've lost so many people this year, but there's something about honoring those who've moved on while still being grateful for being on this earth. "Ain't no sin to be glad you're alive." This is definitely all-house-lights-on part of the setlist.
Rami: Yup, with the subtle claps in there, too … Mighty Max really hammering it home.
Pete: Sax gets a bit of a short shrift here.
Rami: Short shift, but maybe the best sax tone on the record so far. That first lick was vintage Big Man.
Chris: I still miss him.
Song for Orphans
Bruce goes Full Bob on the final "old" track, appropriately reminiscent of Dylan's "My Back Pages."
Pete: Back in Dylan country.
Chris: "Blonde on Blonde!" Either that or The Wallflowers. Sorry Jakob.
Rami: Dylan country = somewhere between Nebraska and the edge of town.
Chris: Oh man, this is so solidly Dylan. Where are the lowlands where the sad eyed lady lives? Something I think that's often overlooked is just how influential The Band was on musicians of Bruce's age — they even rubbed off on the Beatles at the end.
Rami: Levon [Helm] is my favorite musician of all time. So, yes. I agree.
Pete: Definitely. Also, Chris, how old are you again?
Chris: Hehe, 26.
Pete: Very impressive, young Padawan.
Chris: I didn't have a lot of friends in high school, lol. When the teacher defends you for wearing a Bruce t-shirt, people pretty much hate you.
Pete: So "Priest" was reminiscent of Dylan, but this one is basically shameless.
Chris: This is just robbery. Dylan should be proud.
Pete: Dylan has stolen a thing or two.
Chris: Another one that is going to take a few listens to crack.
Rami: Three six-plus-minute songs on the record. I have to go look at old track lists but that feels unusual to me.
Chris: I think he's opened up a few tracks like this in the last decade … could be wrong.
Pete: "Outlaw Pete" was … Let me check my notes … 97 minutes long.
I'll See You In My Dreams
A plainly sentimental shout-out to lost friends, Springsteen celebrates their lives and his own continued existence in a melancholy but at the same time rousing closing track.
Chris: I think we're back on the train.
Rami: My first thought was "Long and Winding Road."
Pete: There's that Bruce solo sound.
Chris: Yep. Hint of twang.
Pete: Charlie Giordano doing yeoman's work on the organ here also.
"I'll see you in my dreams, we'll meet and live and laugh again; I'll see you in my dreams, yeah up around the river bend. For death is not the end, and I'll see you in my dreams."
Chris: I think beyond the bandmates he's lost, Bruce must look around and see his contemporaries disappearing too. Petty, Prine, Van Halen even.
Rami: This one feels more personal, like the opening … Damn, should have looked at the length. Bummed it ended so soon.
Pete: A beautiful ending, I think — sad and vulnerable. And I don't think you have to be a septuagenarian to relate.
Chris: I don't think there is a Bruce album that has so closely tied its beginning with its end.
Rami: With the exception of one or two moments, the whole thing feels more cohesive than the last few records. There was definitely a vision that was followed.
Chris: He came up in the album era for sure, so tracklist and record sides accounted for a lot of decision-making. But these tracks are clearly linked.
Pete: I've always said Bruce's best records are "about" something — escape, acceptance, redemption, robber barons, etc. — and this one definitely fits that bill.
Chris: There's loss here. We've heard Bruce talk about loss before. Love, jobs, houses, families. But death? That's not usually in the Springsteen canon.
Pete: "The Rising" dealt with sudden loss, but this is more about the cycle of life and how we learn to live with it and face it every day — and like you said, Chris, how "it ain't no sin to be glad you're alive," even as others have passed.
Chris: There's a quiet faith here too. The imagery and mention of prayer, priests, even. Plus the line "death is not the end." His Catholic roots are deep and strong.
Rami: In that sense, it's also the first time I've heard him write so vulnerably about his own legacy. We said before that he's always been conscious of it, but I don't think he's been this blatant about it before.
Pete: Hopefully he's not too worried — I'd say his legacy is secure.
Rami: It doesn't sound like he's worried, more like he's enjoying it! Aware of who he is, the band's historical place in the industry.
Chris: I also think about songs like "The River" or "My Hometown" that are so clearly from his experience or through his family, but he always finds a character to obscure his connection to it. This time it's personal.
Pete: There's your tagline: "Bruce Springsteen's 'Letter To You': This Time It's Personal!"
Chris: What is more direct than a letter?
Get Boston.com's browser alerts:
Enable breaking news notifications straight to your internet browser.