Music
We asked readers for their best Boston concert ever — and there was a clear winner
"Boston never felt more Irish than that night."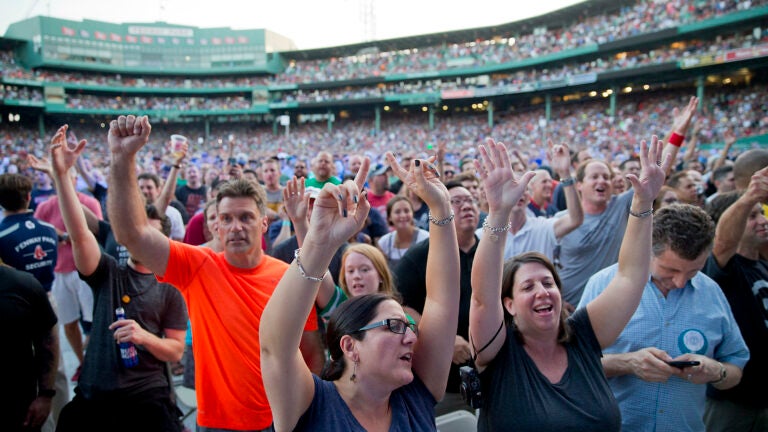 We knew when we asked Boston.com readers to name their best-ever Boston-area concert that we'd get some interesting, varied — and possibly kind of loopy — responses. What we didn't know was whether there would be a clear winner for the best concert in the city's modern history.
But believe it or not, it turns out there was in fact one single show that stood out among the rest. And by a wide margin too.
But first, some statistics: More than 300 people responded to our poll, naming more than 150 different artists and upwards of 75 venues (although several involved different names for the same place, owing to Boston's impossible-to-follow, ever-changing concert scene). And the responses mentioned well over 200 individual shows, ranging from a 1960 performance of Joan Baez at Club 47 (later Club Passim) in Harvard Square, to a fans-only Garth Brooks show at Six String Grill & Stage in Patriot Place this past February, just before the pandemic put the kibosh on live music.
But what about that top show? Our question was prompted by a re-release of U2's "Live in Boston" featuring a full Fleet Center show from 2001, so it's only appropriate that Bono and company should take the title. But it wasn't that concert, but rather the legendary Irish band's March 17, 1992 St. Patrick's Day stop at the old Boston Garden that got the nod, with 10 separate respondents citing it as their top show ever.
Part of the band's Zoo TV tour in support of 1991's "Achtung Baby," the setlist featured most of that now-classic disc, along with early favorites like "Bad," rarities like "Van Diemen's Land," and a cover of Lou Reed's "Satellite of Love." Here's what some Boston.com readers remembered about the night:
"Most Irish band in the most Irish city in the U.S. on the most Irish day."
"U2. Boston. Old Garden. St Patrick's Day. Fans were out of their heads. Banners, signs, and NO CELL PHONES!" — Dean, Waltham
"Watching U2 live at the Garden on St. Patrick's Day was an unbelievable experience — the atmosphere was electric. Boston never felt more Irish than that night." — Jennifer, Swampscott
"St. Patrick's Day + U2 + The Old Boston Garden … How is that NOT a great experience? 18,000 people inside, 100,000 outside in the streets looking for tickets. Had front row of the secondary stage (which was a ways back from the main stage). But for 4 or 5 songs, we were feet away. Edge shook my hand after 'Angel of Harlem.' Great experience!"
No other single show came close, although Pearl Jam's April 1994 stint at the old Garden got five shout-outs, with their September 2018 Fenway Park stop getting four. And Bruce Springsteen managed four mentions for his shows in the shadow of the Green Monster in August 2012, with three for his September 2003 Fenway appearance, the first-ever concert there.
Most-mentioned artists
In terms of most-mentioned artists overall, 17 acts got four or more votes in our poll, and there were some clear favorites who would seem to indicate most of our respondents may have been Of A Certain Age. (We know who we are.) Check them out in the chart below, keeping in mind that more than 100 artists that got three votes or fewer didn't make the cut — those included acts as diverse as Andrea Bocelli, Ariana Grande, Beyoncé and Jay-Z, Buddy Guy, Chance the Rapper, Fugazi, Human Sexual Response, Julianna Hatfield, New Kids on the Block, Pat Benatar, Paul McCartney, Sonny & Cher, and 'Til Tuesday, which sounds like the lineup for the craziest Coachella ever.
There were even three folks who got to list The Beatles, two at the Garden in 1964 and one at Suffolk Downs in 1966; three who pointed to the famous July 1972 Rolling Stones show when Boston Mayor Kevin White had to get the boys out of jail in Providence; one who checked out James Brown at The Channel in 1987; and three who were lucky enough to see Jimi Hendrix in 1968, one at the Garden and two at the Carousel Theater in Framingham. Excuse me while I kiss the sky; in the meantime you can see the full list here.
Most-mentioned venues
You've probably noticed the Boston Garden — the original one, with its rickety rafters and bad sight lines — getting a lot of love here. In fact, it was by far the most-mentioned venue, with 67 of the shows mentioned taking place in its hallowed halls. (Its successor, TD Garden née Fleet Center, garnered a mere 25.) Also impressive is the second-place finish for Fenway Park, which has only been hosting concerts since 2003, and only during the summer when the Sox are away. (Although this past season they would have been more than welcome on game nights.) It still managed to host 44 of the shows mentioned.
Any venue that got at least four votes in our poll is represented in the chart below, although parsing out which were unique venues and which were just Avalon by another name, for instance, was kind of tricky. And there were plenty of less-mentioned sites past and present that didn't make the chart but are still worthy of note, like Agganis Arena, Cape Cod Coliseum, Great Scott, Middle East Downstairs, Jonathan Swift's, TT the Bears, Tsongas Arena and The Roxy. Check out the full list here.
If you're really eager to take a deep dive, you can see the full poll results as submitted here, warts and all. Meanwhile, keep watching those Internet livestreams, singing in the shower, and spinning your old copy of "Frampton Comes Alive." With a little luck — and hopefully a vaccine — live music will be back in our lives faster than you can count off to four (in your best Springsteen counting voice, of course).
Here are more comments from Boston.com readers about their favorite shows:
Joan Baez, Club 47, March 20, 1960. "That voice!" — Doris, Lincoln
The Beatles, Boston Garden, Oct. 12, 1964. "As a young high school student from Boston it was my first concert and the atmosphere was exhilarating. We had no idea what icons they would become." — Paula, Boston
Buddy Guy, Club 47, Jan. 10, 1967. "It was back in the heyday of the blues, and Buddy Guy — who Clapton calls the greatest blues guitarist ever — was in his prime. It was Buddy, and Jack Meyers on bass, and A.C. Reed on sax. About the finest of the Chicago bluesmen. He was like a controlled Hendrix — so smooth! Pickin' with his teeth, behind his back … He even climbed up on the piano, in the low-ceilinged little venue, and pinned the guitar up against the ceiling and was picking it with the same hand! He had an extra long cord, and walked out on the street (it was 10 degrees out in January!) while the bass player and drummer remained on stage, the sax man and trumpet player were behind each shoulder. Never forget it!" — Scott, Newton
Jimi Hendrix, Boston Garden, July 15, 1968. "I was in the U.S. Army stationed here before going overseas. I was on a first date w/ the girl who would be my girlfriend for the last five months of my Boston stay. It was also my first contact high from the marijuana wafting up from the floor. Hendrix was nothing less than astonishing." — Chris, back in Boston 50 years after posting
Led Zeppelin, Boston Tea Party, Jan. 4, 1969. "Just about when they released their first album. The Boston Tea Party was in a converted church and we were maybe 20 feet from Jimmy Page, John Bonham, Robert Plant and John Paul Jones — just on the left side of the stage. Talk about Dazed and Confused! That was a very big year – quite a way to start it off!" — Steve, Arlington
The Doors, Boston Arena at Northeastern University, April 10, 1970. "I'll never forget it. I was 19. The first show was at 7 and we had tickets to the 10 p.m. show which didn't start until after midnight because apparently Jim was busy getting inebriated. It wasn't the best quality show I was ever at but certainly the most memorable. Jim wouldn't leave the stage so they cut the power off. It was a lot of fun!" — Ed, South Shore
Crosby, Stills, Nash & Young, Boston Garden, May 29, 1970. "VIVID MEMORY: 25 days after four students were shot dead by the Ohio National Guard at Kent State. Midway through the concert Stephen Stills said, 'Our next song is a new one that Neil just finished writing, we've never played it for anyone before, you're the first one's to hear it, so here goes.' Even though no one had ever heard the song before, very quickly almost everyone knew exactly what it was about and by the end of the song 18,000 people were singing '4 dead in O-H-I-O.'" — John, Springfield
"The Rolling Stones, Boston Garden, July 19, 1972. "I was 16 years old and this was the night that two Stones were arrested at the Green Airport in Rhode Island. The concert was delayed for hours. Mayor White got them out of jail, arranged a police escort to Boston, and they went on just after midnight. The mayor kept the trains running so I was able to get back to Lowell around 4 a.m. Couldn't sleep. The band was on fire, as they were for the whole 1972 tour, but this night was special." — Jack, Orange
"Boz Scaggs, Fleetwood Mac, Eagles, Schaeffer Stadium, July 26, 1976. "Boz Scaggs really surprised me, but both Fleetwood Mac (at the time, 'Rumors' had just been released) and the Eagles (supporting 'On the Border') were at their early peaks, and it was a tremendous opportunity to see all of them together." — Bob, Palm Harbor, Fla.
Bob Marley, Harvard Stadium, July 21, 1979. "Bob Marley in his prime, outdoors on beautiful summer's day, at a classic stadium, with Dick Gregory and Patty Labelle, to celebrate the ongoing liberation of the people of Africa. See for yourself."
U2, Paradise Rock Club, March 6, 1981. "It was U2's second time through Boston and 'BCN had built the buzz around the concert. They were still figuring out the larger concerts and still had the raw pub band energy, which translated perfectly to the Paradise. Saw them later at the Orpheum and there was more show and a bit less grit (still pretty good concert but not quite as memorable as the first time). Never really felt the need to see them in a stadium setting." — Grant, Boston
Prince, Orpheum Theater, Jan. 18, 1982. "Prince was amazing; it was early in his career and he outdid himself. Not only was Prince prime — The Time opened off the show with so much emotion that Prince took it to the next level once he began. It was also most likely the loudest concert I ever attended."
English Beat, The Channel, Sept. 8, 1982. "I was just getting into ska. The English Beat had the whole place dancing. The Clash played The Orpheum the same night, and they were dancing in front of the stage with the rest of us."
Bob Dylan, Boston Opera House, Oct. 24, 1989. "The beginning of the great Dylan comeback, the 'Oh Mercy' tour. Spellbinding acoustic set including 'Boots of Spanish Leather' and 'Hattie Carroll.' Top notch backing band led by G.E. Smith. The master rediscovering his genius."
Nirvana, Axis, Sept. 23, 1991. "Saw Nirvana in a small club when one of greatest albums of all time, 'Nevermind,' came out in September 1991." — Nick, Lexington
Pearl Jam, Boston Garden, April 11, 1994. "Just days after Kurt Cobain's suicide when everything seemed to be coming apart, watching Pearl Jam leave everything on stage was beautifully life affirming." — Chris, A-Town
Oasis, Local 186 in Allston, Oct. 24, 1994. "After an unremarkable opening band criticized Oasis' manager, Oasis' road crew threw their equipment (drums, mike stands, amps) off the front of the stage. After a small scuffle and lots of profanity, Oasis came out pumped up and played a blistering set of songs from 'Definitely Maybe.'"
Julianna Hatfield, Middle East Downstairs, Oct. 24, 1995. "Local band on top of their game and iconic small venue."
Coldplay, Paradise Rock Club, Aug. 6, 2002. "Small venue for a band that eventually became one of the biggest in the world."
J. Geils/Aerosmith, Fenway Park, Aug. 14, 2010. "This was the most Boston of concerts, ever. Two of our biggest bands playing outside in our venerated baseball cathedral. Steven Tyler, alone at a piano on top of the Green Monster playing the opening bars to 'Dream On,' was beyond amazing." — Jon, North Andover
Bruce Springsteen, Fenway Park, Aug. 15, 2012. "Springsteen concerts are always — by far — the best of the best, but this one was something special even for his standards. Now, the first night on 8/14 was good, and the 8/18 show at Gillette was good, but this one sandwiched in the middle was downright LEGENDARY … As a result of refusing to let anyone go home for bedtime, he got fined for playing too long past curfew (which I'm pretty sure happened at every local show he has played at Fenway, Great Woods, and Gillette since 2008), and any time this man decides that the POWER OF ROCK 'N ROLL is mightier than the money or the rules, it's a great night. And listen, you don't have to take my word for it. Go to any Springsteen fan site and ask their opinion of this concert, it's an easy way to get us going." — Bill, East Bridgewater
Bosstones, Lemonheads, Buffalo Tom, Boston Common, July 20, 2013. "Post-Marathon bombing. Great great vibe as Boston bounced back from the violence. Free and open on the Common. Beautiful."
The Pixies, TT the Bear's Place, June 18, 2015. "The day started with a surprise announcement of a secret show to celebrate the closing of TT the Bear's. Only those with the bracelet got in. That's part of what made this night special was the fact that everyone in the crowd at some point took off work or other responsibilities to wait in the hot sun for a ticket. So when we got to the show, we already had a shared experience. Then, it started. And what followed was 2+ hours of straight music. No conversation, no pauses, just song after song. The air was filled with a fog from the heat of the crowd. The sound was loud and ripped through your body. There were many times during the show when my feet weren't on the ground because the crowd was one big mass pulsating and pushing me to and fro. It was loud, dirty and glorious just as rock n' roll should be." — Josh, Dedham
Foo Fighters, Fenway Park, July 1, 2016. "Amazing performance, high energy — was the summer of [Dave Grohl's] broken femur and the doctor came on stage to join the band — Carolyn, Londonderry, N.H.
Kenny Chesney, Gillette Stadium, Aug. 25, 2016. "When he sings his famous song about Boston, it's a highlight! I love Kenny performing in Foxboro — the tailgating, end of the summer vibes!" — Lindsay, Boston
New Kids on the Block, Fenway Park, July 8, 2017. "The energy was off the charts. Thunderstorm rolled through before they came on so the field was wet, but the boys took advantage and performed on the wet infield, sliding into puddles, then climbed on top of the dugouts for a song. Such a fun night and wonderful memory." — Katherine, Boston, MA
Mt. Joy, Great Scott, June 12, 2018. "Great Scott's original location is now only fleeting memories of sticky floors and sweaty bodies packed into that tiny venue on Comm Ave. However, [promoter] Carl Lavin has saved the spirit of Great Scott: that is booking small, up-and-coming indie bands. Mt. Joy is one of the finest examples of that. This show was perfect; a sold-out night where the crowd sang along to every word. Just weeks before the pandemic hit Mt. Joy was playing shows for 30,000 people. I feel grateful for these nights and Boston is better for them. SAVE LOCAL VENUES! I want Boston.com to pose this question 5 years from now and I hope someone will share these same memories." — Ryan, Somerville
Garth Brooks, Six String Grill & Stage in Foxboro, Feb. 5, 2020. "Garth Brooks' Dive Bar Tour stop in Foxboro was the greatest local concert for so many reasons. First, it was truly just for fans (it was free and you had to win tickets on a local radio contest). So everyone screamed every word to every song all night. It was such an intimate experience, and a once-in-a-lifetime opportunity. The show itself was amazing, and I've never stood so close to an artist at a concert. It was also basically one of the last public things we did before the pandemic shut down things like this, so I think back to it fondly all the time!" — Erinn, Foxboro
Get Boston.com's browser alerts:
Enable breaking news notifications straight to your internet browser.