Music
We asked Boston.com readers for the best songs of 2020. Here's a playlist of your favorites.
"This song would be good any year but for 2020, it's nothing short of spectacular."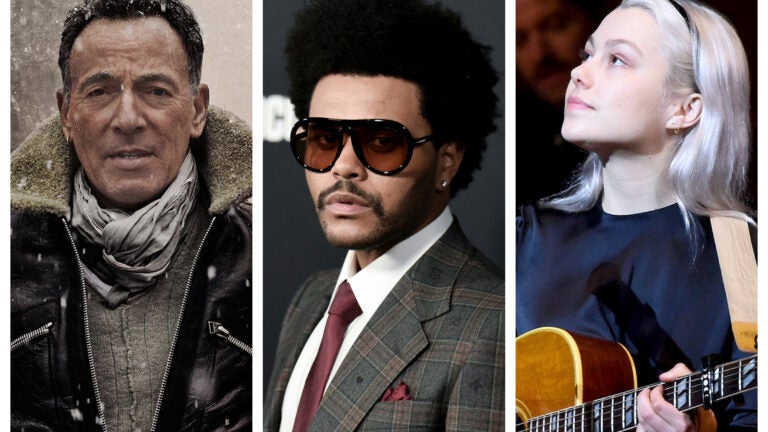 At 71, it seems Bruce Springsteen is still The Boss — but Taylor Swift is, literally, everywhere.
We asked Boston.com readers to name their top tracks from 2020, and Springsteen's loyal fan base came through, picking "Ghosts" — the rocking second single from his album "Letter To You" — as the most-mentioned song among the music fans who responded.
But it turns out that Swift was her own biggest competition — while her track "Cardigan" off July's smash-hit surprise album "Folklore" came in fourth place, she split the overall vote amongst herself, with no fewer than nine other tracks showing up on the list.
Other songs that made the top five included the dreamy "Kyoto" from indie darling Phoebe Bridgers; "Jara," from melodic folk rockers Fleet Foxes; and the smash "Blinding Lights" from The Weeknd.
Listen as we count down the top tracks, followed by a Spotify playlist of the songs readers suggested — the family-friendly version is below, but you can visit Boston.com on Spotify if you want to hear the explicit tracks recommended by our more cheeky readers. And make sure to scroll ahead and read what some had to say about the tracks they picked.
5. "Kyoto" by Phoebe Bridgers, from "Punisher"
4. "Cardigan" by Taylor Swift, from "Folklore"
3. "Jara" by Fleet Foxes, from "Shore"
2. "Blinding Lights" by The Weeknd, from "After Hours"
1. "Ghosts" by Bruce Springsteen, from "Letter To You"
Listen to all the songs recommended by Boston.com readers:
(Listen to the explicit tracks on the expanded playlist here.)
Here's what some Boston.com readers had to say about the tracks they picked:
"I Know the End," Phoebe Bridgers: "This album and song would be good any year but for 2020, it's nothing short of spectacular. 'I Know the End' is a song that kicks, screams & laughs its way into the apocalypse."
"Rainmaker," Bruce Springsteen. "'Rainmaker' is a look at blind faith and the desperate need for an answer to one's problems that has driven the last five years of the American political situation. It isn't meant as a takedown of an individual, but of a way of thinking that endangers others and fails to actually address any problems: 'Some come to make damn sure, my friend, this mean season's got nothin' to do with them.'"
"Foreign Country," The Sea The Sea: "The Sea The Sea is a husband and wife duo whose origins go back to the open mic night at Club Passim in Cambridge. I loved their song 'Foreign Country' both for the beauty of their harmonies and the beauty of the words. There is a wonderful intimacy to their singing, two voices singing together as one whispering a comforting lullaby as you drift off to sleep. In the lyrics it is one of those songs which could be speaking to multiple themes at once. It could be speaking of the sweeping changes to our immigration policies with the wall going up on our southern border, or it could be speaking of a more personal story of a relationship gone astray. What spoke to me most is the meaning the words took on with the pandemic this past year. We are all still in our familiar home environments but it often feels foreign and unsettling, as everything around us has changed. 'I live | in a foreign country | All the street signs have changed | Same passport | same port of entry | but nothing looks the same.'"
"Distance," Mammoth WVH (Wolfgang Van Halen): "It's NOT political! It's about his dad, Eddie Van Halen."
"Shot in the Dark," AC/DC: "AC/DC made the end of 2020 a little more bearable, and right after Eddie Van Halen's death. They provided some happiness in an otherwise dismal year."
"Dust Settles," The Lone Bellow: "'Dust Settles' is a wistful song about not taking your close relationships for granted, and in this time when we had to social distance and actively avoid other people, it really hit home. Especially lyrics like, 'Here we are now, lonely together.'"
Boston.com occasionally interacts with readers by conducting informal polls and surveys. These results should be read as an unscientific gauge of readers' opinion.
Get Boston.com's browser alerts:
Enable breaking news notifications straight to your internet browser.