Music
For Bob Dylan's 80th birthday, watch some of his best Boston performances
Newly updated, here's a rundown of some of Dylan's best local performances captured on video over the years.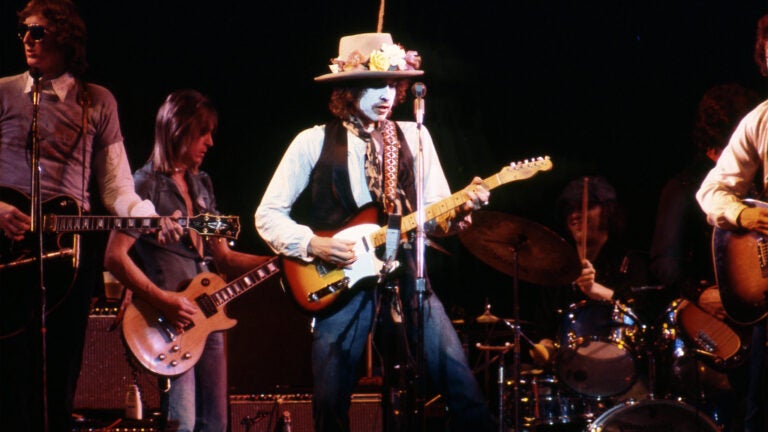 Note: Updated from an earlier post.
If it feels like Bob Dylan has been around forever, that may be because, for all intents and purposes, he has been: Celebrating his 80th birthday today, Dylan hightailed it out of Minnesota in 1961 at the age of 19 for New York City, and has been a unique and unmatchable voice in popular culture basically ever since.
Over the last 61 years — during which Dylan has sold millions of records, been dubbed "the voice of a generation," gone through several self-imposed exiles and at least one religious rebirth, and won the Nobel Prize for Literature — he's also had an inextricable relationship with the Boston area, whose audiences always seemed to have a special appreciation for Bob's ingenious wordplay and take-no-prisoners attitude.
In particular, Dylan's Oct. 31, 1975 show in Plymouth, Mass. — part of the Rolling Thunder Review tour revisited by director Martin Scorsese in 2019's (partially fabricated) Netflix documentary — is still heralded by some as "the best Dylan concert of all time." He's made innumerable stops in Massachusetts before in after, from the likes of a Tufts University gig in 1964 to a Tsongas Arena show in Lowell in November of 2019, with hundreds in between: Sometimes he was brilliant, sometimes inscrutable, but he's always been Bob.
To celebrate Bob's birthday, watch "A Hard Rain's A-Gonna Fall" from the Plymouth show, as included in the Netflix documentary, below, followed by some other Boston-area Bob Dylan performances captured by intrepid concert goers in more recent years.
If audio's more your thing, check out these excellently recorded five songs from Bob's 1974 tour with The Band, two of which are from the Jan. 14 "afternoon show" at the "Boston Gardens."
Bonus: Also from the Netflix documentary, here's Bob and Allen Ginsberg visiting Jack Kerouac's grave in Lowell back in 1975:
Share your own Bob Dylan Boston memories in the comments below!
Newsletter Signup
Stay up to date on all the latest news from Boston.com