Music
'Swifties' celebrate Taylor Swift's re-recorded album at Boston Fangirl Fantasy event
And yes, the 10-minute version of "All Too Well" was played.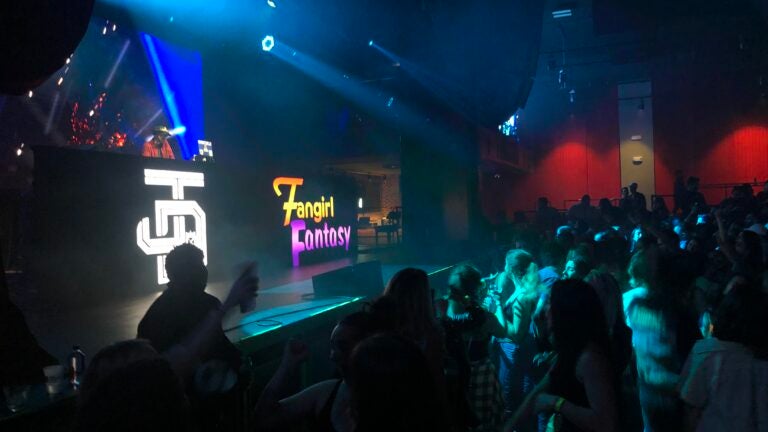 As "Swifties" around the world dissected every note of the megastar's latest album, Boston fans celebrated the release of Taylor Swift's re-
recorded "Red" with a sold-out Friday night event.
On Nov. 12, Fangirl Fantasy — a locally-born fangirl event business — hosted a "Taylor Swift vs. Olivia Rodrigo Night" at the 2,000-person Big Night Live venue in Boston.
"My favorite theme night would be probably Taylor Swift nights because people are just so in their feelings to Taylor Swift and her catalog is so big," Fangirl Fantasy's DJ, JD said. "There are so many different directions that you can take an audience throughout the night, and they'll love everything."
Taylor Swift is re-recording and releasing her first six albums to gain full ownership of her music after a legal dispute with her former record label and manager. After releasing "Fearless (Taylor's Version)" in June, Swift scheduled "Red (Taylor's Version)" to be released on Nov. 19 but then moved it a week earlier to Nov. 12.
Which, coincidentally, happened to be the date of Fangirl Fantasy's Boston event. Founder Julie Russell said that while sales were already on the climb before the album release date, Swift's announcement pushed tickets to sell out.
"I've been a Taylor Swift Fan since the 2008 "Fearless" era," Katie Dunne said. "And honestly, I kept hearing about these Taylor club nights on TikTok and they just seem like the coolest thing in the world."
Dunne drove an hour and a half from northern Connecticut with her friend and fellow swiftie Kim Chippllo.
"I'm just excited to get together and dance and sing with a bunch of other Swifties," Chippllo said.
Russell, a Massachusetts native and the creator of the popular touring event, said the Swift-themed nights have always been successful for Fangirl Fantasy.
"Taylor Swift is Taylor Swift and she just doesn't have a bad song," Russell said. "The Taylor Swift nights are just so fun that you just get to scream every lyric at the top of your lungs, so the Taylor Swift ones are becoming my favorite."
Swift's legacy is even trickling into the classroom: Lauren Sylvester, Elise Fronerzerger, and Caroline Walsh are three students who said they are taking a Taylor Swift feminism class at Tufts University. They said the class inspired them to come to the event together.
"We're looking forward to making memories," Walsh said before the event. "Just knowing that everyone here also is a Taylor Swift fan, just listening to her re-recordings, [I'm excited] to be screaming them with everyone else."
For Maddie Wildes, a student at Boston College, Fangirl Fantasy's event and Swift's album release lined up perfectly with another important date: her 22nd birthday.
"Taylor Swift has gotten me through the worst days of my life. Her music means so much to me," Wildes said. "She's my role model, my idol, everything… So to have this sync up so perfectly, it's just like the stars aligned."
Swift's hit song "22" made Wildes' night extra special when she got a birthday shoutout prior to the song.
Perhaps the biggest moment of the night came during the 10-minute previously unreleased version of Swift's song "All Too Well."
"As a DJ, we're supposed to play the hits so we play the songs that are the biggest and that will get the best crowd reaction and create the best vibe," JD said. "But with these shows, it's so intimate, and these albums that people have listened to from their favorite bands — those smaller songs -– are the ones that people feel the most attached to."
Despite the length and melancholy tune of "All Too Well," fangirls shouted the lyrics for all 10 minutes.
"Are you OK, Boston?" JD asked after fans finished singing the song's heartbreaking lyrics, which describe the ups and downs of a breakup.
While Swift's music appeared to be the big draw of the night, many fans were spotted singing along to the music of rising pop star Olivio Rodrigo and wearing stickers on their faces as Rodrigo does on her debut album "Sour."
Fangirl Fantasy is hosting another Swift-themed night at Brighton Music Hall on Jan. 7 and coming back to Big Night Live on Jan. 20 for a Swift and Harry Styles event, called "Haylor Night." The Brighton Music Hall event is already sold out and the Big Night Live event is selling quickly, according to Russell.
"It's cool to be a fangirl, you don't have to be embarrassed," Russell said. "Fangirls are what run the industry."
Newsletter Signup
Stay up to date on all the latest news from Boston.com