Music
Here's the Boston Calling 2023 food and drink lineup
There will be 10 new vendors this year, including Flour Bakery and Cafe, Blackbird Doughnuts, and more.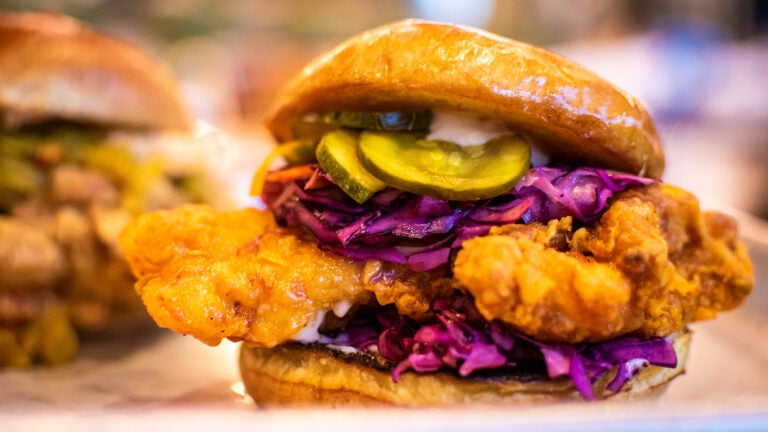 When you're cheering on your favorite band at Boston Calling this year, you'll have plenty of options when you're craving a bite to eat. This year, 29 local restaurants will be featured at the Memorial Day Weekend music festival, which will be held at the Harvard Athletic Conference from May 26-28.
Making their debut at the festival will be 10 new vendors including Blackbird Doughnuts, Dumpling Daughter, Joanne Chang's Flour Bakery and Cafe, El Jefe's Taqueria, Lily P's Fried Chicken, and The Broadway, serving American comfort food.
Some return vendors from past festivals will be familiar to attendees. You'll be seeing Mamaleh's, which will be offering loaded latkes fries, topped with pastrami, Swiss cheese, and Russian dressing. The Farmacy Café will sell its signature "naughty" waffles and rice and salad bowls, while at The Smoke Shop BBQ, you can down the Ultimate BBQ Cone, filled with pimento mac and cheese, pit beans, burnt ends, coleslaw, and pickled jalapeños. You'll also find Chicken & Rice Guys, Jaju Pierogi, FoMu ice cream, and more.
Platinum ticket holders can enjoy specialty menus created and prepared by Boston's top culinary talents. On Friday, Carl Dooley of Mooncusser and Phil Frattaroli of Ducali will be featured. Saturday will bring back Colin Lynch of Bar Mezzana to the festival. Ending the weekend on Sunday, Karen Akunowicz from Bar Volpe will be joined by her chef de cuisine, Molly Dwyer, and they will deliver an Italian menu. Will Gilson of Puritan & Co. will also be showcased on Sunday.
A selection of beers and wines will also be available, such as Miller Lite, Samuel Adams, and Truly Wild Berry, a hard seltzer. Guests can sip on cabernet sauvignon, rosé, and prosecco from Josh Cellars. In VIP and Platinum, exclusive bars will feature an expanded list of craft cocktails and spirits such as Jack Daniel's and Thomas Tew Rum.
Check out the full Boston Calling 2023 food and drink lineup below.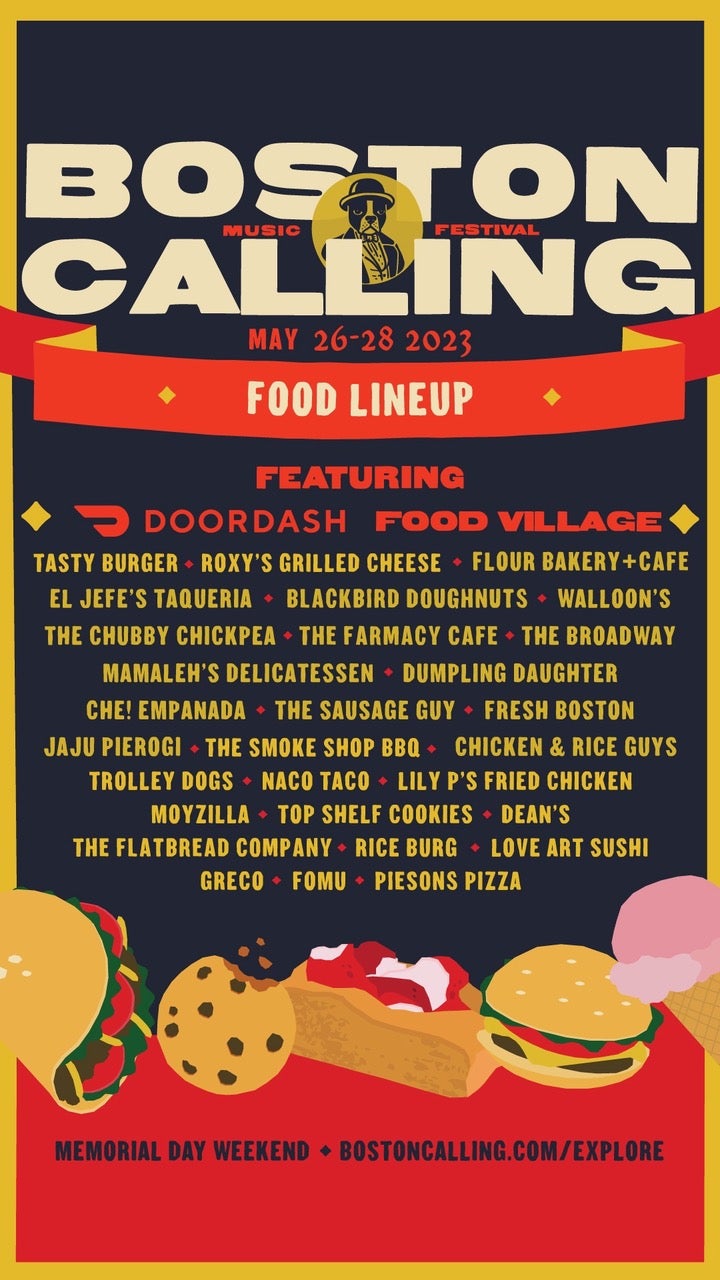 Boston Calling 2023 General Admission Food Lineup
Blackbird Doughnuts (new)
Che! Empanada (new)
Chicken & Rice Guys
Dean's Concessions
Dumpling Daughter (new)
El Jefe's Taqueria (new)
Flour Bakery + Cafe (new)
FoMu
Fresh Boston (new)
Greco
Jaju Pierogi
Lily P's Fried Chicken (new)
Love Art Sushi
Mamaleh's Delicatessen
Moyzilla
Naco Taco (new)
PieSons Pizza (new)
Rice Burg
Roxy's Grilled Cheese
Tasty Burger
The Broadway (new)
The Chubby Chickpea
The Farmacy Cafe
The Flatbread Company
The Sausage Guy
The Smoke Shop BBQ
Top Shelf Cookies
Trolley Dogs
Walloon's
Boston Calling 2023 Platinum Chef Lineup
Friday, May 26
Restaurateur Phil Frattaroli (Ducali, Cunard Tavern, Caffé Ducali, and The Pine Bar)
Chef Carl Dooley (Mooncusser)
Saturday, May 27
Chef Colin Lynch (Bar Mezzana, Shore Leave, Black Lamb, and No Relation)
Sunday, May 28
Chef Karen Akunowicz (Bar Volpe, Fox & The Knife, and Fox Pasta Co.) and Chef de Cuisine Molly Dwyer (Bar Volpe)
Chef Will Gilson (Puritan & Co., The Lexington, Café Beatrice, Geppetto, The Herb Lyceum, and Puritan Oyster Bar)
Boston Calling 2023 Beer & Wine Menu
Beer:
Miller Lite
Miller High Life
Peroni
Sam Adams Summer Ale
Sam Adams Wicked Hazy New England IPA
Truly Wild Berry
Twisted Tea

Wine:
Josh Cellars
Rosé
Prosecco
Cabernet Sauvignon
Reserve North Coast Cabernet

Featured Liquor Sponsors:
Jack Daniel's
Thomas Tew Rum
Slane Irish Whiskey
---
Poll: What's your favorite song from the Boston Calling 2023 headliners?
Sign up for The Dish
Stay up to date on the latest food news from Boston.com.