Music
These 20 local artists are a must-see at Boston Calling 2023
A guide to bands and performers with local ties playing at this year's music festival.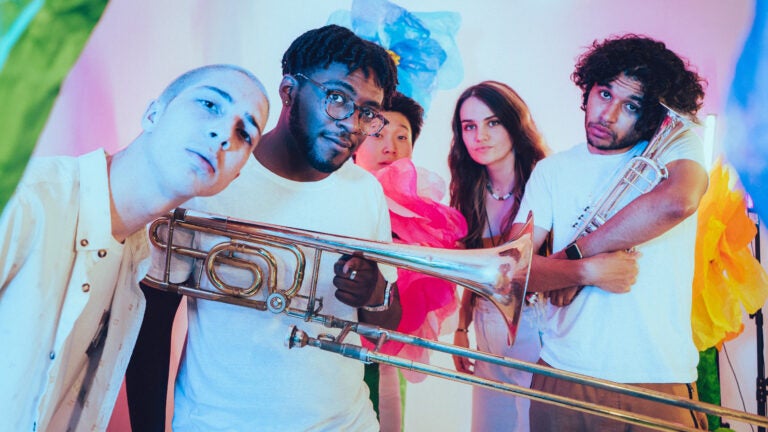 Boston Calling returns this Memorial Day weekend and fans of the New England music scene are sure to see some familiar acts on the festival's main stages.
As with previous years, the three-day music festival features a long list of local acts in addition to big-name headliners like the Foo Fighters, Alanis Morrisette, and Paramore. Whether you're going to the festival for one day or three, you won't miss out on any area performers.
Retro-rock group Coral Moons and singer-songwriter Ali McGuirk return to the festival for the second year in a row and are joined by a wide range of artists. Also in the lineup is femme queer punk trio Sorry Mom, hip-hop artist and rapper Brandie Blaze, and Americana musical act Workman Song.
Ahead, check out our guide to all the artists and bands with local ties playing Boston Calling 2023.
Friday, May 26
Cambridge native Alisa Amador is a jazz, funk, and alternative folk artist who infuses her Latin American roots into her music. She was the winner of the 2022 Tiny Desk contest with her original piece, "Milonga Accidental," the first Spanish language song to win the music contest. Before you see her take the stage at Boston Calling, watch her performance to hear that song along with others from her "Narratives" album.
1:45-2:15 p.m., Happy Valley Red Stage
This Boston hip-hop artist has been described as "unabashed and real." She takes her inspiration from female artists like Lil' Kim and Missy Elliot and found her way to rap by way of poetry. Her latest album, "Broken Rainbows" was released in April.
2:50-3:20 p.m., Tivoli Audio Orange Stage
This group was born out of a love for traditional blues, country, and rock 'n' roll. Since first forming in 2018, GA-20 has stayed true to its roots with four albums of "rough and tumble, relentless blues."
3:20-4:05 p.m., Blue Stage
You may know Summer Cult from music venues around Allston, Brighton, and Cambridge where they've spent the last couple of years playing rock music off their two EPs, "Frog" and "Colleen." Listen to their latest release, "Golden Trees" ahead of the festival.
4:05-4:35 p.m., Tivoli Audio Orange Stage
Singer-songwriter Chelsea Cutler's most recent album, "When I Close My Eyes" was born out of pandemic lockdowns and is in keeping with the artist's signature introspective pop music. Expect fun songs about romance, finding joy, and vulnerability set to catchy electronic beats.
4:45-5:45 p.m., Happy Valley Red Stage
If you love the soul and R&B of 1970s performers, you'll want to see Blue Light Bandits. The 4-piece independent rock band from Worcester is heavily influenced by that era of music and describes their most recent album, "Honestly Glad It Happened," as an ode to love "for music itself."
5:20-5:50 p.m., Tivoli Audio Orange Stage
This indie-pop band writes "introvert anthems" from the comfort of their Boston apartments. Their playful art-pop songs earned them a nomination for Boston Music Awards' new artist of the year in 2022.
6:55-7:35 p.m., Tivoli Audio Orange Stage
Saturday, May 27
Boston-born Palestinian artist Neemz makes music and art about "self-love, self-discovery, self-awareness, and spirituality." Her debut EP "It's Above Me" was released in 2021 and she continues to release singles in the style of hip-hop, R&B, and pop. When she isn't making music, she works in fashion and photography.
1:45-2:15 p.m., Happy Valley Red Stage
This indie-pop group was recently nominated for best new artist at the Boston Music Awards and broke 1 million streams for their debut single "Willow." See them perform at Boston Calling for a vibrant, fun-filled set.
2:20-2:55 p.m., Blue Stage
Chrysalis is the stage name of Indigo Ansin, a Boston-based singer-songwriter, and Berklee College of Music student. They've built a dedicated following through social media and playing DIY house shows, local bars, and busking at Faneuil Hall. Their new single, "shapeshift," comes out May 24, days before they take the festival stage.
2:55-3:25 p.m., Tivoli Audio Orange Stage
This local indie band released their 70s soul-infused debut album in 2021 and was named one of the best local music acts by the Boston Globe. Listen to "Fieldcrest" for retro-rock jams before they play Boston Calling.
4:05-4:35 p.m., Tivoli Audio Orange Stage
Since releasing their debut album in 2018, this metal rock band has been a frequent performer in the New England music scene. Vanyaland called their latest release an "anthemic voice to the gentrified arts community in Boston and its surrounding neighborhoods."
5:20-5:50 p.m., Tivoli Audio Orange Stage
Noah Kahan is a singer-songwriter who embraces his New England roots with his folk-forward pop songs. The Vermont native and Watertown resident will find fans in those who love the work of artists Paul Simon, Cat Stevens, Counting Crows, Hozier, and Mumford and Sons. His latest album "Stick Season" was described as his most intimate and authentic by Atwood Magazine.
6:05-7:05 p.m., Green Stage
Najee Janey is a songwriter, rapper, poet, and singer from Roxbury. In addition to his own music, Janey is focused on community building in the city through hip-hop workshops and working with artist collectives.
6:55-7:30 p.m., Tivoli Audio Orange Stage
Sunday, May 28
Juice started as a group of friends playing music together at Boston College in 2013. Since then, the rock band has toured across the country and released three EPs. The six-person group features three vocalists and incorporates electric violin into their performances.
1:45-2:15 p.m., Happy Valley Red Stage
Emo-pop band Mint Green will play Boston Calling on Sunday, hours before their musical inspiration, Paramore. Their 2022 album, "All Girls Go to Heaven" was praised by Distorted Sound as "one of the best debuts of the year."
2:20-2:55 p.m., Blue Stage
Martha's Vineyard native Sean McMahon fronts Workman Song, an Americana musical act that draws inspiration from the later 60s and 70s. Workman Song also regularly features Mayhew, McMahon's wife and frequent musical collaborator. If you like songs that combine twang, grunge, and jazz, this act is for you.
3:05-3:40 p.m., Tivoli Audio Orange Stage
This femme queer punk band released their debut album, "babyface" earlier this month and is set to take the stage at Boston Calling as a culmination of a mini-tour surrounding its release. Their performance is guaranteed to add some fun to your Boston Calling schedule.
4:30-5:00 p.m., Tivoli Audio Orange Stage
Take a moment to enjoy the soulful singing of R&B artist Ali McGuirk. She's been described by music critics as having a voice usually reserved for musicians twice her age. At the 2018 Boston Music Awards, Ali won the Blues Artist of the Year award. This year, she's tackling a summer tour.
5:55-6:35 p.m., Tivoli Audio Orange Stage
Until the spring of 2021, members of this pop group wrote and recorded all of their music virtually, and still managed to create enough work for a 20 city tour. Now the group is based in Boston and continues to produce the funk, rock, and R&B-infused pop music that gets fans going.
7:40-8:20 p.m., Tivoli Audio Orange Stage
Newsletter Signup
Stay up to date on all the latest news from Boston.com