Music
Jimmy Buffett gave his final public performance at Rhode Island's Sunset Cove
The "Margaritaville" singer passed away from skin cancer last week.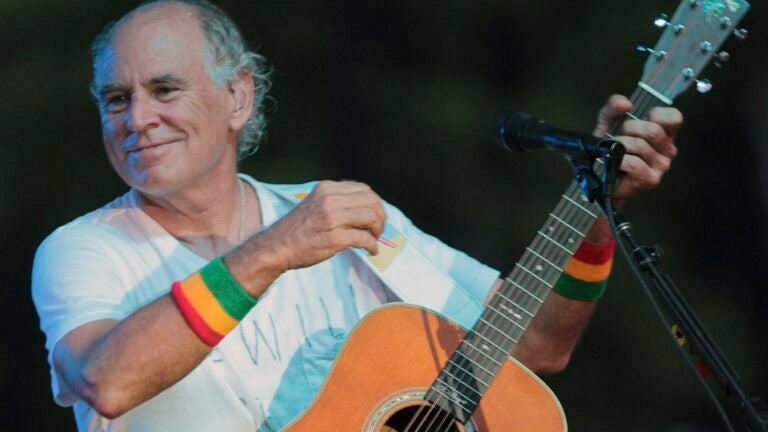 When a small audience witnessed a surprise concert by Jimmy Buffett at a Rhode Island restaurant this summer, they didn't know that the performance would be his last.
Buffett, a singer-songwriter who was known for evoking tropical island daydreams, passed away on Friday following a battle with Merkel cell skin cancer that had lasted four years, according to his website. He was 76 years old. Famed for penning the hit "Margaritaville," Buffett gave his final performance this past July at a Portsmouth restaurant called Sunset Cove, for a group of a few hundred people, CBS News Boston reported.
Mike MacFarlane, who owns the waterfront cafe and cocktail spot, told Boston.com that Buffett's performance was impromptu. Sunset Cove had planned on holding a concert featuring Buffett's band member, Mac McAnally, who unexpectedly asked MacFarlane if Buffett could "jump on stage and do a few songs." Coincidentally, it was MacFarlane's 50th birthday.
"We kept it a surprise. We didn't tell anybody," MacFarlane said. "We found out [around] 3 o'clock that he got on his plane; he was headed this way. We were able to get him backstage with nobody seeing."
Audience members knew of McAnally because of Buffett, and therefore were fans of the star. "They're Jimmy Buffett fans — they're Parrot Heads," MacFarlane said.
Before the concert, MacFarlane went to greet Buffett at the airport and saw that the artist had three things with him: a guitar, a bottle of tequila, and a Hawaiian shirt, in keeping with the brand of "island escapism" he was known for. During the show, Buffett appeared in the middle of McAnally's performance of the song, "It's Five O'Clock Somewhere," delighting the audience, MacFarlane said. "The crowd went crazy," he said. "It's hard to describe how electric it was."
Buffett sang iconic songs like "Changes In Latitudes, Changes in Attitudes," "Son of a Son of a Sailor," "A Pirate Looks at Forty," and of course, "Margaritaville." MacFarlane said that the singer's performance was "genuine, it was raw, it was not choreographed, and it wasn't really planned." The spontaneous show was the perfect birthday surprise, MacFarlane said.
MacFarlane shared with Boston.com what Buffett meant to him.
"For me, he's created a lifestyle that millions of people aspire to want to live," he said. "Who doesn't want to hang out at the beach, be on the water, and be able to sit back and chill out?" He added, "He [was] a great storyteller. It went far beyond beaches and boats and bars. He would sing about places all over the world. The guy was genuinely a poet."
---
Tell us: Do you have a special memory of Jimmy Buffett? If you saw him in concert or just want to share what he meant to you, let us know. Fill out the survey below or send an email to [email protected], and your response may appear in a future Boston.com article.
Tell us: Do you have a special memory of Jimmy Buffett?
Newsletter Signup
Stay up to date on all the latest news from Boston.com