Music
Review & Setlist: John Mayer has no trouble filling the room during solo stop in Boston
Mayer played a two-hour solo set at TD Garden Friday night that included hits like "Who Says" and "Neon."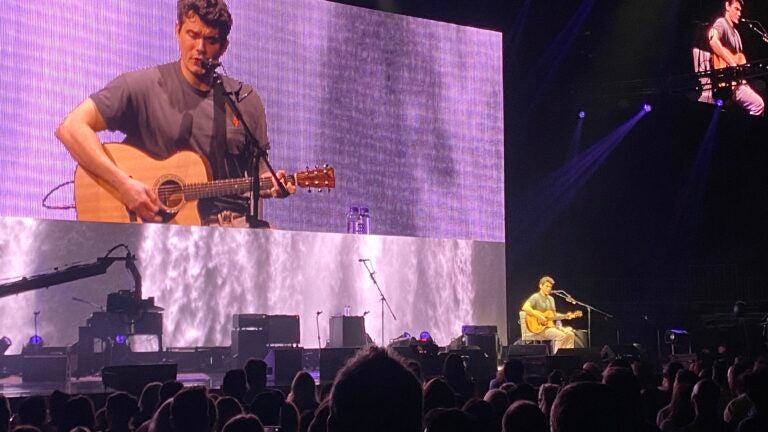 John Mayer, with JP Saxe, at TD Garden, Friday, October 6, 2023
John Mayer doesn't need to play covers.
Mayer's discography dates back to 2001 and includes eight studio albums and chart-topping hits like "Why Georgia" and "Gravity." In pulling together a 20-something song setlist, the sheer math of it all means that Mayer often leaves off some fan favorites.
And yet Mayer's inclusion of a cover song or two during every live performance has come to define his musicality almost as much as his original work. Playing a solo show on Friday night at TD Garden, Mayer busted out two covers of note.
After opening with solid versions of originals "Heartbreak Warfare" and "Love on the Weekend," Mayer tried on a cover he's been playing a lot of in Beyoncé's "XO." When Beyoncé sings "Baby kiss me/Before they turn the lights out" she's building up to a chorus where she's backed by other vocalists. Mayer plays his version by himself, with a harmonica around his neck, alternately blowing and singing as the song builds much in the same way as the original. When Mayer reaches the song's climax, there's a hopeful intonation in the way he delivers the lines "Your face is all that I see/I'll give you everything/Baby love me lights out," sung so convincingly that if someone told you he wrote the tune himself you'd believe them.
It's hard to say whether or not Mayer's "XO" cover was the highlight of Friday night's show. Maybe you preferred "Slow Dancing in a Burning Room," stripped down from the usual electric guitar-driven show-stopper into a tighter acoustic version that was felt no less impactfully. Or "Neon," where Mayer's picking prowess on his guitar is a reminder (not that one is needed) of his mastery of that instrument. If you came on a date – there were lots of you – or to dance, you couldn't be blamed for liking "Why Georgia" or "Your Body Is a Wonderland" the best.
It's hard to carry a room as big as TD Garden as one person, sitting on a chair, playing an acoustic guitar. But Mayer made it work Friday, opening the show in near total darkness, shadows on his face, then bouncing between that chair, a piano stool, and the middle of the stage, where, eventually, a standing cover of Tom Petty's "Free Fallin" closed out the night. That Mayer can make his version of that song, by that singer, iconic in his own way, should be talked about more.
Friday's show featured plenty of audience interaction, from Mayer selecting one tune ("Something Like Olivia") off a poster to references to his time at Berklee to a heartfelt address to some young fans near the stage.
"It's an unforeseen honor for me to see second generation fans here," said Mayer.
Seeing the children of longtime fans in attendance is just one way seeing a John Mayer show now is different in many ways than it was 20 years ago. On the 2003 live release "Any Given Thursday," Mayer introduces his then most popular song, "Your Body is a Wonderland," with the cringy-in-hindsight, "This is a song about girly parts." It's naked honesty from Mayer, who got in trouble for that at the peak of his pop superstardom but whose maturation since mirrors that of his audience. When Mayer introduced that song Friday, he did so with a more self-aware, "This is a silly song for adults."
During one poignant moment Friday night, Mayer teared up and missed some lyrics while playing "Stop This Train," a song about the passage of time that includes the lyrics, "Don't know how else to say it/Don't wanna see my parents go." Mayer has spoken recently about his father, who is in his 90s. Rock stars are as susceptible to getting older as the rest of us, and Mayer has made it clear through both his music and his public statements that he has aged well beyond his "quarter life crisis."
To close out the set before the encore, Mayer busted out a double-necked acoustic guitar, a move that was both visually impressive and practical as he looped one riff under another on "If I Ever Get Around to Living." His last song, "Edge of Desire," is not necessarily a favorite but might be now for anyone who witnessed this nearly six-minute version.
Boston fans have seen plenty of Mayer lately, as recently as March, where the setlist was decidedly different. During 2022's Sob Rock Tour, which hit Boston that May, Mayer toured with a full band. The American leg of Mayer's solo tour ends in Inglewood, Calif. with a show on Nov. 10. A nine-show European tour starts on March 13, 2024.
Setlist for John Mayer at TD Garden, Friday October 6, 2023:
Acoustic:
Heartbreak Warfare
Love on the Weekend
XO (Beyoncé cover)
Queen of California
Why Georgia
Who Says
(>)
Waitin' on the Day
In Your Atmosphere
Neon
Something Like Olivia
Piano:
You're Gonna Live Forever in Me
Changing
Acoustic:
Stop This Train
In the Blood
Your Body Is a Wonderland
Slow Dancing in a Burning Room
Walt Grace's Submarine Test, January 1967
Double-Neck Acoustic:
A Face to Call Home
If I Ever Get Around to Living
Edge of Desire
Encore:
Free Fallin' (Tom Petty cover)
Newsletter Signup
Stay up to date on all the latest news from Boston.com