Patriots
Mark Wahlberg went to Foxborough to screen his new movie for the Patriots
The team got a private first look at 'Deepwater Horizon.'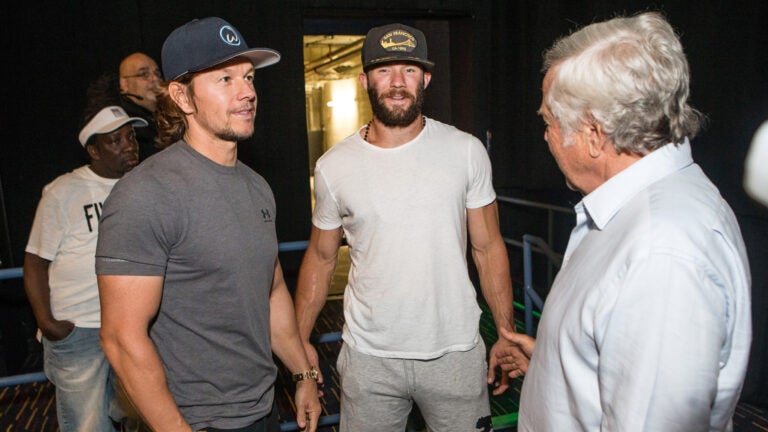 Just like any true Patriots fan, Mark Wahlberg will do just about anything to demonstrate his loyalty to his beloved New England Patriots. And because he's a famous person, for him, that meant giving the team an exclusive look at his new blockbuster movie.
The actor hosted a private screening of Deepwater Horizon at Patriot Place on Sunday, about a month before the film hits theaters. The movie stars Wahlberg as real-life hero Mike Williams, who survived the Deepwater Horizon oil spill in April 2010.
Team owner Bob Kraft, head coach Bill Belichick, and players Rob Gronkowski, Julian Edelman, Jimmy Garoppolo, Danny Amendola, Rob Ninkovich, and Malcolm Butler, were among those in attendance.
"It's about mental toughness, preserving, and knowing how the guys around you are doing," Kraft told the team about the movie. "It's really inspirational for us, so it's a great treat to have [Wahlberg] here. He specifically wanted to stop here and give us this opportunity to screen the movie before it was made public."
Wahlberg spoke to the team before the screening, saying, "I know the work you guys put in, and the effort and the commitment it takes to do what you do, and what you risk going out there on a daily basis. I know these guys will inspire you like you inspire them."
The actor also gave a shout-out to Williams, who Wahlberg said now lives in Texas, but is still a diehard Patriots fan.
Deepwater Horizon hits theaters September 30.