Patriots
Robert Kraft surprises Patriots fan with new handicapped-accessible van
"This team is so important to me because they emulate what the world needs more of: joy, selflessness, and kindness."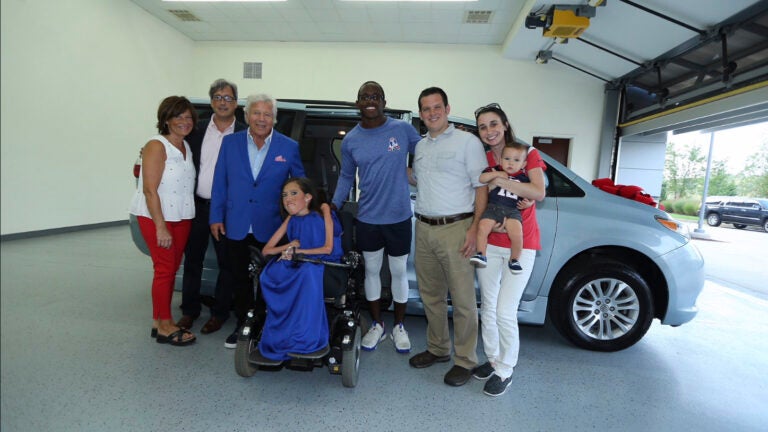 Those who watched ESPN on Super Bowl Sunday this year may recall seeing an "E:60" segment on Alyssa Silva, a Patriots fan who was diagnosed with spinal muscular atrophy (SMA) when she was six months old. Silva has built a special relationship with the team over the years, attending preseason games as a guest of owner Robert Kraft.
Before this past Thursday's contest against the Philadelphia Eagles, Silva and her family headed to Gillette Stadium with ESPN along for the ride for what Silva thought was simply a follow-up story. While the network was indeed there to film a follow-up, they also wanted to be present to capture Silva's reaction when Kraft and Patriots special teamer Matthew Slater (Silva's favorite player) surprised her and her family with a brand-new handicapped-accessible van.
Silva said the van, which came from Mobility Works in Plainville, took her and her family completely by surprise.
"My family first spotted Kraft's sneakers and just thought he was there to do a quick interview with ESPN," Silva wrote in an email to Boston.com. "But, when the door finally opened, next to him was Matthew Slater and a blue van with a red bow. Even at this point, I didn't think that van belonged to me. But, then Mr. Kraft gave such a sweet speech and ended it by handing over the keys. That was when it hit me."
Silva shared a video of Kraft handing her the keys on Instagram.
"There are no words for this moment," Silva wrote in her Instagram caption. "No words to describe the feeling when Robert Kraft hands you the keys to a brand new handicapped accessible van he purchased for you. No words to describe the amount of gratitude in your heart for this man's kindness, generosity, and friendship over the last several years. No words to describe how truly undeserving it felt to accept such a grand gesture. No words."
Silva said that her family had been searching for a used van for about a year, but that even buying a used or older-model van was cost-prohibitive.
"It hurts knowing that, because of my SMA, there are extra financial burdens placed upon [my parents]," Silva also wrote in her Instagram caption. "But, thanks to RKK and the @patriots, last night they lifted one of those burdens for us. Last night, they eliminated the fear of driving to the hospital at 4am during an epic snowstorm, wondering if the van would make it. Last night, they orchestrated the biggest, most unimaginable surprise my family and I have ever received."
Silva said that, while she's been a Patriots fan "since day one," her appreciation for the team has grown after befriending two members of the franchise's public relations team, Stacey James and Anne Noland, who have given her a closer look at the team's actions beyond the gridiron.
"This team is so important to me because they emulate what the world needs more of: joy, selflessness, and kindness," Silva told Boston.com. "I always make it a point to tell people the Patriots are just as remarkable off the field as they are on the field. Through little anecdotes I've shared on social media over the years and now my new van, it is with the deepest hope that I can continue to spread that message to the world."