New England Travel
Enjoying Nantucket in three ways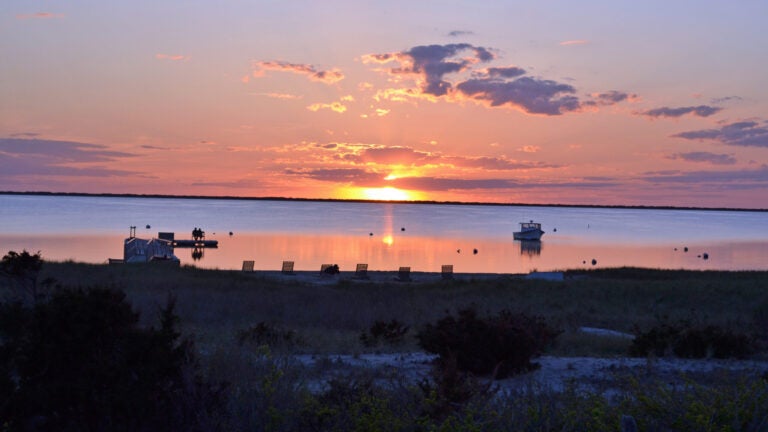 You could wing it, have nary a plan, and still have a fine time on Nantucket. Hop off the ferry; roam the town; pop into a restaurant or two. We've done it that way. But a serendipitous getaway won't get you the best of what the "Grey Lady'' — named best island in the world last year by National Geographic — has to offer. For that, you need to narrow in on a plan: Looking for romance? Love history? Crave adventure? Here are three ways to do Nantucket.
FOR ROMANTICS
If you can't find romance on Nantucket, you're probably with the wrong person. Seaside sunsets, candlelight dinners, back-in-time charm, and miles of secluded beaches are the perfect makings for a dreamy, starry-eyed escape.
Stay: The Wauwinet (120 Wauwinet Road, 508-228-0145, 800-424-8718, www.wauwinet.com, $675- $800), an intimate, 38-room property at the northeast tip of the island, is located about 9 miles out of town. The longstanding resort — celebrating 25 years this season — has received lots of awards; still, you'll feel as if you've stumbled upon your own secret hideaway. The service is gracious, the pace relaxed, and the setting, footsteps from Nantucket Bay on one side and the Atlantic Ocean on the other, is unsurpassed on the island. Watch sunsets over the bay from the cozy outdoor terrace or beachside lounge chairs, stroll the private beaches, and splurge on a couples' massage at Wauwinet's Spa by the Sea.
Dine: Live harp music and flickering candles help set the mood at cozy Company of the Cauldron (5 India St., 508-228-4016, www.companyofthe cauldron.com, three- or four-course prix fixe $70). The tiny restaurant has only two seatings a night and a single three-course menu (no choices) that changes daily. Expect contemporary twists to classic dishes like slow-roasted heart of ribeye with parmigiano potato torta and pan-seared local fluke with peekeytoe crab and fava bean salad. The elegant Topper's restaurant (at the Wauwinet, entrees $29-$50) wins hearts with its seaside setting, impressive wine list, and consistently fine cuisine. Try the signature lobster and crab cakes, roasted duck breast, or the tender short ribs.
Do: Tool around the island on a double-seater scooter from Nantucket Bike Shop (Steamship Wharf & Straight Wharf, 508-228-1999, www .nantucketbikeshop.com), visiting lighthouses and secluded beaches.
Tip: Madaket Beach is a sweeping swath of sand and the best place on the island to view the sunset. Or pick up wine and gourmet snacks at Epernay (1 North Beach St., 508-228-2755, www.epernaywines.com) to take with you on a four-wheel-drive ride (Nantucket Island Rent-A-Car, 14 Airport Road, 508-228-9989, www.nantucket islandrentacar.com) through miles of dunes at Great Beach. Steal a kiss at the top of the First Congregational Church bell tower (62 Centre St., 508-228-0950, www.nantucketfcc.org), as you enjoy the sweeping views of the island and sound. Reserve an evening for a sunset cruise aboard the Endeavor (Slip 1015, Straight Wharf, 508-228-5585, www.endeavorsailing.com), a beautiful, wood-trimmed Friendship Sloop sailboat.
FOR OUTDOOR ADVENTURERS
The glacier-formed island, some 26 miles out to sea, packs a lot of adventure in its 14-mile-long, 3.5-mile-wide band of sand, forest, rolling moorlands, marshes, and dunes. There are more than 80 miles of beaches, and 45 percent of the island remains naturally preserved and protected.
Stay: Get away from the hustle of downtown by staying at the Summer House Cottages (17 Ocean Ave, Siasconset, 508-257-4577, www.summer house.com, cottages and suites $275-$695) in quiet 'Sconset. The simple shingled cottages, surrounded by gardens on a bluff overlooking the Atlantic, are bright and airy, some with marble baths, kitchenettes, patios, decks, and ocean views. An outdoor heated pool and the splurge-worthy Summer House Restaurant add to the appeal of this serene property.
Dine: Load up on energy-packing carbs at friendly, family-owned Fusaro's (17 Old South Road, 508-228-4100, www.fusarosrestaurant.com, entrees $13.95-$20.95). The pastas, soups, and sauces are all house-made with fresh, local ingredients. Try the popular house specialties like the Sicilian scampi, Tuscan roast chicken, and the classic marinara with fresh tomatoes and herbs. It doesn't get much fresher or more local than the farm-made food at Bartlett's Farm (33 Bartlett's Farm Road, 508-228-9403, www .bartlettsfarm.com, sandwiches $7-$10), the oldest and largest family-owned farm on the island. Pick up salads and sandwiches to go before you hit the trail. You'll also find fresh-made sandwiches on homemade breads, and some of the best cookies on the island at Something Natural (50 Cliff Road, 508-228-0504, www.somethingnatu ral.com, $3.95-$9.95).
Do: Visit the pristine and beautiful Coskata-Coatue Wildlife Refuge (end of Wauwinet Road, 508-228-5646, www.thetrustees.org/places-to-visit/cape-cod-islands/coskata-coatue.html, open daily 24 hours, free to pedestrians), tucked between Nantucket Sound and the Atlantic Ocean, with miles of beachfront and 16 miles of trails. Join Captain Blair Perkins (Shearwater Excursions, 508-228-7037, www.explorenantucket.com, $95 adults, $75 children age 12 and under) on a 2½-hour seal cruise to Muskeget Island, home to a year-round population of up to 3,000 grey seals. They also offer six-hour whale watching cruises (mid-June-mid-October, Sun, Wed, Fri, $155). Hike Nantucket Conservation Foundation properties, including the Masquetuck Reservation with beaches, salt marshes, and bogs, and 780-acre Sanford Farm (118 Cliff Road, 508-228-2884, www .nantucketconservation.org). If you'd like to get on the water, consider renting kayaks or stand-up paddle boards at Sea Nantucket Kayak (76 Washington St., 508-228-7499, www.seanan tucketkayak.com, kayak rentals half-day $45, full $55; SUP rentals 1 hour $30).
FOR HISTORY BUFFS
Once known as the whaling capital of the world, Nantucket is one of New England's finest preserved villages. Bumpy cobblestone and buckled brick streets are lined with shingled Quaker houses and sea captains' homes. The village also has some 800 pre-Civil War-era homes, the largest concentration in the country.
Stay: Relaxed and friendly 29 Fair Street Inn (29 Fair St., 508-257-4577, www.thesummerhouse.com, $135- $375), once known as the Woodbox, is considered the oldest inn on the island, dating to 1709. The simply furnished rooms, with rustic country decor, have many historic details, including original wide-plank pine floors and woodworking dating to the 1700s. The courtyard pocket gardens are a great place to relax, and the inn is within easy walking distance to Main Street restaurants and shops.
Dine: Housed in a 1709 building, Figs by Todd English (29 Fair St., 508-228-7800, www.thesummerhouse .com/29/, $12-$19) has original brick fireplaces, wood paneling and floors, exposed beams, and low, antique lighting. But there's nothing old-fashioned about the food. Order specialty pizzas like the crispy eggplant or spicy shrimp, and entrees like the rich Tucson bolognese, slow braised short ribs, or spaghetti with roasted tomatoes and toasted garlic. Grab a seat at the 1840's Whaling Bar downstairs at the Brotherhood of Thieves (23 Broad St., 508-228-2551, www.brotherhoodof thieves.com, $11.95-$19.95), with low ceilings, dark woods, brick walls, and two fireplaces. There are 12 brews on tap and better than average pub grub, like the smokehouse cheese fries served with brisket hash and beer-cheese fondue, and the smokehouse burger with boursin cheese and caramelized onions.
Do: The Whaling Museum (13 Broad St., 508-228-1894, www.nha .org, $17 adults, $8 ages 6-17), located in a restored 1847 candle factory, showcases the island's glory days of whaling. The museum offers a guided walking tour for a peek inside three historic homes ($10, 6-17 $4). The Nantucket Preservation Trust offers several tours including a guided Architectural Tour of Main Street and tours of 'Sconset, an early fishing settlement and 1800s artist colony (55 Main St., 508-228-1387, www.nantucketpreser vation.org, $10). For an in-depth look at the history of Nantucket, along with fun ghost stories, join the Raven's Night Walk (meet at the intersection of Main and Federal streets, 508-257-4586, www.ravens-walk.com, $20 adults, $10 teens, $5 ages 5-12). There have been more than 700 shipwrecks in the waters surrounding Nantucket. View objects salvaged from some of the more famous wrecks at the fascinating Nantucket Shipwreck and Lifesaving Museum (158 Polpis Road, 508-228-1885, www.nantucketship wreck.org, $6 adults, $4 ages 5-17).