New England Travel
Eating in Lowell's Little Cambodia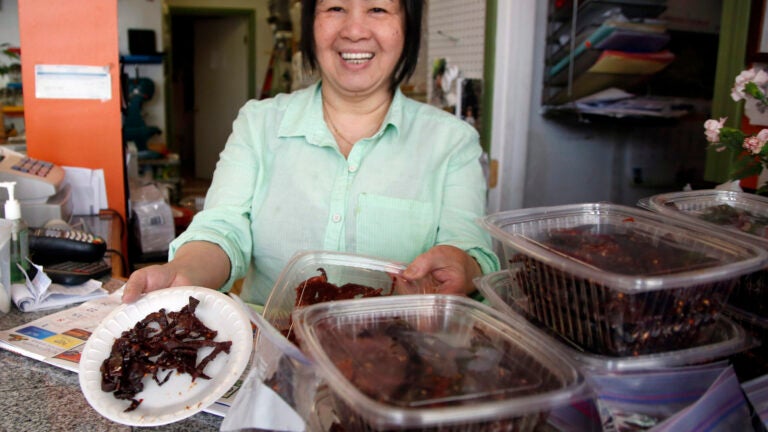 About 30 miles north of Boston is Lowell, the fourth largest city in Massachusetts and a former mill town still known for its characteristic smokestacks. In recent years, an area of the city called "Little Cambodia'' has emerged due to the large amount of Cambodian residents. In fact, Lowell is now home to one of the largest populations of Cambodians outside Cambodia, reports the Associated Press. Therefore, the following authentic Cambodian food is not far away (but you'll want to set your GPS to navigate Little Cambodia's winding and narrow streets).

A classic Cambodian dish

This is a plate of beef loc lac served at Cambodian restaurant Simply Khmer. Many consider the restaurant the source of the best and most authentic Cambodian food in Lowell, reports the Associated Press. This classic dish consists of seared beef that has been marinated and cooked in a savory sauce made with garlic, soy sauce, sugar, and other ingredients.

Meet the owners of Simply Khmer

Type 26 Lincoln St., No. 4, Lowell into your GPS to get to Simply Khmer in Lowell's "Little Cambodia.'' And, when you get there, say hi to owners Sambath Neang and Denise Phon Ban.

What will you be served?

What's on the menu at Simply Khmer? Appetizers like Ye-Heu Bumporng for $12.95 (spicy deep fried squid stir fried in jalapeno, scallions, and red chilies), Baw-Baw (rice porridge) for $4.95, lunch items like Bai/Cha K'nyei for $7.50 (stir-fried ginger with beef, pork, chicken, or seafood), and dinner items like Praw-Hok K'teeh for $11.95 (ground pork, ground smoked fish, pea eggplant, coconut milk, prohok, lemon grass, garlic, kaffir lime leaves, galangal and mixed vegetables). Or why not try alligator? Look for the $22 alligator dish called Cha Kroeung Sach Kapuer.

Chef's pride

Chef Sambath Neang at Simply Khmer presents a beef loc lac plate during lunchtime. The blending of herbs and spices is called "kroung.'' This is the foundation of most Cambodian cooking, according to the Simply Khmer website.

What's for lunch?

Lunch at Simply Khmer is comprised of dishes like Bai/Cha Kroung (stir-fried lemon grass with beef, pork, chicken, or seafood, garlic, onion, red/green bell peppers, holy basil, jalapeno, kaffir lime leaves, galangal, and red chilies), Bai/Loc Lac (steak or chicken tips served over lettuce, cucumber, tomatoes, red onion, and served with fresh lime pepper sauce), and the restaurant's famous hot wings. These dishes all cost $7.50.

Time for dessert

After lunch, head over to 32 Branch St. to find the Dessert Shop and Bakery, which features Cambodian foods and packed lunches to go.

Homemade beef jerky and more

Kimheng Chou shows off her homemade beef jerky at the Dessert Shop and Bakery (which, interestingly, did not offer dessert or baked items the day an Associated Press reporter was there). But the reporter raved about the beef jerky, writing this: "This isn't your typical beef jerky. It is paper thin and looks like it was run through a shredder. It is pleasantly spicy and chewy, and totally addictive.''

And, finally, don't forget to walk the aisles of New Phnom Penh Asian market at 37 Branch St. to purchase some of the foods you've discovered before you head home.