New England Travel
10 Beaches Across Massachusetts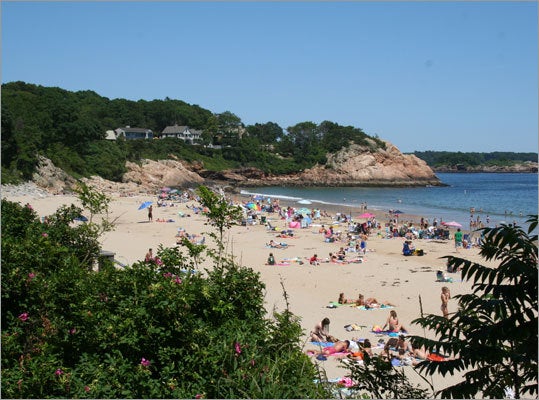 Get amazing travel deals when you sign up for Boston Traveler. Find the perfect getaway, grab special fares for local and international trips, and much more.
 

Who doesn't love a good beach day? Sand between your toes and the relaxing sound of waves rolling in. But do you find yourself wondering which beach you should go to? If you need beach ideas, here's ten across Massachusetts.

Menemsha Beach, Martha's Vineyard

At first glance, the town beach in sleepy Menemsha doesn't appear to be much, but when the lights start to go down over Martha's Vineyard, that's when the show begins. Grab fried clams at the nearby popular shack, The Bite, or steamed lobster from the likes of Menemsha Seafood or Larsen's Fish Market and settle in for what many consider to be the best spot to watch a sunset in the entire state. The calmer waves at Menemsha Beach also make this a favorite spot for families with young children. For sure, Menemsha is a more serene, genteel alternative to the busier crowds on most other Vineyard beaches.

Madaket Beach, Nantucket

Well known on the other island for sunsets is Madaket, located at Nantucket's westernmost point. Sunsets are a seasonal treat here, but so too is an early-morning stroll on the quiet beach. The surf can be heavy, as evidenced by the amount of ocean debris on shore. And even though it's easily reached by Nantucket public transportation, a $4 round-trip from Nantucket town, the remoteness can sometimes make you feel as though you know a secret kept from other islanders.

Horseneck Beach State Reservation, Westport

The drive down Route 88 can be a headache on any given day, so do yourself a favor and reach this beach by way of Horseneck Road, which runs parallel. You'll discover rolling farm lands, a winery, and a tranquil alternative to the sometimes maddening rush. Once at Horseneck, you'll find ample inexpensive parking ($8 for residents, $14 for non-residents), classic Massachusetts dunes, sparkling, clean sand, and new changing facilities. Birders will love the habitat situated here. Camping is also available nearby, featuring 100 sites. Ocean waves can be rough at times, and seaweed can be plentiful, but Horseneck is still a beautiful spot to spend a beach day.

Katama (South) Beach, Edgartown, Martha's Vineyard

The fine, white sand at Katama Beach, also known as South Beach, plays well in contrast to the deep blue ocean crashing into it with some ferocity at the shore. The three-mile stretch of land stretches far to both left and right, creating a soothing atmosphere where no land is visible as far as the eye can see — a welcome escape. The waves can be a bit more aggressive, which makes it an ideal destination for boogie boarding or body surfing.

Race Point Beach, Provincetown

The sand is a little whiter and brighter at the tip of the Cape, where Provincetown's crown jewel provides the final stop on the historic Cape Cod National Seashore. The views of the Atlantic Ocean are sweeping, and this is a great spot to make an early destination for a spectacular summer sunrise. Waves tend to be light here on an average day, making it a fine spot for families and those not looking to tangle with seaweed.

Singing Beach, Manchester-by-the-Sea

Parking can be a real issue, as spaces at the beach are reserved for Manchester-by-the-Sea residents only. But you can find limited metered spots in the nearby downtown area if you beat the crowds, and Singing Beach still gets points for accessibility thanks to the presence of the MBTA commuter rail, just a short walk away. The rocky cliff coast of Singing comes into full view upon arrival, giving the area a feel almost like Maine. The pristine sand makes this a favorite North Shore destination, while the stunning views provide a soothing atmosphere.

Cisco Beach, Nantucket

Located on the south shore of Nantucket, Cisco Beach is a surfing paradise, with waves just gnarly enough to provide the perfect atmosphere for both beginner and experienced boarders alike. This long stretch of sand is backed on one side by eroding dunes, the other by a cool ocean that boasts a number of wetsuits at any time of day. Beginners can learn the craft from the Nantucket Surfing Co., which is on hand for lessons and rentals. No public transportation to Cisco, reachable only by personal vehicle or taxi. Fare from Nantucket town is generally around $14 for one person, one-way. Each additional person will run a few dollars more.

Coast Guard Beach, Eastham

One of the first stops on the Cape Cod National Seashore, this Eastham favorite places annually on beach guru Dr. Stephen Leatherman's list of the top 10 cleanest beaches in the country thanks to pristine ocean conditions, fine, powdery sand, and a concerted effort to protect the nesting piping plovers. Adjacent to the beach you'll find miles of salt marshes, providing a dramatic backdrop to a Cape Cod jewel. Plentiful parking is available in the nearby parking lot ($15), from which a free National Seashore shuttle bus will whisk you to the shore. Passes for all National Seashore-run beaches are $45 for the season.

Cahoon Hollow, Wellfleet

Stare out at the ocean from atop this Wellfleet classic's sand cliffs for one of Cape Cod's most breathtaking views. Then make your way – slowly – down the adjacent embankment and it will seem like the beach swallowed you into its beauty. The clay-colored cliffs consume you, as if you've been swallowed up by the surroundings. Be sure to stop for lunch at the Beachcomber atop the cliffs, a typical beachside bar. Tip: Park for the day in the Beachcomber lot for $20; you'll receive a food or merchandise voucher for the same amount. If that's full, look for additional parking down the road. As with most popular destinations, parking can be tight, so plan to get there early.

Crane Beach, Ipswich

This gorgeous stretch of land on the North Shore features fine powdery sand, clear ocean water, and some impressively clean changing and food facilities. The short walk across the parking lot boardwalk to the beach provides beachgoers with a variety of sights, from the plentiful mounds of sand dunes to the immaculate view of one of the state's most beloved summer spots. Parking can be pricey – $25 on weekends – but spots are normally available if you get there early enough. And since the beach stretches for miles, you're not likely to have a difficult time landing a spot in the sand even on the most crowded summer days. If you want to leave the car behind, consider taking the Ipswich Essex Explorer, from the Ipswich commuter rail station. For just $5 round-trip, the shuttle transports passengers and drops them off right in front of the beach—even if the parking lot is full. The ticket price also covers beach admission.