New England Travel
Leaf Peepers Bring Billions of Dollars to New England (And Flood Instagram With Beauty)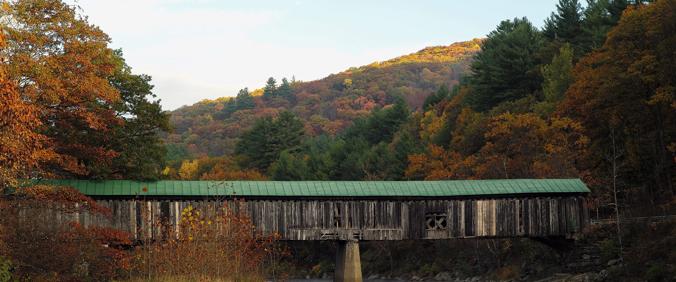 Leaf peepers mean big business for New England — billions of dollars big. And this fall's warm temperatures have only sweetened the pot.
Warm weather and less rain means leaves cling to trees longer, extending the foliage season, said Steven Cook, executive commissioner of the Vermont Department of Tourism and Marketing.
"As someone who's been in Vermont for over 14 years, [this fall] is one of the most beautiful foliage seasons I've seen,'' said Cook.
Fall tourism dollars make up 25 percent of Vermont's annual tourism profit. The Green Mountain State hosts 3.6 million fall visitors, who spend an average of $128 per person on lodging, restaurants, gas, and amusements. That translates to $460 million in tourism spending.
The warm weather, coupled with a concentrated effort to lure visitors in the middle of the week, will contribute to what Cook predicts will be a "banner year'' for the state's fall tourism income. A $310,000 campaign designed to beckon visitors from Boston and New York during the middle of the week—a time where the state has, as Cook says, "lost a lot of ground'' over the past 30 years—was launched in September.
Vermont is offering more than 30 midweek lodging packages, ranging from quirky getaways such as the "Hunter's Wives Knitting Retreat'' at Vermont Grand Farm in Washington (billed as a knitting circle for ladies whose husbands are off hunting) to the more traditional "Vermont Midweek Dinner Package'' at North Bennington's Eddington House Inn. Is the push working? Yes, said Cook.
"Our lodging sector [has] seen some growth in that midweek stay,'' said Cook.
Lodging is up across Massachusetts as well.
As of August, a 4 percent increase in hotel room sales means Massachusetts is on track to make close to $4 billion this foliage season, says the Massachusetts Office of Travel & Tourism. That will mean a greater profit than last year, when the state earned approximately $3.5 billion between September and October off 2.5 million fall visitors.
Other New England states are watching the fall tourism dollars climb as well.
The New Hampshire Division of Travel and Tourism Developmont says the Granite State is on track to make $1.6 billion from 8.2 million visitors this fall. That's an increase from the $1 billion spent by 7.5 million fall tourists in 2009. Fall visitors to Maine spent $581 million last fall, up from $489 million in 2009. The Connecticut Office of Tourism will release its latest tourism earnings, including seasonal numbers, in December.
Rhode Island doesn't track tourism spending by season, but state tourism director Mark Brodeur said this fall has been "a nice extended very very good season for foliage'' in the Ocean State. He said 18 million tourists spend $5.8 billion a year in Rhode Island and they are spending about $465 per trip.
"We find that 29 percent of our tourists come between September and November,'' said Brodeur. "It's a busy season for us. It's our highest time that we have international visitation.''
Folks drawn to the state for leaf peeping stay for popular fall events such as Providence's WaterFire and the Roger Williams Park Zoo's Jack-O-Lantern Spectacular, Brodeur said.
This year's weather has been a fall tourism industry dream, say the experts. After all, Mother Nature has the power to squash the season like a bug. Heavy winds and rains, which rip leaves off trees, are the stuff of fall tourism nightmares. Hurricane Irene ripped into Vermont's tourism revenue in 2011.
"That was a tough year for us, especially [for the hurricane to] to happen in August right as we were heading into our foliage season,'' said Cook.
This year, as November approaches, the season is going strong.
"The nice thing about New England is it's branded to begin in September, but we don't see the peak until just about now,'' said Brodeur, adding, "It's not over yet!''
Take a look at the Instagram photos leaf peepers are posting from all six New England states this month. The tourism dollars these photos represent make them golden in more ways than one.
A leaf peeper in Massachusetts captured this shot:
[fragment number=0]
Here's a slice of Vermont's fall beauty:
[fragment number=1]
Swan Point Cemetery in Providence, Rhode Island is positively glowing in gold:
[fragment number=2]
New Hampshire's fall hues shine through in this shot:
[fragment number=3]
Maine is looking marvelous this month:
[fragment number=4]
And, finally, here's Connecticut on a pretty fall day:
[fragment number=5]