New England Travel
Where in New Hampshire Is This Controversial Covered Bridge?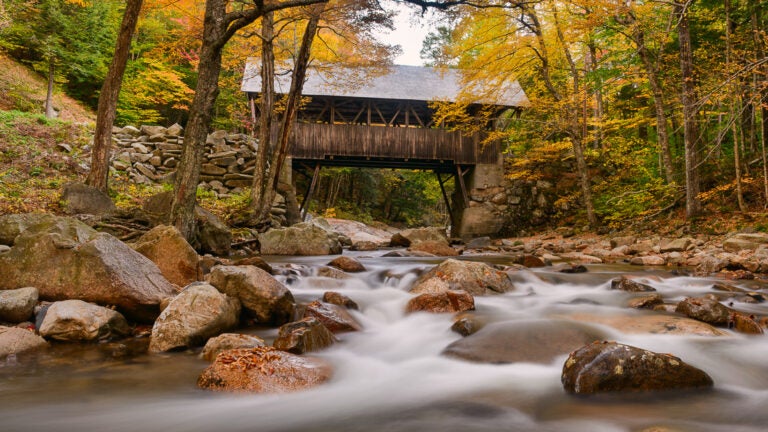 This covered bridge in New Hampshire was built in 1871 and is the subject of much debate.
Some think the 50-foot historic bridge, which crosses the Pemigewasset River, was not built where it stands. They think it was built "elsewhere,'' according to multiple sources, and later moved to its current location. Others maintain this is the original spot.
The bridge is open to traffic and has a hiker's walkway on its north side.
New England photographer Michael Blanchette, who shot this gorgeous photo at dawn with a friend, told Boston.com about the day he captured it.
"Although the typical photo is taken from the west side of the bridge, we wanted a different spin on this photogenic location,'' said Blanchette. "After scouting both sides of the Pemigewasset River, we decided to set up our tripods on the south side of the bridge for this view facing north. The long 10-second exposure added a silky look to the river surface amidst leaf-covered rocks.''
Do you know the name of the bridge and where it is located? Post your answer in the comments for a chance to choose a future #TravelTuesday photo location.
Check back with us tomorrow for the name of the bridge and the New Hampshire town where it is located. And thank you to Blanchette for sharing his photo with us.
Get travel inspiration every Tuesday on Twitter using the hashtag #TravelTuesday.
The answer: The Flume Bridge is located within Franconia Notch State Park in Lincoln, N.H.