New England Travel
Ski Lift Discounts Across New England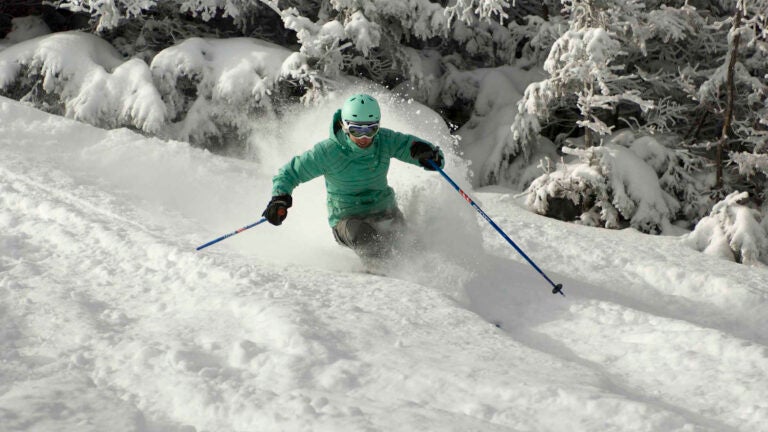 Skiing can be an expensive sport.
So it helps to know about special deals happening at New England resorts (think Sundays and St. Patrick's Day).
We've sorted them out for you so you can plan the most wallet-friendly ski excursion this winter. Happy skiing!
Slopeside for St. Patty's Day:
St. Patrick's Day is proving to be a cheap skiing day, with $17 lift tickets at Bretton Woods, Attitash, and Wildcat, all in N.H.
Sunday Fun:
Sundays are cheaper days to ski, judging from the many ski specials offered at various resorts. Mount Sunapee in N.H. lets folks ride for $45 from noon to 4 p.m. At Wildcat in N.H., enjoy $30 half-day lift tickets from noon to 4 p.m. There is a family fun day at Crotched Mountain in N.H. for $35 if you ski between 2:30 and 5 p.m. At Sugarloaf Maine families can ride for $42. Celebrate Maine Days the following Sundays at Saddleback: Feb. 1, March 1, and April 15 with $39 lift tickets.
Ski at Night:
Night lift tickets at Gunstock in N.H. will cost you $32 for two on Tuesday nights. A Twilight Ticket at Cranmore in N.H. will cost you $42 from 2 to 6 p.m. (and is valid on Saturdays and vacation weeks!). In Vermont at Bolton Valley, ski for $19 every Saturday beginning at 4 p.m.
Rewards for Residents:
Residents save money by living near the mountains. Just make sure you show your ID.
For example, if you live in Carroll, Coos, or Oxford Counties in New Hampshire, you can ski for $15 after 12:30 p.m. at Black Mountain in N.H. on Sunday afternoons (except for holiday weekends). And New Hampshire residents can snag $34 lift tickets at Ragged Mountain between noon and 4 p.m. on Sundays.
Maine residents can ski or ride every Wednesday at Sugarloaf for $42 (except for Feb. 18). If you are a Connecticut resident with a fourth grader, your child can ski free at Mohawk Mountain this winter. Why? "Because 4th graders are awesome!'' says the resort's website.
April Fools Day:
Ski Attitash in N.H. for $9 on April Fool's Day Wednesday April 1.
Military Discount:
Some mountains offer military discounts, so bring your ID. Jiminy Peak in Massachusetts till take $15 off your lift ticket, $10 off rentals, and $10 off adult group lessons through February. And the mountain will give you 50 percent off lift tickets in March. At Crotched Mountain in N.H., military pays $50 a ticket from 9 to 5 a.m. and pays just $74 for lift ticket, rentals, and lesson.
More deals:
— Attitash in N.H. is celebrating its 50th anniversary January 26 by offering skiers and riders $19.65 lift tickets (get it?).
— Mohawk Mountain in Connecticut will offer special thank you nights to first responders, local heroes, and teachers this winter. Tickets are half-price from 4 to 10 p.m. The deal is good for first responders on Jan. 31, police, firefighters, and EMS on Feb. 1, and for teachers on Feb. 8.
— If you own a Subaru or Hyundai, you're in luck. You can ski Bolton Valley in Vermont for a discounted price on Jan. 30, March 6, and March 22. Call the resort to ask about the deal, since each is different.
— It's Bring a Friend Day every Wednesday (except Feb. 18) at Saddleback in Maine. Buy one adult ticket for $59 and get a ticket for a friend for just $10.
— It's Youth Pay Their Age Day on March 8 at Crotched Mountain in New Hampshire. Guess how that works?
— Seniors age 55 and up can ski for $29 on Mondays at Crotched Mountain in N.H. between 9 a.m. and 5 p.m.
— Donate a minimum of five nonperishable food items at Okemo in Vermont on March 29 and ski for $39. All donations go to local food banks.