Opinion
What it's like to be tested for COVID-19 at Northeastern University
"The whole process took 20 minutes, is free, and I will have to do it again every three days presumably for the rest of the school year."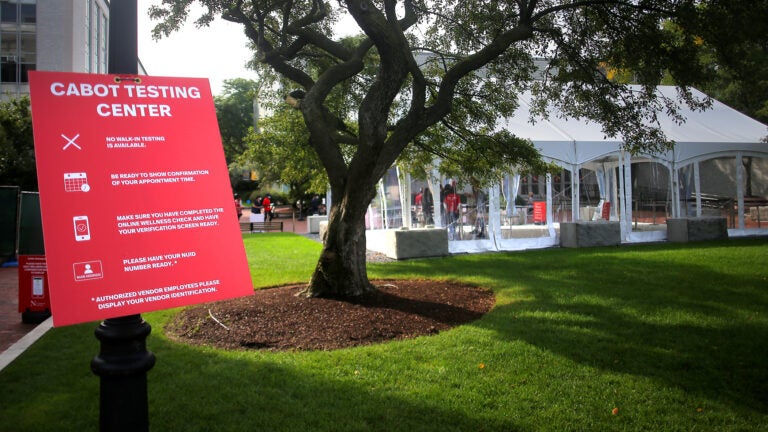 I've made a mistake. It's 1 p.m. on a Sunday and the socially-distanced line to get into the Cabot Physical Education Center, where Northeastern University has set up its COVID-19 testing site, stretches back 400 yards to the library. This is one of the testing site's "busy times." This is how I'm starting my fourth year as an undergraduate student at Northeastern.
The line moves fast and within a few minutes, my daily wellness check (a two-question survey on Northeastern's wellness portal website that asks about my symptoms and contact with symptomatic individuals, required for entry to campus) is being scanned by a student worker in a tent outside the Cabot Center. This is the university's primary testing facility for the Northeastern community, and the only one I've ever used – the other site, the Huntington Testing Center, is strictly for individuals who are symptomatic or who have been in contact with someone who has tested positive.
I'm offered hand sanitizer. After a second, shorter line to get my temperature checked, I finally enter the building. There are huge vinyl banners hanging from the walls and ceiling reminding onlookers to "Protect the Pack." I'm offered hand sanitizer, again. I stand in a third line with red stickers on the floor marking six feet of social distance that leads me to another student worker behind a plexiglass shield, who prints a sticker with a barcode and my test details on it. Another student worker at the end of another socially-distanced line directs me to a testing station — a fold-out table with three test tubes and three swabs. I'm tested using an anterior nasal swab with two other students at my station. The swabbing took 10 seconds on each nostril and went about half an inch deep. The swabs were then sealed in tubes marked with my barcode stickers. We are offered hand sanitizer one more time on our way to tap out of the Center with our student IDs. The whole process took 20 minutes, is free, and I will have to do it again every three days presumably for the rest of the school year.
Northeastern's testing infrastructure seems robust. All active undergraduate students like myself, whether or not they are living on campus or enrolled in classes, are required to get a COVID-19 test every three days; the same is expected of graduate students who regularly come to campus, and faculty and staff must test every four days. If they are accessing the campus less than twice a week, getting tested upon arrival to campus is required. If I were to fail abiding by the university's testing schedule, my student ID would be disabled. I would lose access to campus facilities, like the library, housing, classrooms, gym, and dining facilities. The university hasn't specified how many days I could go without being tested after disabling my Husky card, but it would result in suspension, according to a university email to students. At a private university with an annual tuition of over $50,000, that's the kind of warning that makes me sit up and take notice.
It may sound like Northeastern's requirements are going too far, but it's at least working. According to a university spokesperson, Northeastern spent $50 million on the school's reopening, though would not disclose how much was allocated to testing. According to the daily testing dashboard, Northeastern has completed nearly 240,000 COVID-19 tests of students, staff, faculty, and contract employees since August. Of those tests, only 118 have come back positive, most of whom are students. The school's current seven-day average positivity rate of 0.04 percent. For reference, the seven-day weighted average for the state is currently 1.2 percent, and 0.1 percent for its colleges and universities. It's worth noting the university is requiring significantly more testing of asymptomatic community members compared to the state.
As far as other universities go, Northeastern's testing procedure is consistent with other large, private universities in the area. Boston University is requiring twice-weekly tests for students living or studying on-campus, and has so far reported just 143 positive tests out of 211,615 tests total. Harvard University is requiring tests three times a week for anyone living on campus, and twice a week for anyone working or studying there; they have completed 102,504 tests and found 60 cases of coronavirus. Together with widespread mask use and aggressive enforcement of social distancing protocols, a robust testing process has meant that many of Massachusetts' colleges and universities have so far avoided spikes in coronavirus cases that some expected to accompany the return of the state's many students.
This hasn't been the story across the country. Texas A&M, a community of almost 75,000 students and faculty, has so far performed just 17,791 tests, and is reporting a 9.1 percent positivity rate, and over 1,600 positive tests in total. SUNY Oneonta, which didn't require students to be tested at all before returning to campus, was forced to shut down after over 500 people were infected. Research also backs up the idea that testing needs to be a central pillar of any community's reopening plan; one study found that fast tests repeated every three days, with isolation of people who test positive, prevents 88 percent of viral transmission compared with no tests. COVID-19 tests shouldn't be considered the silver bullet that allows colleges to reopen, especially because they are by nature a responsive rather than a preventative measure, but robust and regular testing is a powerful tool to help communities like schools to stay safe. What's more, in comparison to measures like quarantines or stay-at-home orders, getting tested is really easy.
So far, I've consistently received my test results within two days – if your test comes back negative, the results are posted on a patient portal, and if they're positive or inconclusive, you receive a call from a university administrator. Although it's a bit of a pain to think about the fact that this is going to be my reality for the foreseeable future, the peace of mind that regular testing offers is unreal. I can go on a date with my boyfriend, share dishes with my roommates, and study in the library without worrying that I'm currently in the process of killing someone I care about. Of course, that sense of security starts to wear off pretty quickly, but that's okay – I'll be back here in three days anyway.