Parenting
When do kids stop believing in Santa? Is your kid ready? | Boston.com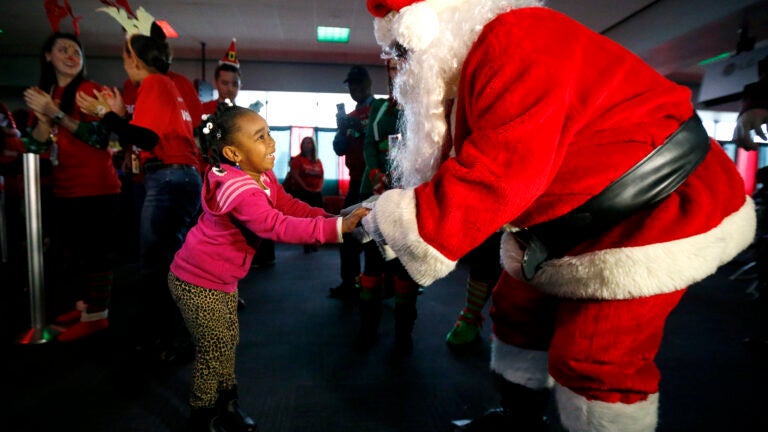 Most Americans have their own unique story about Santa, and when they stopped believing. Children hold on to instances that make him seem real, whether it's a creak they heard from the roof (obviously evidence of reindeer) or cookies crumbs left on a plate (Santa sure can eat a TON of the cookies).
Eight-six percent of Americans believed in Santa as a child, according to a 2006 poll. A century earlier, 8-year-old Virginia O'Hanlon wrote to the New York Sun, asking for "the truth'' of Santa Claus's existence. The editorial writer's reply, in part:
"Alas! how dreary would be the world if there were no Santa Claus. It would be as dreary as if there were no Virginias. There would be no childlike faith then, no poetry, no romance to make tolerable this existence.''
As much joy as he brings, the Man in the Big Red Suit can sure create some awkward moments. I recently had a discussion about Santa Claus with a 9 year old. She spoke at length about how she is prepared to "trick'' Santa this year. Her plan is to only tell him what she wants for Christmas—and not her parents. She also told me how desperately she wishes for Santa to be real. I didn't know how to respond. No one wants to be the one who ruins Christmas.
But what if your child wants to have "The Talk?'' You know, the SantaTalk.
Like any break up, it's all about open communication.
"Parents should be asking their child, 'What do they think?''' said Dr. Donna Housman, an assistant clinical professor of psychology at Boston University School of Medicine and founder of Beginnings School. "They should really encourage their child to talk about their own ideas and feelings and really be able to get a sense in listening to our children whether or not they may be ready to give us that magic and let logic take over.''
Children naturally have very vivid imaginations, so it makes sense when they hold steadfast to a magical man that even their parents seem to believe in.
"All kids have fantasy lives,'' said Dr. Benjamin Siegel, a professor of pediatric medicine and psychiatry at Boston University School of Medicine and a pediatrician at Boston Medical Center.
[fragment number=0]
Girls are more likely to play with imaginary friends between the ages of three and five, he said. Soon after that, they might start to explore their identites through playing with princesses, while boys will turn to Spiderman, or whatever action hero suits their fancy, said Siegel.
On average, between ages 7 and 9, children will start to question Santa's existence, Siegel said. A belief in Santa Claus is a part of child and human development, and it draws out conceptions of life's larger, complicated issues, said Siegel.
"It has to do, in a broader sense, with how we as humans think of wonderful things in our lives like music, love, poetry, hope, political ideology, freedom, human rights and empathy,'' Siegel said.
Housman suggests that parents try to teach their children about the holiday spirit through Santa.
"It's best to really present Santa as a representation of what is so important in terms of the spirit of giving, generosity, joy, kindness, and love,'' Housman said. "And through being kind and compassionate and generous, one can really be able to learn and develop these qualities and be able to survive during more difficult and challenging times.''
She said there's no right or wrong time to stop believing in Old Saint Nick.
"When children are ready to let go of [Santa], when logic steps in, and when they're ready to say good-bye to that at a particular age, they will let you know,'' Housman said.
A prolonged belief in Santa Claus (anytime after age 12) might indicate how a child deals with stress, Siegel said. Santa might make a child feel better when he or she needs something to hold on to. Or, he might just be "ritualistic or symbolic of growing up,'' like a stuffed teddy bear, he said.
"I don't know if the issue is if you do or don't believe in Santa Claus,'' Siegel said. "I think the issue is how do we welcome the idea of Santa Claus into our cultural and social perspectives, and I think that's criticially important.''
Even kids who do not celebrate Christmas might wonder about Santa Claus. Though I was raised Jewish, I celebrate Christmas every year with my family. The second day of the eight nights of Hannukkah might include giving some patterened socks or a new calendar. My brother believed in Santa Claus into middle school. Though the holiday season might highlight some cultural differences, it united us all in family tradition.
"Maybe in this world of just horrible divisions: racial, class, economic, presidential and everything else, maybe Christmas is a healing time,'' Siegel said. "And for kids, maybe it's a time to feel nurtured and loved, and if Santa Claus is a part of it, that's fine, so be it. And if Santa Claus isn't a part of it, and the kids say no, Santa Claus isn't real, that's okay, but we celebrate, we get presents and we get together as a family.''