Parenting
Meet the Cape Cod family whose newborn twins got stuck in a daylight saving time paradox
"Is this real life, or am I imagining things?"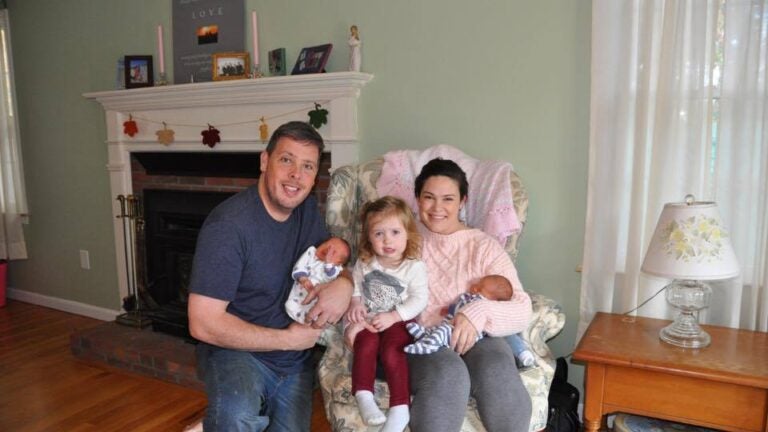 It's a paradox that can only happen during one distinct night every year: How can one twin be born first, but still be younger than the second twin?
The answer: daylight saving time.
Samuel Peterson, the son of West Barnstable parents Emily and Seth Peterson, was born at 1:39 a.m. last Sunday, Nov. 6. His brother, Ronan, was born 31 minutes later. But by that time, daylight saving time had taken effect and clocks had gone back one hour, so Ronan was technically born at 1:10 a.m.
"I think my husband realized it a little bit before I did," Emily Peterson said. "I was in the process of birthing the babies into the world, and I was a little preoccupied with that."
Emily said that after Sam was born, the hands on the clock in the room started spinning to go back an hour.
"I was like, is this real life, or am I imagining things?" she said. "The time change was the last thing on my mind."
Deb Totten, a maternity nurse at Cape Cod Hospital, said it was the first time she has seen this happen in her more than 40 years on the job, according to a Facebook post from Cape Cod Healthcare.
Emily said she and Seth, a trooper with the Massachusetts State Police, joked about it later, while they were sitting together with their daughter, Aubrey, and their two new sons in the hospital.
"I just remember this look on [Seth's] face," Emily said. "He just kind of laughed and he said, 'Well there's a riddle for you.'"
Emily said she doesn't yet know how she'll explain it to Sam and Ronan.
"I kind of like the fact that … nobody feels second," she said. "Technically Baby A was in the world longer than his brother, but the birth certificate, if you go by that… It kind of depends."