Relationships
All's Fair in Love and Classified Ads: Three Centuries of Public Spouse Shaming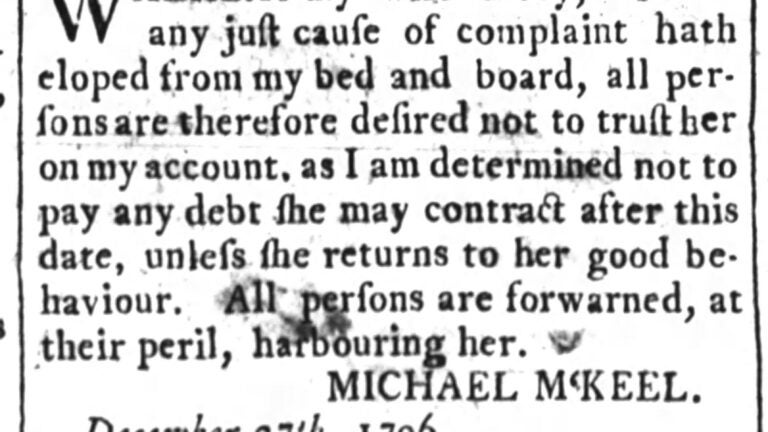 Valentine's Day is around the corner. Are you so happily in love the only question is six red roses or 12? Then move along. Just get dumped? Divorced? Hate Valentine's Day? This one's for you.
In early March 2014, an image posted to Reddit showed what appeared to be a newspaper advertisement placed by a scorned wife desperate to shame her philandering husband after he impregnated another woman.
"Hope you both are really in love,'' the ad read.
The ad quickly went viral, with stories on sites from The Daily Mail to The Huffington Post.
"The paper is something everyone reads. This is a small town, only 1,100 people,''Shara Cormier, the alleged mistress, told Boston.com, adding that she "cussed out'' the paper's editorial staff.
Cormier has since given birth to the baby that prompted the original ad.
According to Penny Ferguson, editor of the weekly Sabine County (Texas) Reporter, Timeshia Brown paid $17.40 to publish the ad, which ran in the weekly paper in early March 2014. Ferguson has no regrets about publishing the ad, insisting Brown "was actually very sincere'' in offering congratulations to her husband and the woman he impregnated.
Sincere or not, Timeshia Brown was actually continuing what for years was an American tradition: airing one's marriage grievances in newspaper classified sections.
For more than 300 years, newspapers ran advertisements from men publicly announcing their wives had left them, and that they would no longer "be responsible for her debts.'' Hundreds of thousands of ads like these ran in virtually every newspaper across the country, from small town weeklies to The Boston Globe and The New York Times. The tradition lasted into the mid 1980s, when the ads largely stopped appearing.
The first known example, according to Indiana University historian Kirsten Sword, who is writing a book on the history of "wayward wives'' ads, was in 1656. Christopher Lawson posted notices around Boston warning that "none should trust'' his wife Elizabeth, who he claimed planned to "blemish my name … and ruine my estate.''
Soon enough, announcements similar to Lawson's were running in newspapers across the country.
Each ad had three consistent components: a reference to "my bed and board,'' an indication that the wife had "eloped,'' and a declaration that the husband would "no longer be responsible for her debts.''
Sarah Leavitt, a historian who analyzed the advertisements in colonial Rhode Island, described the "almost routine'' phrasing:
"After identifying the wife, the abandoned husband proceeded to an explanation of what she had done. Stating that she had left his bed and board was fundamental … 'My bed and board' is perhaps the key phrase in the advertisements. Embedded in these words is the very essence of marital existence for women in the late eighteenth century: in the eyes of the law, married women did not live in their own homes … The most important reason for an abandoned husband to place a notice in the newspaper was to warn all local businesses, tavern and inn keepers, and other persons that he would no longer pay the debts incurred by his wife. This disclaimer of financial responsibility could have the most serious consequences for a runaway wife.''
That the ads offered little in the way of legal protection didn't stop them from filling classified sections. In 1885, The Chicago Tribune interviewed A.S. Trude, an attorney, who pointed out the fact that – despite their popularity – "these printed notices in the newspapers are worth very little.'' In order for such an ad to protect a man against purchases made by his estranged wife, the husband would have to prove that "the merchant has seen the notice,'' he explained.
Trude speculated that the ads originated from "an old-time custom'' in England, where employers warned other employers to steer clear of "runaway apprentices.''
If runaway wives had anything in common with runaway apprentices, they also had a lot in common with runaway slaves.
In England and America, classified advertisements for runaway slaves, apprentices and servants ran alongside notices of "eloped'' wives and "lost'' dogs.
Eighteenth century wives were, in a sense, "unfree laborers,'' according to Robert Owens, an assistant professor of history at Wichita State University.
Unsurprisingly, ads for 'runaway wives' often ran alongside ads for 'runaway slaves.'
With divorces difficult – if not often impossible – to obtain, the options for women in unhappy or abusive marriages were limited, and many simply fled.
For husbands, the ads were thought to provide an efficient and relatively inexpensive way to "self-divorce,'' simultaneously protecting both their wallets and reputations.
If the ads didn't offer much in the way of legal protection, they were useful as a punitive measure. The term "elope'' implied that the wife had committed adultery, and thus the ad not only served to protect the husband's finances, but also to "impugn a woman's reputation, whether or not it was true.''
"Sometimes legal protection was the goal. Sometimes just spite,'' Sword told Boston.com.
Not every newspaper was comfortable with the practice of men posting "bed and board'' ads.
In late August 1841, The (New Orleans, Louisiana) Times-Picayune called "the custom of men advertising their wives, as a mean, contemptible proceeding.'' The paper pointed out its own "general rule never to insert such "documents.'' Ten days later, The Boston Post made known its similar stance, writing: "We do not approve generally, of the custom of men advertising their wives.''
But neither paper could resist the temptation to make an exception and publish a particularly compelling ad that first ran in The (Brownsville, Pennsylvania) Galaxy.
Those posting the advertisements didn't fit any specific mold. Some were people for whom the classified ad would be their only ever mention in the newspaper.
Others, who had led noteworthy lives, often found that their classified ads led to follow-up coverage of the marriage breakup.
Not all advertisements were posted by men. Women occasionally posted their own notices, most often designed to get ahead of any speculation as to who had left whom, and why.
Women also found power in responding to ads posted by their husbands.
Newspapers, which at the time relied significantly on aggregating interesting news reported by other papers across the country, quickly began including the juiciest ads posted by husbands and wives in other cities.
Reporters and editors seemed to take increasing pleasure in the responses published by women who were determined not to sit back and be publicly scorned. The act that had once served to shame wives who dared leave their husbands was now giving them a way to rally the support of sympathizers.
Sarah A. Jones paid the Stamford (Connecticut) Advocate to publish a scathing takedown of her husband. It went as viral as something could in 1854, and was reprinted and reported on by papers across the country.
Jane Parker's advertisement, first published in Kentucky's American Sentinel, offered up a description of the breakdown of her marriage, in verse!
Some women used the classified ads as a way to describe – in detail – the extent to which they had been victims of domestic abuse.
"The estranged wife would find herself in the position of the need to defend herself against the implied charge of adultery in addition to having to justify her departure, which might well be based on claims of cruelty.''
In 1839, when Robert Miles advertised the departure of his wife, Elizabeth, in The Baltimore Sun, he claimed – as was the standard – that she had left "without just cause.'' Elizabeth soon posted her own ad, stating that her rationale for "refusing ever to live with him again'' included "black eyes, burst mouth, and his acts of somnambulism.''
Lydia Spence responded to her husband's 1839 ad by detailing the reasons for her departure, including having been "beaten .. severely with a horsewhip'' and on one occasion beaten and "he left me for dead.''
In 1840, Harriet Penny responded to her husband's ad in The (Baltimore) Sun ad by detailing his misdeeds, which she said including having another wife and being "in principle a contemptible creature.''
When Jedediah Thoran, posted an ad that his wife, Catherine, had left his "bed and board,'' Catherine responded with her own ad in which she noted that Jedediah had "threatened to advertise'' if she left him.
"I have been a shockingly abused woman,'' she wrote in 1829. "He had promised me furniture and when I pined for it, he got me a pine table and beat me with the legs.''
The (New York) Evening Post found Catherine's ad so intriguing they reprinted it in full, free of charge.
To Leavitt, these ads showed that "many women … did not consider domestic violence to be either normal or acceptable.''
By the early 1900s, the practice of husbands placing "bed and board'' ads was increasingly seen as a pathetic, outdated, and ineffective act of a desperate man.
The (Olean, New York) Times Herald cited statistics to prove this point.
"In at least four out of five cases where the irate husband thus rushes to the newspaper and exposes his willingness to desert her whom he has so solemnly promised to protect and cherish, is the one at fault.''
Yet the ads continued to run in newspapers across the country.
In 1913, a reporter for The Oakland (California) Tribune commented on the ads, writing: "You can imagine the free-for-all scrap that took place in that home … So it goes through column after column. Each one has a story to tell.''
And certainly each ad did have a story to tell. More often than not, though, the rest of the story wasn't covered, and newspaper readers got only that small three to four line glimpse into the uniquely sordid details.
"Many, if not most, advertisements were desperate measures taken by men whose crumbling household and economic affairs threatened their solvency and their personal autonomy,'' Sword said.
In September 1940, The (Franklin, Pennsylvania) News-Herald announced the marriage of Thomas Glenn Harrison and Margaret Anita Hazelton. In December 1954, Thomas Glenn Harrison paid to publish a "desertion notice'' in the same paper.
Three years later, Thomas and Margaret were back in the news, this time on the paper's front page in a story headlined "Man Wounds Wife, Takes His Own Life.''
"Thomas Glenn Harrison, 38, Stoneboro, walked calmly up to his wife in Polk Tuesday evening, shot her, attempting to kill her, drove two miles to an abandoned sand quarry and committed suicide.''
Media reports explained that Harrison became "enraged when his attempts at a reconciliation of his broken marriage failed.''
Margaret survived – the bullet only "severing her right ear lobe'' – and remarried. She had three children, and worked as a hostess at Bob's Big Boy in Willoughby, Ohio for 38 years. She died in 2013.
By the mid-1900s, the ads that had once been fodder for newspaper columnists were fast becoming cringeworthy and distasteful, a sad relic of a time when publicly shaming one's spouse was a normal step in the breakdown of a marriage.
A column from August 1943 in the Lubbock (Texas) Morning Avalanche opined:
"I can't think of anything much uglier than those advertisements which appear almost daily in the classified columns of the newspapers … Here in three or four lines you have not only tragedy and broken home but all the ugliness that comes with hatred and discord. There, flaunted to the world, it points the finger of accusation at the woman whom once the same man vowed to honor and cherish till death do them part.''
In 1954, a small Texas newspaper commented on the decline of "bed and board'' ads.
"Such notices are sometimes seen today in city newspapers but it has been a long time since one has appeared in The Paris News. Wives who leave their husbands nowaways I expect are well able to take care of themselves and have credit in their own names.''
In 1965, a column by James Harvey in the Des Moines (Iowa) Register spoke to the legality of the ads: "Advertisements and signs mean nothing unless they are in accordance with the law. You can put a sign on your lawn: "$100 FINE FOR STEPPING ON THE GRASS,'' but that doesn't mean you can collect it.''
Sorrell Trope is a California divorce attorney who has represented Britney Spears and countless other A-listers including Nicole Kidman, Nicholas Cage and Frank McCourt.
"Clients would come to me when they were ready to get divorced. They told me they'd [posted an ad] and I would say its meaningless,'' said Trope, who has practiced matrimonial law long enough to have represented Cary Grant in his divorce from Diane Cannon.
"Putting an ad in a newspaper that says I'm no longer responsible for the debts of my wife Helen is just meaningless,'' Trope told Boston.com. "These notices were just a waste of money and a waste of time. You can't absolve yourself of a responsibility to support your spouse by just placing an ad.''
But "bed and board'' ads lived on, with a trickle of notices appearing in major – and minor – newspapers throughout the 1960s, 70s and early 80s.
By the mid-1980s, the centuries long tradition had been abandoned.
The majority of those who advertised their wives in the 1970s and 80s have died.
The daughter of one man, who advertised in The Washington Post in 1971, said she was unaware of the notice posted by her father.
"He did that? Why would he do that? That's private business.''
In 1981, Mohamed Taslimant posted a classified ad in The New York Times, announcing he was "not responsible for any debts contracted by his wife, Mrs. Hafida Taslimant.''
If Mohamed meant to shame Hafida by publishing the ad, it didn't work.
Hafida told Boston.com she had no idea such an ad ever ran.
"It was a nasty divorce, but why would he do such a thing? He was poor. I was poor. But I'm not a bad woman,'' she said.
Hafida said that she and Mohamed had two children together, and divorced in 1981. Hafida said she paid for the funeral when Mohamed died in 2013.
"I'm the one who paid for his funeral – after he did this? After he put my name in the newspaper? "My god. This is crazy. I had no idea,'' she said.
In January 2010, YaVaughnie Wilkins spent $50,000 on billboards in New York, San Francisco, and Atlanta to highlight her recent realization that her boyfriend of more than eight years was still very much married. Wilkins boyfriend was Charles Phillips, who was president of Oracle at the time.
Wilkins told Boston.com that she thought of the billboards as the only way to protect her reputation by proving that she had thought her relationship with Phillips was monogamous.
"Initially, I felt liberated once I made the final decision to go forward with commissioning the billboards,'' Wilkins said.
What Wilkins didn't anticipate was the billboards turning into what she called "an international media scandal.''
"I thought that I knew exactly what I was doing,'' Wilkins said.