Relationships
6 tips for spring cleaning your relationship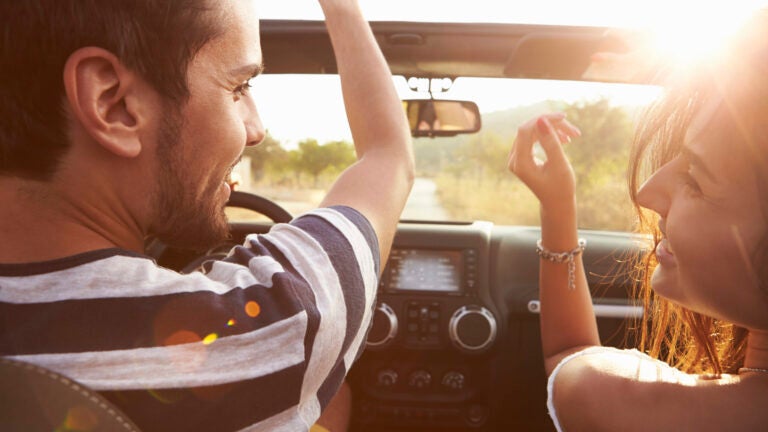 You dusted the drapes. You threw away the destroyed snow boots. You re-arranged your closet. Now, there's just one thing left in your life that you need to spruce up during spring cleaning: your relationship.
Boston.com and Boston Globe columnist Meredith Goldstein is the voice of Love Letters, Boston.com's offering of love advice. Monday through Friday, she doles out advice on all things relationship-related—ruts, fights, sicknesses, confusion, and frustrations. While she notes that all times of year are good times to work on your relationship, the changing seasons often inspire people to reevaluate what's going with their partner.
If you plan to tidy up your relationship this spring, Goldstein has some pointers for you.
1. Actually clean.
"Spring cleaning in its most literal sense can help a couple," Goldstein said. "When you live with someone, it can be difficult to share a space." That space can get messy over the wintertime, so if you find yourselves surrounded by the clutter of the cold months, it might be time to break out the cleaning supplies.
2. Change your routine.
If you feel that things have gone stale between you and your significant other, then say so, and the two of you may be able to change your routines along with the season.
"If you're going to take stock of something, it's a good time to say, are we getting out of the house enough? Are we spending quality time? Are we happy?" Goldstein said. "Have a five minute conversation to say, 'let's go to dinner on Wednesday. Let's take a class together. Let's redecorate.' Just being a team in some way, if that's been forgotten along the way."
3. Reconnect with a community.
Sometimes your favorite person becomes your only person, and after months of holing up indoors together to avoid the winter cold, you might find yourself distanced from anyone that isn't your significant other.
"I know couples that get super isolated. They don't spend enough time with friends together, or even friends separately," Goldstein said. So, "placing yourself within a community in the rest of the world" can help improve your love life's winter staleness. Call up that couple you like in your building, your work wife and her new boyfriend, or your best friend. Make it about more than just the two of you this spring.
4. If there are deep communication issues, therapy won't hurt.
Solving things with a partner can be tricky. There are certain obstacles in a relationship that need objective mediating—especially if you and your partner aren't communicating.
"If it has been on your mind that it has been uncomfortable to communicate, therapy is a good place to start," she said. "And therapy really can't hurt. Not everyone needs to go, but if you feel repressed when it comes to communication, and [are thinking] 'I can't be honest with this person because it's very difficult to communicate,' [therapy] is a safer place to do it."
Though, Goldstein says, if a couple needs therapy, they likely already know it.
"Often, when I advise couples to seek therapy, they've thought about it. A bunch of times. And just haven't done it," she said. So consider this your kick in the butt. If you've been avoiding giving therapy a shot, this spring is your chance to follow through.
5. Talk to your partner—or, conversely, listen to your partner.
You might not be the one who believes you and your partner are due for some changes. If that's the case, and your partner hits you with a "spring cleaning" conversation, Goldstein says your best bet is to simply listen.
"It's important that when someone brings a problem to you or concern to you, that you don't shame them for doing so," Goldstein said. "And it can be difficult to hear that there's a problem, but you have to listen first. And that's really hard. Because if you thought things were perfect and something sounds like a criticism, it can be scary. But you can't overreact to a fear."
6. Get active (or, if you're already active, stay active.)
The cold bums us out twofold; not only do we sometimes get out of shape, it also has the potential to make us uncharacteristically unhappy. If your partner fell off the fitness wagon last winter, the new season is a good chance to nudge them back into healthy habits—and doing so can have more benefits than one.
"We have had letters from [people over the years that] say, 'My person has gained weight, I don't know what to do about it,'" Goldstein said. "One way to deal with it is to say, 'Hey, I'm worried. You seem less motivated, you seem sedentary in a way that suggests you're unhappy.' And that's really what it is. I mean, sure, attraction is a huge part of it. But when someone is being unhealthy, it can indicate a bigger problem."
The endgame of talking to your partner about being active, Goldstein says, is to keep both of you stimulated and occupied in the future.
"It's good for our brains to be active in some way, if you can be," she said. "So I think that's a softer way of addressing the issue. You know, are you okay? Your behavior is different."
Keep in mind, however, that there is no magic to spring. Not in this arena, at least.
"There is an expectation of something being new and amazing all over again when seasons change. Just remember that it's just April," Goldstein said. "It might feel like something should be different, just like after new year's it feels like something should be different. But don't put too much pressure on yourself to spring clean. Sometimes it's actually not the most important thing."