Relationships
Mass. woman poses for engagement photos on destroyed island of St. John
"St. John is where we met. It's a huge part of our story," she said. "We both love it there. It seemed to make sense."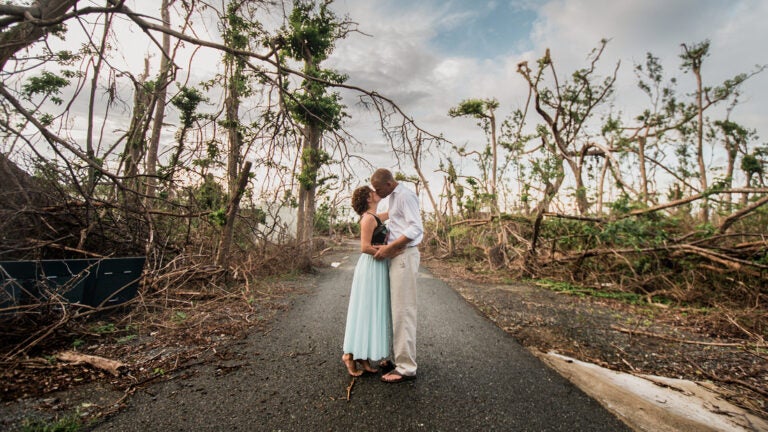 Andover native Lauren Saia's favorite engagement photo shows her standing on her tiptoes while kissing her fiancé. The couple is surrounded by total devastation.
Saia and her fiancé, Marty Bruckner, posed for the photos earlier in November on the island of St. John, the smallest of the three U.S. Virgin Islands, two months after the category 5 winds of hurricanes Irma and Maria destroyed much of the island. They decided they'd take their engagement photos anyway, amid the twisted trees, debris, and blown-out buildings.
"I think people are definitely interpreting them as a symbol of marriage and that love can overcome everything," Saia said during a phone interview while she was in Andover for the Thanksgiving holiday. "When we were taking them, we didn't intend them to have that much meaning. But looking at them now, they kind of do."
Saia, 32, met Bruckner shortly after moving to St. John six years ago. She was working as a bartender at an island resort when the boat captain, now 28, from Palm Harbor, Florida, asked her to go for a boat ride. They became engaged in February during a ski trip to Lake Tahoe.
But they weren't together when Hurricane Irma slammed into St. John in early September. The couple had just traveled to Massachusetts to visit Saia's family, and Bruckner had returned to the island first. When he heard about the approaching storm, he told Saia to stay with her family. She was "really scared" as she tracked the storm, later called one of the strongest storms in history, while Bruckner braced for it.
"I really wasn't sure I was going to see Marty again," Saia said.
Photographer Anne Bequette, of STJ Creative Photography and originally from St. Louis, has lived on the island for 12 years and knew the couple before the storm, but said she didn't become their photographer until after it had passed. Bequette and Bruckner bonded under the worst circumstances.
"We rode the storm out together," she said during a phone interview while visiting the States. "And, basically, because he helped save my life that day, there's a certain connection now. He's like a brother. He's like family."
Bequette said she and Bruckner were among 17 people huddled together in a laundry room as Hurricane Irma pounded the island. They were at the home of country singer Kenny Chesney, a longtime island resident who is friends with many locals.
"He called from the States to each one of us and said, 'Get up there. It's the safest place to be. Go ride it out in my house,'" Bequette said.
Chesney told HLN's Robin Meade that he wanted his friends to shelter in his St. John home because it was built with concrete stone bricks and windows that could withstand 200 mile-per-hour winds.
"The last couple of texts I got from Marty were pretty scary," Saia said. "Basically, the last text I got was that the windows blew out."
Bequette said Bruckner and some other men held a mattress to the blown-out door of their shelter to block out the wind. Everyone survived, and Bruckner was able to check in with Saia the next day. Chesney told CNN's Anderson Cooper during an interview after the storm that his house was "pretty much gone."
Bruckner was able to get off the island before Hurricane Maria struck two weeks later, Saia said. When the couple returned to St. John, they were stunned by the amount of damage the storms had caused. Surprisingly, their apartment was spared.
While surveying the damage, Bruckner asked Bequette if she would shoot his engagement photos in the ruins. She didn't hesitate to say yes. Saia didn't either when Bruckner approached her with the idea.
"St. John is where we met. It's a huge part of our story," Saia said. "We both love it there. It seemed to make sense."
During the 90-minute photo shoot, the couple posed on a path amid broken trees, on the enormous branches of an uprooted tree, and beside the window of a blown-out building on the beach.
"We were going underneath caution tape and walking through broken glass, sheet metal, concrete crumbles, and exposed nails everywhere. … We had our moments where we were silent and kind of in our own heads," Bequette said.
"It was just really a surreal experience to see it like that," Saia said.
Saia said she wants to exchange vows on the island, even if she has to postpone her May 12 wedding date.
"There's just something about it," Saia said of her love for St. John. "It's hard to find the words. It just kind of captures your heart. It's beautiful there, and the people are just amazing, and we have such a great community."
Saia said she and Bruckner are doing what they can to help their island clean up and recover. There are still places without power, she said.
"The fact that [the pictures] are getting so much attention is great for St. John," Saia said. "People need to remember that we're still there and still need help."
Those who want to help can donate to the Love for Love City Foundation created by Chesney, Saia said. Love City is a nickname for St. John because of the island's reputation for romance.