Relationships
7 pieces of dating advice from this year's Dinner With Cupid commenters
Fans of the Globe's popular blind-date series had a lot to say about falling in love.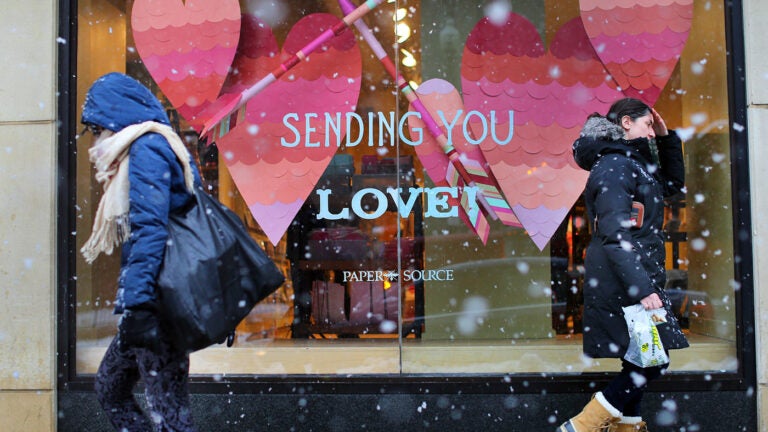 Dress well, be respectful, and go in with an open mind.
That's first-date advice from Melissa Schorr, who runs Globe Magazine's popular blind-dating series, Dinner With Cupid, in which two singles go out to dinner and then recount their connection for readers in print and online.
The interaction doesn't always end with the column's letter-grading system, though. Sometimes a couple goes out on a second date. And, more often than not, readers offer their own take in the comments section on BostonGlobe.com.
"I think readers are sometimes older, wiser, and married a long time," Schorr said. "They can see that sometimes in dating life, chemistry grows, and you could end up with them."
We broke down the comments on every Dinner With Cupid column this past year, and a few themes emerged in response to eager daters. With love in the air this Valentine's Day, here are seven pieces of first-date advice from Dinner With Cupid commenters:
1. Don't rush through dinner.
Nick: 'Dinner was long. I finished my meal quickly and she was a slow eater. I felt awkward talking while she was eating.' — Rookie mistake, bud. Always match her pace, so she doesn't feel rushed … grab a snack BEFORE the date so you're not crushing your dinner. The date isn't about food, it's about her!
— TKE2Eagle on 'I felt awkward talking while she was eating'
2. Opposites attract.
When I met my husband, I wasn't into his interests and he wasn't into mine. But we were into each other. Life is long. You try different things, some become shared hobbies, some become your passion, and some become "me time."
— Effrontery on 'She told me about some cool neuroscience she was doing'
My wife and I have been happily married for 42 years and were nothing alike. It makes it more interesting!
— Banned Porte on 'We kept delaying our order while plotting what to eat'
Not everyone you meet on a date will be "your type," but if you break out of that notion and meet people for who they are, maybe "your type" will expand and evolve and you won't be limited with dating.
— Twgman on 'He suggested we go . . . get bourbon milkshakes'
3. The sparks don't have to fly right away.
If your expectation is that a first date needs to be 'memorable,' you'll be sorely disappointed. I know of several couples including my parents, who were married for 44 years before they passed, who had less than memorable first dates. Remember; what you ask of others, ask of yourself first. Memories are created over a lifetime, not during one dinner date.
— PatsFan79 on 'She reminded me of Audrey Tautou in the movie "Amelie" '

My fiancee when I first met her (not a date) did zero for me. We did become friends; she tutored my son as a favor. Then something happened to throw us together in having to deal with it, still no spark. Then in the midst of a dark time for both of us, we realized in the course of being supportive of one another, we didn't want to stop, the spark happened then. She wasn't my type except she was exactly right for me, we fit so well together. She and my son get along well. Short story: the statement there was no spark is assuming the spark is or must be immediate. It is much better that it be a slowly building fire.
— outside-lookin-in on 'My date possessed a fabulous head of hair'
Chemistry wasn't a slam dunk but both participants realize that shouldn't be a "deal breaker" . . . rather, if they enjoyed each other's company, they should go on a second date and see if the connection builds over time. That's how it works!
— CambridgeDayandNight on 'I'd convinced myself that I had no expectations' on this blind date'
4. Try again and again (and again).
Metaphor for life, really. You'll find your handsome prince all right but only after you've kissed a lot of frogs.
— HarryRPitts on 'I loved that he was so dressed up'
Sometimes you can have a certain "dream date" image in your mind, but you have to put aside the fantasy and give reality a chance. And when you do, it can be so much better than the fantasy!
— user_3196660 on 'He stood up when he saw me arrive. I love manners!'
My Golden Rule of Dating before I got married was: Unless the man is rude, unkempt, etc., there's a three date minimum and a three date maximum.
— LESMIT on 'I said to myself, 'Please let this be my date''
5. Don't fuss over the little things. 
If you like animals at all, how can you dislike cats? That's a personality disorder, in my opinion. Geckos are cute, but how can you have a loving relationship with one? And judging somebody's worth by how they like their steak? Really? It sounds like they're both avoiding the primary thing that makes relationships work: closeness.
— who-cares-1940 on 'Will their mutual dislike for cats lead to warm, fuzzy feelings?'
6. Treat conversation like an art form.
Fellow guys: talk less; listen more.
— hikerdad on 'I was hurt that some guy who didn't even know me was blowing me off'
Stop the incessant texting or you could go from Mr. Eligible to Mr. Stalker in a heartbeat!
— b21 on 'He also brought me a gift'
If you have to talk about the weather, you have nothing to talk about.
— dspinma on 'If he was annoyed at my late arrival, he was polite enough not to show it'
7. Don't order her food; do wait for her ride.
You could tell from the get-go this wasn't going to work. Alex, here's a tip. Let the lady order what she wants. You're not a mind reader and she's not your daughter.
— PatsFan79 on 'I knew I was going to get teased for [the] crayons'
He should have waited for her ride before leaving. The fact she mentions it means it mattered.
— edsox15 on 'It was a little uncomfortable to wait there alone'
---
GO ON A BLIND DATE. WE'LL PICK UP THE TAB. Fill out an application at bostonglobe.com/cupid. Follow on Twitter: @dinnerwithcupid.