Relationships
A Florida man proposed to his girlfriend in a very Boston way
The city's iconic "Make Way for Ducklings" statues played a big part.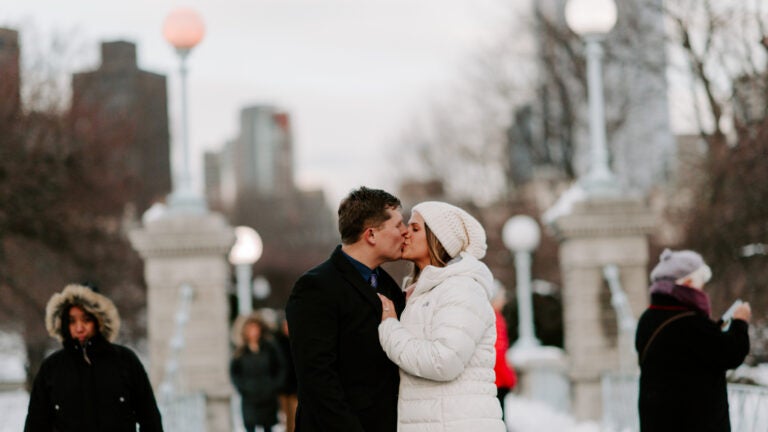 When a Florida man decided it was time to propose to his girlfriend, he knew it had to happen in Boston.
So Marek Deamud, 26, bought two flights to the Bay State and rented an Airbnb in Beacon Hill. He spent months planning the trip but told his girlfriend, Jamie McNulty, 23, that they'd be taking a quick, fun vacation in Boston during her graduate school's March spring break.
"Jamie actually went to Boston University for a year and she just fell in love with the city, so I felt like it was the perfect place to do it," Deamud said. "She has such a strong connection to Boston."
The couple met in August of 2016 while they both worked at a nursing home in Gainesville, Florida. McNulty had left Boston two years earlier and transferred to the University of Florida for financial reasons. An occupational therapy student, she volunteered at the home, where Deamud worked as a therapist.
"I remember going home for Thanksgiving and telling my mom and my sister, 'Guys, I think he's the one,'" McNulty said.
Deamud said that as he planned his Boston proposal earlier this year, it wasn't hard to pick the perfect spot where he would get down on one knee. He knew how much McNulty loved the "Make Way for Ducklings" statues in the Boston Public Garden, which she had pointed out to him during a previous trip to Boston. The statues were special to her because, on her last night in Boston four years ago, she took photos with the ducklings alongside four close Boston University friends and then went to dinner, where her friends presented her with the "Make Way for Ducklings" book by Robert McCloskey, which they had all signed. It was an emotional and special night with her friends, who, now scattered around the world, still keep in touch.
Deamud found and contacted Boston photographer Libby Nelson in January and told her his plans to include the iconic statues in his proposal. Nelson said she was happy to help.
"I thought it was a really cute idea," said Nelson, a photographer since 2011 who shoots many engagements and said this was her first assignment involving the famous statues.
When Deamud told Nelson he wanted to place signs at the duckling statues to personalize the moment even more, Nelson offered to make the signs herself. As requested, she painted "You Had Me at Hello" on five pieces of wood to represent the song by one of the couple's favorite bands, A Day to Remember.
Another incredibly important part of the proposal, said Deamud: Tucker, McNulty's nearly 3-year-old dog.
"She has so much love for Tucker," Deamud said.
It was Tucker who helped McNulty overcome her sadness when she reluctantly transferred from Boston to Florida, McNulty said.
Tucker had to stay in Florida, so on March 9, on the balcony of their Boston Airbnb, Deamud showed McNulty a video of himself reading the "Make Way for Ducklings" book to Tucker. He then handed McNulty a printout of Tucker with a caption that read, "Let's go find the ducks!"
At this point, McNulty said, she had an idea that Deamud might propose. Her suspicion grew when they began walking.
"He kept looking at his watch, and he kept trying to bring me around the long way," she said with a laugh.
Meanwhile, Nelson was busy prepping the statues.
"The most challenging part, actually, was once I got there with the signs, of course, it drew a crowd," Nelson said.
The ducklings are a popular tourist attraction throughout the year, but they especially draw attention when they are dressed up (which happens often). When Nelson arrived at the statues the day of the proposal, she found that someone had placed little green hats on them to celebrate St. Patrick's Day. Deamud said when he and McNulty had strolled past the ducklings the night before the engagement, the hats weren't there. Nelson considered whether she should remove the hats before placing her signs, but decided against it.
"For me, I like that the ducks are kind of a living part of the city," Nelson said. "People do dress them up."
Nelson said passersby began snapping pictures of the decked-out ducklings in green hats and with Nelson's signs, and she worried that McNulty might see the setup on social media before Deamud had a chance to propose. But as Nelson hid behind a tree, she watched the couple approach, her camera ready.
"I got on one knee, and I popped the question," Deamud said. "I was so nervous."
No surprise here: McNulty said yes.
"It was very over-the-top," McNulty said of the proposal. "I was very excited."
And McNulty, who is Irish, said she loved that the ducklings were wearing little green hats.
Nelson took several photos of the newly engaged couple in the snow-filled park before the pair celebrated over dinner at Union Oyster House. Deamud was so excited, he posted a photo to Reddit, writing, "Thanks for hosting us, Boston! On 3/9/2018, she said yes!"
The signs now hang in the stairwell of the couple's townhouse in Florida, a reminder of that Boston day.
When asked if they'll marry in Boston, Deamud said, "I'm not ruling it out," adding, "We're hoping one day to live there."