Relationships
A Mass. native said 'I do' on top of a mountain more than 1,000 feet above family and friends
"It kind of fulfilled every want we had for our wedding," Tori Hyndman said.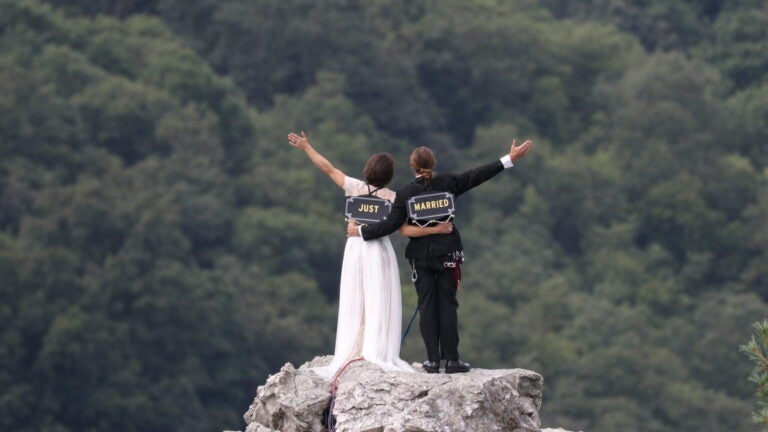 Peabody native Tori Hyndman and her now-husband, Stephen Hyndman, knew they didn't want a traditional wedding.
Both rock climbing instructors, the couple wed Aug. 8 on the south peak of Seneca Rocks, a mountain in West Virginia where they both work at Seneca Rocks Mountain Guides. Tori's family watched the ceremony on screens set up nearly 1,100 feet below.
"It kind of fulfilled every want we had for our wedding," Tori said. "We were able to not feel overwhelmed by people looking at us while we were having this vulnerable moment. We still felt like we had this privacy. And we had this wedding in a place that was very special to us, but still included everybody."
Tori, 27, and Stephen, 28, a Maryland native, met when Tori traveled to Seneca Rocks to climb for the first time seven years ago. They've since climbed together all over the world, in places like Arizona, Argentina, Cuba, Utah, and, more locally, at Red Rocks in Gloucester. They became engaged in Thailand in 2017.
"We were there on a climbing trip and he proposed one morning on a beach over coffee," Tori said.
On bended knee, he presented her with a pebble he'd found on the beach that was similar in color to the unique looking rocks they had just climbed in the area: black with a white crystal streak going down the center of it. The couple took the pebble to a shop in Thailand and had it set in silver for her engagement ring.
Once the pair decided they wanted to get married in the sky, they turned to their boss, Tom Cecil, who has run Seneca Rocks Mountain Guides for 30 years. He was happy to help.
Cecil operated two drones from the ground while a rock climbing friend of the couple scaled the mountain to film from the top. They broadcast both HD video and audio from the summit to the deck below so that guests could watch the ceremony. Two other rock climbing friends — a guitarist and an officiant — were part of what Tori called the "I do crew" on the mountain. The maid of honor and best man  — the bride's sister and groom's brother, respectively — were part of the "ground crew," the family and friends down below making sure that the more than 100 guests had everything they needed. They also set up the reception that would take place later that day.
The couple climbed in street clothes and then changed into their wedding attire on the mountain. Stephen arrived at the peak first and changed into his tuxedo there, Tori said, while she changed on a ledge just below where they married and climbed the remaining 25 feet wearing her ceremony look. She couldn't wear a wedding dress due to the harness, she said, so she wore a white romper and tied a tulle train around her waist to make it look more "wedding-y."
Then it came time to exchange the vows they had stayed up all night writing.
"We didn't hear anybody until after we got married," Tori said. "And then we could hear people kind of cheering in the distance. It's very far away so it was kind of faint, but you could hear them."
Once the ceremony was over, the Hyndmans literally tied the knot, connecting the two ropes they needed to rappel simultaneously to the bottom. Then the bride changed into a bathing suit and the couple jumped into the river for a swim — the groom still in his tuxedo.
Later that day, the couple donned a suit and white dress for a wedding reception that took place at a nearby nature preserve.
"I think that this really helped us realize what we're capable of together," Tori said. "If we actually dedicate ourselves and put this hard effort into things, we can accomplish big things."
In October, the couple will go on a rock climbing trip in Sicily for their honeymoon.