Relationships
How to keep your children calm amid all of this upheaval
"COVID-19 is giving your kids all the feels: confusion, excitement, boredom, frustration, and maybe even anxiety and depression."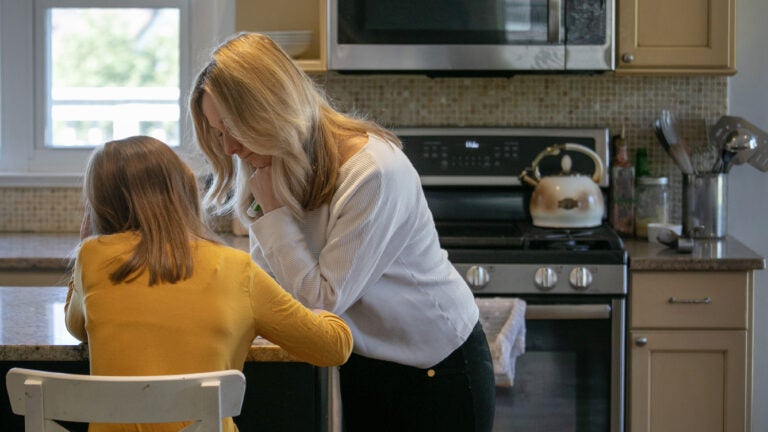 As businesses temporarily close and households become virtual offices, daycares, schools and playgrounds have also felt the touch of social distancing. School days and play dates are cancelled, and patience is tested, as parents navigate homes packed with antsy kids, tons of questions, and general uncertainty.
"COVID-19 is giving your kids all the feels: confusion, excitement, boredom, frustration, and maybe even anxiety and depression," said Elise Hall, a Licensed Independent Clinical Social Worker who works with kids six to 16 in her North Attleboro practice. "Older children may be frustrated by the restrictions placed on them in terms of where they can go or who they can see, and children of all ages may feel anxious about how COVID-19 may impact them." 
Hall shared a few ways parents can help their kids of all ages get through this prolonged period at home. 
Validate all emotional responses
While that umpteenth teenage outburst or toddler meltdown might cause you to scream into the void, table that feeling. "If your teenager is angry they suddenly can't hang out with their friends, or your kindergartner is sad they can't visit their grandmother, acknowledge and validate that those are expected and normal responses to a situation like this," Hall said. Avoid telling children they shouldn't feel sad, angry, hopeless, or worried, as this only exacerbates feelings of isolation and leads to future reluctance to communicate. "Make sure your children know that [you] are committed to keeping them safe," she said. "Try saying, 'I understand why you're feeling this way. This is not a typical situation, but nothing is permanent and we are doing this to make sure you stay healthy.'" More tantrums might follow, but at least it's a start. 
Maintain a routine to the fullest extent possible
"This is important for children of all ages," said Hall, noting that it doesn't have to be rigid. "A flexible routine may include time for three square meals, some physical activity, free play, and schoolwork." There are many resources online to guide families in creating age-appropriate daily routines. Check with your school to see how they are handling any virtual learning, as many educational companies such as Scholastic and Khan Academy are providing free online programming during this crisis.
Communicate often and honestly
Hall suggested keeping your child informed about what's going on, but doing it in a way that's age-appropriate. How a kindergartner makes meaning of a pandemic is much different than the way your teenager might. "For younger children, this might look like, 'The doctors still want us to stay home from school to keep us healthy, so we're going to be home again tomorrow,'" she said. Should a family member become ill, honesty is still the best policy, she said. Treat the situation as you would any other contagious illness, such as a common cold or Strep throat. "Explain to them that people can spread germs when they are sick, which is why they need to rest or stay at the hospital and contact is limited until they are better," she suggested. Also be sure to validate that it can be sad, frustrating, and scary to have a sick family member and offer to let them make get well cards or interact via technology, even if it's just from the next room.
Play. No matter the age
"This is such an important stress reliever for children and an amazing way to boost their feelings of confidence and connectedness," Hall said. Dust off that board game, sharpen up those crayons, go outside for hide and seek in the yard. Many children also feel more comfortable talking about their feelings when playing, so you may learn a lot about your child during this time. 
Just breathe. Literally.
"Breath is super powerful," said Marie Aspling, owner of Boston's Balans Wellness Studio and foster mom to a seven-year-old son. "We are raising our children to be stimulated all the time. When you remove the stimulation — playgroups or screen time, for example — they can't handle being quiet. That withdrawal effect is to go crazy." To soothe your child, try a meditation app, such as Breethe, starting for a minute and building from there. "Have your child place their hands on their chest to follow their breath," she said. "Have them count 10 breaths. It brings them more into awareness of their feelings."
---
Get Boston.com's e-mail alerts:
Sign up and receive coronavirus news and breaking updates, from our newsroom to your inbox.