Restaurants
Chefs Cook Better for Diners They Can See (or So Says This Study)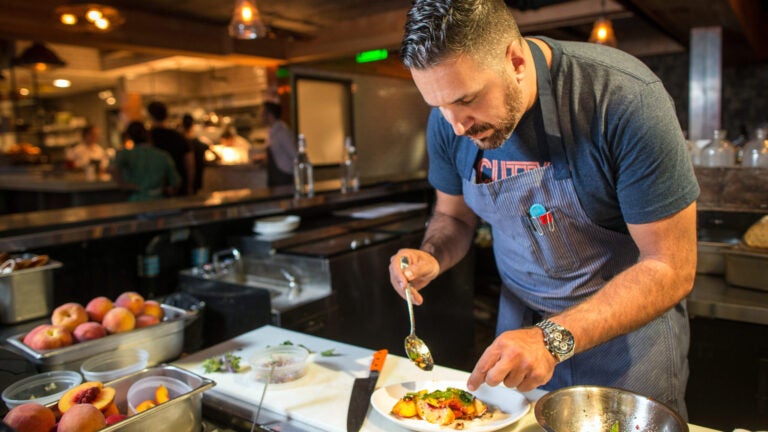 Can your chef see you eating? If they can, a new study says, they might actually cook a lot better for you.
The November issue of the Harvard Business Review cites research that tested the effects of a kitchen staff's ability to see diners while preparing a service in a cafeteria setting. In their test, the cooks were able to view their customers via livestreams on monitors, mimicking an open kitchen concept. They found a correlation between the ability of kitchen staff to see front of house activity and a higher satisfaction rate—as high as 17 percent—from patrons.
The researchers say the upped performance was the result of positive reinforcement, or as Harvard Business School assistant professor Ryan W. Buell told the Review, "seeing the customer can make employees feel more appreciated, more satisfied with their jobs, and more willing to exert effort.''
While the experiment involved monitors (iPads) and a cafeteria environment, fine dining establishments also employ this theory to their spaces with open kitchen plans and similar intent.
"That energy of that format feeds off whether you're on the line side or the dining side and builds great momentum during service,'' said Alden & Harlow owner and chef Michael Scelfo. His Harvard Square establishment was designed based on his experience cooking on the West Coast, where the majority of restaurants featured open kitchens.
"You should be cooking the food the same way, whether you're in an open kitchen or not, but there's subliminal pressure for sure,'' Stephen Oxaal, chef de cuisine at B&G Oysters, insisted. "When you're so close you can nearly touch each other, there's a lot of communication between the people who made the food and the people consuming it.''
Oxaal echoed Scelfo's energy-inducing experience that an open kitchen adds to the atmosphere, noting the concept also allows his restaurant to better cater their menu in real time.
"We can see everyone eating everything and see everything comes back from the table,'' he said. "If plate X always has component X coming back on it, that allows us to adjust and create a menu that everybody likes.''
The restaurant experiment is just one part of the study, written by two Harvard Business researchers and an assistant professor at the University College London, which aims to measure the effects of operational transparency for both the service and consumer ends of a process—or as they succinctly told the Review, "Does the mere sight of a customer motivate you to do your job better?'' Tami Kim, one of the HBS researchers, told Boston.com that the full study is due out within the next few weeks.
Until then, the researchers drew the conclusion that gratitude—experienced by watching customers enjoy the food they had prepared—proved to outweigh the performance anxiety that may come with being exposed like a professional athlete on the field.
"We're not perfect, and when something comes back to the kitchen for whatever reason, when there's an open environment there's more of a sensitivity and the cooks feel it more than if they were hidden in the back,'' said Scelfo. "It adds an extra level of healthy pressure into what we're doing.''