Restaurants
Tom Brady's Favorite Dish Is the Bolognese at La Morra in Brookline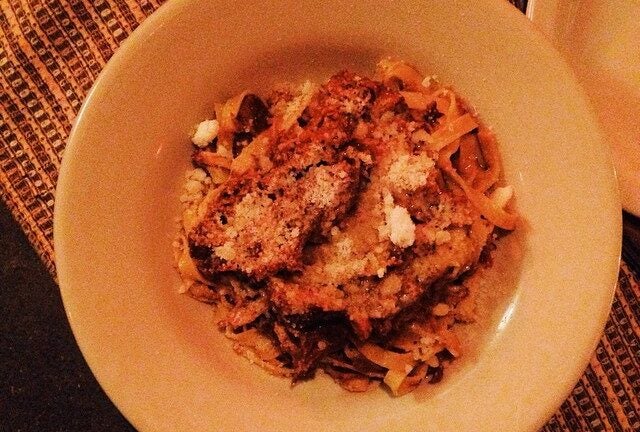 In news that's certain to ignite a chorus of "Such a nice young man!'' from nonnas in Boston and beyond, word comes in today that Tom Brady's favorite dish is a classic tagliatelle al ragù bolognese at a hometown joint called La Morra in Brookline, Massachusetts.
Urbanspoon broke the saucy story, and La Morra co-owner Jen Ziskin confirmed in an interview with Boston.com.
"He does come in, but we like to protect his privacy when he's here,'' Ziskin said.
"He has ordered the bolognese, but he's enjoyed other dishes as well. He likes the wood grilled chicken under a brick.''
But it's the bolognese that earned the quarterback's top spot, and we might know why: foie gras butter. The recipe—which was developed by Jen's husband, Josh, in Italy after their marriage—involves sautéeing lamb, pork, veal, and beef in the world's most luxurious butter.
So the man who can eat anything he wants in any restaurant in the world likes a classic pasta dish at a neighborhood restaurant. What about his rival, Peyton Manning? Urbanspoon's piece didn't say. Peyton's brother Eli, however, orders a house salad (no tomatoes), pork chop, mashed potatoes, gravy, and butter beans from Ajax Diner in Oxford, Mississippi.
We'll stick with four meats cooked in fattened goose liver butter, thanks.