Restaurants
Dunkin' Donuts Chef Defends Ditching Irish Creme This St. Patrick's Day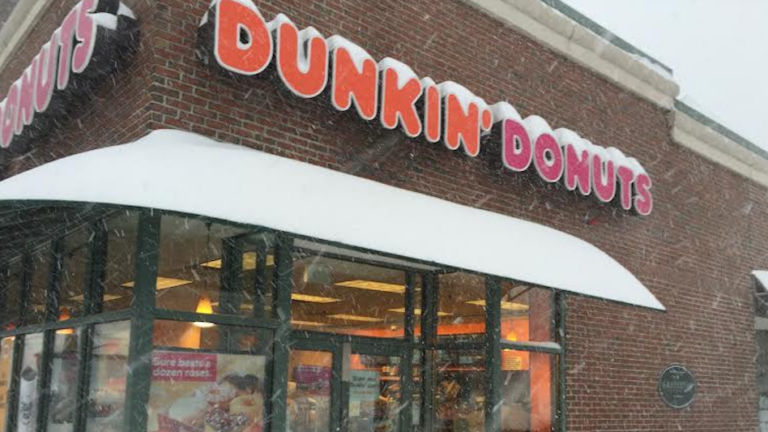 Those looking to celebrate St. Patrick's Day with some fast-food-faux-Irish coffee were saddened to find that Dunkin' Donuts would not be offering their Irish creme swirl this year.
Dunkin' Donuts Executive Chef and Vice President of Product Innovation Jeff Miller defended the decision to Boston.com, which dashed the Pavlovian expectations of Dunkin' Donuts regulars to publicly consume the sweetened Baileys-like flavor starting in March.
It's the first time since 2012 that the chain hasn't offered the Irish creme coffee flavor.
Also, "Dunkin' Donuts Executive Chef and Vice President of Product Innovation'' is a job that exists in the world.
"We know everyone has their seasonal favorite,'' said Miller in an email. "And while we have no plans to offer Irish Creme Coffee and Lattes this year, based on positive guest and franchisee feedback, it's something we certainly might consider bringing back in the future.''
So the future isn't completely bereft of hope.[fragment number=0][fragment number=1]
Miller said instead they would be offering a "Shamrocks Sprinkles Donut,'' which is a chocolate-iced yeast donut with sprinkles shaped like—you guessed it—shamrocks. He also called attention to the summer ice cream coffee flavors: cookie dough, butter pecan, and rocky road.
Hopefully, in the absence of Irish creme swirl, not too many were driven to resort to the real thing while at their places of work and business. If widespread Irish coffee–fueled drunkenness imbues actual madness this March—besides on Sunday, and Tuesday—we'll know which chain restaurant to blame.
As with all coffee-related microcontroveries, a small social media fury storm ensued. A Twitter search for "Dunkin Donuts Irish creme'' (or alternatively spelled, "Irish cream'') reveals a surprisingly extensive stream of heartbreak and disappointment. A few of the (hopefully hyperbolic) highlights:
[fragment number=2]
[fragment number=3]
[fragment number=4]
[fragment number=5]
[fragment number=6]
[fragment number=7]
[fragment number=8][fragment number=9]
[fragment number=10]
If it is any consolation to the directionless souls wandering the scorched-earth streets of the St. Patrick's Day parade route, Dunkin' Donuts is apparently testing a bacon donut.
So it's not all gloom.