Restaurants
What Goes into Your Dairy Queen Treats?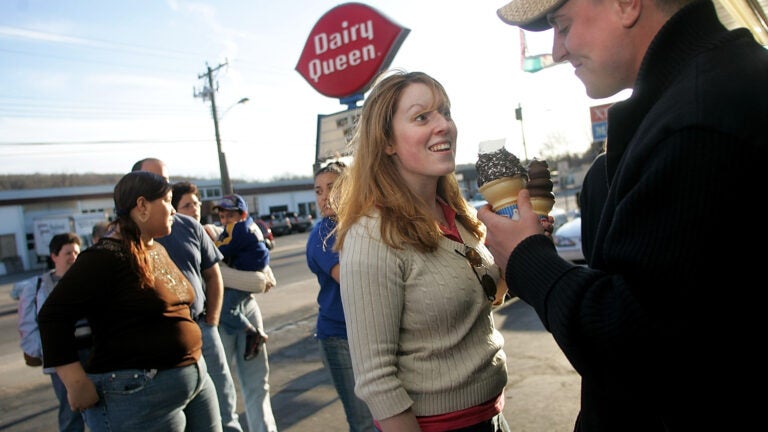 With summer (hopefully) steadily approaching, ice cream season will soon be back in full swing. But when Bostonians venture to the suburbs to quench their Dairy Queen cravings, what are they actually eating in those perfectly sculpted cones?
On March 25, Dairy Queen's associate vice president of communications, Dean Peters, sent Boston.com a complete list of the ingredients (below) that go into the brand's vanilla soft serve.
Ingredients: milkfat, nonfat milk, sugar, corn syrup, whey, mono and diglyrerides, artificial flavor, guar gum, polysorbate 80, carrageenan, and vitamin A palmitate.
While we're familiar with the first few, we can't say the same for additives like polysorbate 80 and carrageenan, so we reached out to a nutritionist to find out why these ingredients are in ice cream.
Alicia Romano, a clinical registered dietician at the Frances Stern Nutrition Center at Tufts Medical Center, said she wasn't surprised by any of the ingredients but added that there isn't a ton of research about the nutritional effects of things like polysorbate 80.
"To be honest, a lot of these questions are tough in our world,'' Romano said. "There's not a lot of research on their effects in nutrition. Vitamin A palmitate is probably the best one we know about.''
Romano noted that vitamin A palmitate is a relatively common additive that's well known to nutritionists. It's added to low-fat milks, which are lower in vitamin A when compared to their fattier counterparts.
Polysorbate 80, an emulsifier, is something Romano says is used to make "things easy to handle,'' noting the smooth consistency of soft-serve ice cream.
"From what I know, as far as what the FDA is concerned [about], it's safe,'' Romano said, before adding that a lot of processed foods are going to have "additives and stabilizers for shelf life.''
The only thing on the ingredients list that Romano questions has to do with flavor.
"The artificial flavorings, that's always something that I look at and say, 'Hmm, what does that mean?'''
Romano noted that for certain patients with dietary issues, it's sometimes harder to nail down the source if foods they eat contain things such as "artificial flavoring.''
Romano noted that the harder to define ingredients, like artificial flavoring, are regulated by the FDA.
Although she can't be sure where the flavors are derived from, Romano is sure that any type of frozen dessert, soft serve or otherwise, should be considered a treat.
"What everyone thought was the best bet about soft serve is that it's obviously lower in fat…but in some soft serves, there are more sugars than fats,'' she said. "In the calorie perspective, they might be the same.''
Romano recommends that consumers remember to follow portion control guidelines when it comes to ice cream of all types.
"A serving of ice cream is like a half of a cup, and that's usually what a serving of dairy is,'' Romano said, noting that a half cup may seem "tiny in comparison'' to what people are used to consuming.