Restaurants
Chef Michael Schlow on why he's going Greek with Doretta Taverna
The famed chef also shows us how to make a simple but delicious village salad.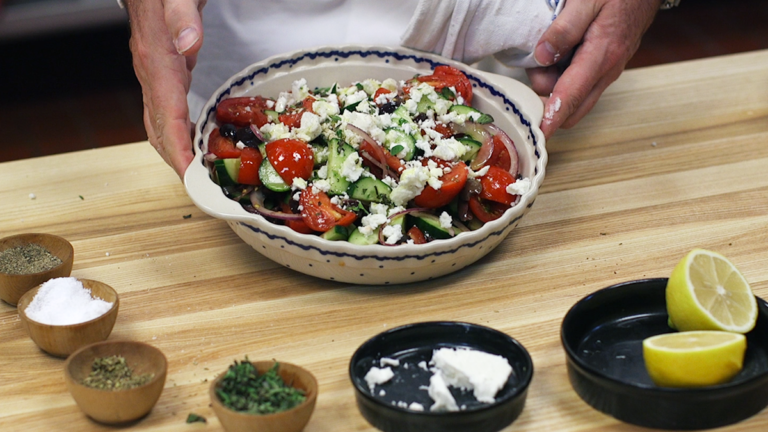 Fans of Via Matta were saddened when chef and owner Michael Schlow announced that he was closing the popular Italian restaurant in Park Square earlier this year.
While the dining spot often drew in famous faces like Robert Kraft and Jimmy Fallon, Schlow felt it was time to for the location to undergo a radical transformation—despite Via Matta's years of success.
The culinary icon and former Top Chef Masters star wanted to create a new restaurant that honored his wife's Greek roots, which is how he came up with the idea for Doretta Taverna and Raw Bar.
"It's so personal because of my family, this is such a personal thing,'' Schlow said. "This is my home. I want this to be a great restaurant. I want this to be something that is special and unique.''
Check out what Schlow had to say about Boston's Greek scene, what keeps him motivated with his cuisine, and more.
Considering how popular Via Matta was, how daunting is it to try a new concept with Doretta Taverna?
We sent Via Matta off with a proper goodbye and a kiss, and it was a wonderful, sweet celebration of 13 years. It was great. But building something new is a daunting task because people have this memory of a certain spot, whether you're talking about a stadium, a restaurant, a home, whatever it is. They've got these memories and now you're going to try and create new memories for them, so it is a daunting task. I think the No. 1 rule is that you make sure you don't pay sort of any homage to the past in the new concept, or very little anyway, maybe a little something. But then when guests walk in, they need to walk into this restaurant and say, "This is completely new and different. It doesn't remind me at all of the old Via Matta.'' Then you have to hopefully give them something really special and unique, so you are creating new memories and a new favorite place to go to.
You're new restaurant will focus on Greek cuisine. How would you describe Boston's Greek scene?
When I looked at doing a Greek restaurant, there are a lot of Greeks in and around the New England area. There's not a ton of representation in the food or it's been a little watered down with the term "Mediterranean,'' which is sort of unfair, I think, because Mediterranean can encompass parts of Spain, Italy, and France, and they all cook so differently. This is unabashedly, unapologetically, Greek. But it's not the Greek restaurant that I think a lot of people grew up with. This is a comfortable and, hopefully, well-executed and stylish Greek restaurant. It will all be about New England products—maybe not 100 percent—but as much I can use New England products from both the sea and the land. I'm going to do that and it is absolutely in keeping with how Europeans cook, and that's by cooking what you see.
Why is Doretta Taverna such a personal project for you?
The No. 1 reason that I wanted to build this restaurant is about my family. My wife's family is from Greece, we eat like this often at home. It's very healthy, it's very delicious food. It's all about what you see and what's local and seasonal. It's left alone so the natural flavor of the food speaks, and that's always been calling to me, it's always something that's been interesting to me.
What keeps you inspired and motivated to try out new concepts?
I think one of the things that drives me is, when I travel, it's usually inspirational. I might be traveling for work, but there's always food involved. So you get to see what other people are doing and you're inspired by them, or you'll be reading a book and you might think of something. You might smell something even in somebody's home, they're cooking something and it takes you back to a childhood memory and, all of a sudden, I go home and start writing new recipes. I have a full folder on my computer of concepts that have never been built. I'm just restless that way and I enjoy this tremendously.
My daughter asked me, "Exactly how many restaurants does one man need?'' and I said to her, "Well honey, it's not about how many restaurants, it's that I really enjoy this.'' I enjoy the variety, that's what makes it feel so wonderful to be able to get up and go to work everyday. That I can go to an Italian restaurant, I can go to a Greek restaurant, I can go to an American restaurant, a Latin-inspired restaurant. I mean, who gets to do that?
For you, what makes a great meal?
I think you need two things. You need great people with you at the table, usually. I mean I've had plenty of great meals by myself, but it's so much better if you get to share them with somebody. And, I would say, and most chef's probably wouldn't say this, but I would say first it's service. Service trumps food usually. A great server can make mediocre food taste wonderful, or at least forget that you're eating mediocre food. But a great server can make the night. So I think great conversation, great people around the table—interesting also. Everybody should not be exactly cut from the same cloth. I think it's more interesting when there's diverse and different opinions at the table.
If you can get all of those things and then on top of it, a beautiful setting, a good looking dining room… well then you've got yourself really something special and something memorable. And that's the beautiful part about my job, more than anything, is that we get to throw a dinner party every single night.
14 essential Back Bay restaurants:
[bdc-gallery id="121405″]