Restaurants
5 Boston food truck operators discussed secret menu items and more on Reddit
Reps from trucks including Mei Mei, Chicken & Rice Guys, and Roxy's took questions.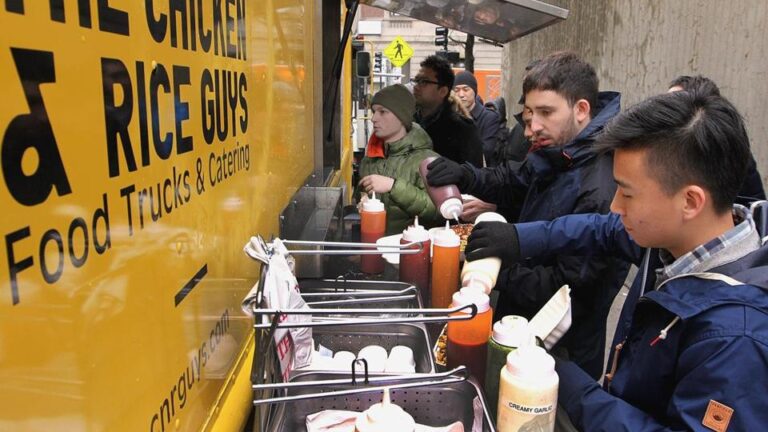 Now that we're a week into spring, we're almost officially into food truck season. With a number of trucks hitting the road again after staying parked for the winter, representatives from five of the city's most popular mobile eateries — Chicken and Rice Guys, Mei Mei, Stoked Pizza, Roxy's Grilled Cheese, and Taco Party Truck — took time during the lunch rush Monday to answer questions on Reddit.
When the topic of secret menu items came up, Mei Mei mentioned the dessert version of their Double Awesome, a scallion pancake sandwich filled with candy instead of the traditional eggs, cheese, and pesto.
They encouraged customers to request a specialty dish as long as the truck isn't busy.
"Ask any of our staff what they'd eat for their staff meal on the truck and they'll make some fun Double Awesome-Porco Rosso-Nonna on Fleek mashup for you," Mei Mei wrote.
Other users tried to figure out the secret ingredients in Chicken & Rice Guys popular white sauce — with guesses including buttermilk or bechamel and creme fraiche — to no avail.
All I can say is that our white sauce is dairy-based and it has garlic in it," a rep for Chicken and Rice Guys wrote. "The rest is a trade secret locked away in a secret cave deep in the Ural mountains. You can purchase the recipe from our web store, however. The price is your soul."
Read the whole Q&A, including information on where to find food trucks on a daily basis and how the trucks deal with winter weather, here.