Restaurants
6 spring restaurant openings that local chefs are most looking forward to
Put these spots on your "to-eat-at" list.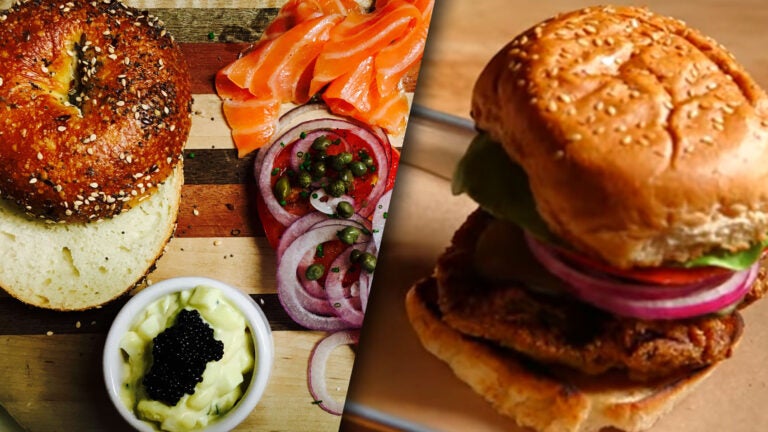 The Boston restaurant scene is ever-expanding, and that means both good news and bad news for Bostonians who always want to try something new. The good news is pretty obvious: There's frequently a new place to check out for dinner and drinks. The bad news comes with the overwhelming task of trying to figure out where to go. What new restaurants are worth a trip? We turned to six renowned local chefs to get their recommendations.
The Smoke Shop
Just went to @andyhusbands' @TheSmokeShopBBQ #tasting & it was amazing. Can't wait for it to open in #KendallSquare! pic.twitter.com/cUSdcp3cyf

— Ellen Wong (@elanoness) March 27, 2016
"I'm looking forward to The Smoke Shop by Andy Husbands. I have been waiting to see a BBQ restaurant from him for about 10 years. [He's] a true master of BBQ." — Chris Coombs, owner and executive chef at Boston Urban Hospitality, which owns Deuxave, Boston Chops, and dbar
"Frankly, I'm still trying to catch up to all the openings from last year. … Boston has too many restaurants, in my opinion. That said, Andy Husbands is opening a new BBQ spot, The Smoke Shop, just a few blocks from my house, and we're always a sucker for ribs." — Tony Maws, chef and owner of Craigie on Main and chef and proprietor of Kirkland Tap and Trotter
Husbands is the award-winning chef and owner of Tremont 647 and Sister Sorel in the South End. His next venture is The Smoke Shop, which will feature all the meat you can handle, from full slabs of ribs and pork shoulder to a whole hog to feed 10 people, according to a sample menu from their license application. The restaurant is set to open in the spring in Kendall Square.
The Parlor Ice Cream Co.
"Jacqueline Dole's The Parlor. Not a restaurant, but she's a badass. She's doing some pretty unique and tasty things with ice cream." — Rian Wyllie, executive chef and partner of Lone Star and Deep Ellum
Dole was formerly the pastry chef at the Asian-American food truck and restaurant Mei Mei. Now she's behind Parlor Ice Cream Co., a locally sourced and small-batch ice cream company that offers adventurous flavors like "berry cheesy" (farmstead cheese and jam) and "sesamiso" (sesame caramel and miso). Starting in May, these treats will be available for restaurant wholesale, home delivery, and private events.
Mamaleh's Delicatessen
"Mamaleh's, the Jewish deli opening in Kendall Square from the folks at Hungry Mother." — Jeremy Sewall, chef and owner of Island Creek Oyster Bar, Lineage, and Row 34
Hungry Mother closed over the summer, but the team (minus chef Barry Maiden) is hard at work setting up this deli, which will be open at One Kendall Square this spring. The sit-down restaurant will also include a market and a gift shop, according to co-owner Rachel Miller Munzer. Head there for classics like pastrami, corned beef, and matzo ball soup.
Bar Mezzana
"Colin and Heather Lynch's Bar Mezzana. I miss Colin's food and am so happy to see what they do!"— Jamie Bissonnette, James Beard Award winning-chef at Torro and Coppa
Bar Mezzana is slated to open in the spring at 360 Harrison Ave. inside the Ink Block complex, according to its website. This "coastal Italian restaurant" will feature what Chef Lynch calls simple food with "beautiful ingredients, thoughtful technique, and heart," according to a release from Ink Block.
And Little Donkey, Waypoint, and The Blue Room
"There are so many to choose from, and each one brings something new and different to the Boston food scene; Little Donkey, Waypoint, Bar Mezzana, and the reopening of the Blue Room. Of them all, I think I'm most excited about Mamaleh's Delicatessen. The team behind State Park/Hungry Mother is chock-full of warm, hospitable, and talented people—the kind of people worth rooting for—and they have a knack for putting out great food in a comfortable setting." — John daSilva, executive chef at Spoke Wine Bar
Bissonnette and restaurateur Ken Oringer of Uni are behind Little Donkey, which will open on Mass. Ave. in Cambridge's Central Square this spring and feature dishes like crab nachos and harissa barbecue lamb sliders, according to Eater Boston. Waypoint comes from Michael Scelfo, chef and owner of Alden & Harlow, and will be located on the outskirts of Harvard Square, according to the Cambridge Licensing Board. Nick Zappia's The Blue Room in Kendall Square is set to reopen this spring following renovations after fire and smoke damage.