Restaurants
15 Boston-area restaurants where you can still make a Mother's Day brunch reservation
Start mom's Sunday off right at one of these spots. She'll never know you waited until the 11th hour.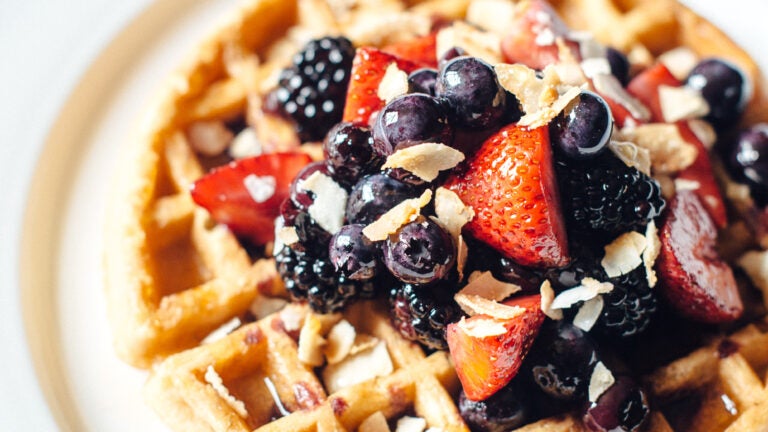 Mother's Day is Sunday, and if you're over the idea of serving mom breakfast in bed, don't worry. We rounded up some reliable restaurants in Boston (and beyond) that still have Mother's Day reservations available for a family of four, so you can make mom's morning stress-free.
Note: All of these restaurants had open reservations for the brunch hours listed on Sunday, May 8, on OpenTable at the time of this post's publication.
Boston
1. Anthem
Stop by this newly renovated American eatery in Faneuil Hall, where chef Ben Hennemuth will be serving a new brunch menu in honor of moms. Check out their latest menu additions, like a heuvos rancheros benny or freshly baked beignets with orange zest, powdered sugar, and Nutella. Toast your mom with their special Bucket of Bubbles, four individual bottle of La Marca Prosecco plus a carafe of orange juice. (9 a.m. to 2 p.m.; 101 S. Market St., Boston)
Located in a historic downtown Boston building, Bostonia Public House knows the city, and its traditional New England fare, well. Their Mother's Day brunch menu includes breakfast classics like buttermilk pancakes and Maine lobster frittata, along with heartier options, like hot lobster rolls and Scotch eggs. (10 a.m. to 3 p.m.; 131 State St., Boston)
3. Coppersmith
This South Boston restaurant in a converted warehouse offers a cozy feel and a Mother's Day prix fixe menu inspired by executive chef Jason Heard's Georgia roots. Try sweet tea custard-filled doughnuts or a blue crab Benedict with Old Bay hollandaise. Plus, every table gets to take home a small bottle of "Grandma Clarice's Carolina Mustard," a family recipe Heard uses both at home and at the restaurant. (11 a.m. to 3 p.m.; 40 W. Third St., Boston)
4. Davio's
Davio's is offering Mother's Day specials all day long for both brunch and dinner. Executive chef Eric Swartz created special dishes with a Northern Italian twist. You can kick off your celebrations with a Belgian waffle or egg pizza and end your Mother's Day with lobster carbonara or club sirloin. (11 a.m. to 10 p.m.; 75 Arlington St., Boston)
5. The Merchant
Located in Downtown Crossing, The Merchant was once a leather store and is now a large eatery where almost everything is made from scratch in-house. This Sunday, they're hosting a Mother's Day "Champagne, Tulip, and Jazz Brunch" with specials such as pan-seared halibut with English peas and asparagus-mushroom ragout. And in case you forgot your own, they'll have a flower for every mom. (10:30 a.m. to 3 p.m.; 60 Franklin St., Boston)
6. Post 390
Focusing on farm-to-table fare, Post 390 is an urban tavern that offers seasonally-inspired dishes in Boston's Back Bay. Their Mother's Day prix fixe menu will be three courses of spring-centric dishes, from fresh clams and shrimp cocktail to house-cured ham and cheese Benedict's. (10 a.m. to 3 p.m.; 406 Stuart St., Boston)
7. Serafina
Serafina, located in the Financial District, specializes in light Italian fare, like thin-crust pizzas. This Mother's Day, executive chef Brendan Burke will serve an array of fresh specials, like Spaghetti al Limón—spaghetti tossed with fresh lemon zest and cantaloupe with a bit of lemon juice—and a hearty 22-ounce porterhouse steak, served with Brussels sprouts and potato gratin. (11 a.m. to 10 p.m.; 10 High St., Boston)
8. SRV
SRV normally only serves dinner, but the Venetian-inspired South End eatery is offering a special early lunch just for Mother's Day. The three-course meal includes dishes like asparagus with Jonah crab, citrus, herbs, and maiale al latte, or pork cooked in milk, with spring onion, mascarpone, and escarole. A 60-minute egg can be added to move these dishes more into brunch territory, as well. (11 a.m. to 2:30 p.m.; 569 Columbus Ave., Boston)
This wine bar and bistro in Boston's Leather District is going all out for the holiday with live jazz music and a special brunch menu featuring, French toast, along with Croque Monsieur, a ham, swiss, and bechamel sandwich—which you can also add an egg to—and duck confit omelettes. (11 a.m. to 3 p.m.; 129 South St., Boston)
Cambridge
10. Abigail's
Abigail's already excels at Sunday brunch but will take things up a notch with in-house harpists for a serene Mother's Day celebration. This Kendall Square restaurant offers a varied American menu, from barbecue to raw bar offerings. On Mother's Day, they'll offer their regular brunch menu—full of options like griddled banana bread and cured salmon Benedict—along with some seasonal specials still being perfected by executive chef Michael Paulsen, an employee said. (10 a.m. to 3 p.m.; 291 Third St., Kendall Square, Cambridge)
11. Bambara
Right next to the Charles River, Bambara offers both water views and a Cape Cod-inspired menu, with a raw bar and fresh seafood dishes. On Mother's Day they'll offer their regular brunch menu, which features fare like a bacon and egg brunch burger and a lobster omelet. Just for moms, a complimentary mimosa flight will come with each brunch entree, as well. (8 a.m. to 2 p.m.; 25 Edwin H. Land Blvd., Cambridge)
PARK is a modern American restaurant that offers food and drinks in a comfortable living room-like atmosphere. This Mother's Day, they'll serve brunch specials such as parfait pancakes, asparagus and goat cheese quiche, and smoked trout salad, in addition to their regular brunch menu. As an added treat, you get free parking at the Harvard Square Parking Garage with your reservation. (10 a.m. to 4 p.m.; 59 John F. Kennedy St., Cambridge)
Suburbs
13. La Morra
La Morra is a small but bustling Italian restaurant in Brookline that prides itself on homemade pastas and Tuscan-style wood-grilled entrees. For Mother's Day, they'll plate up a three-course prix fixe brunch menu—one of the only times of the year they even serve brunch. Expect treats like fresh doughnuts with spiced sugar and homemade frittatas. (11 a.m. to 2:30 p.m.; 48 Boylston St., Brookline)
A casual chain with an eclectic menu, Not Your Average Joe's has multiple locations throughout the city. They'll all feature Mother's Day specials along with their regular full menu, so it's fit for the whole family. Look out for their new additions, like watermelon feta salad, coriander crusted salmon, and strawberry shortcake for dessert. (11 a.m. to 9 p.m.; multiple locations)
15. Strega Prime or STRIP by Strega
Whether you want to escape the busy city at Woburn's Strega Prime or dine in the Theater District at STRIP by Strega, you'll get a special Mother's Day menu at either Italian steakhouse spot. But only moms will get a sweet treat for free: executive pastry chef Alexandre Bonnefoi's strawberry fraisier dessert with almond and cream mousseline a la vanilla. (11 a.m. to 11 p.m.; 100 Sylvan Rd., Woburn/64 Arlington St., Boston)
https://www.instagram.com/p/5xcS24A7yC/?taken-at=123076931