Restaurants
A Salem bar with more than 30 old-school arcade games opens this weekend
Bit Bar Salem, located in the Old Salem Jail, offers craft beer, pub food, and vintage pinball machines.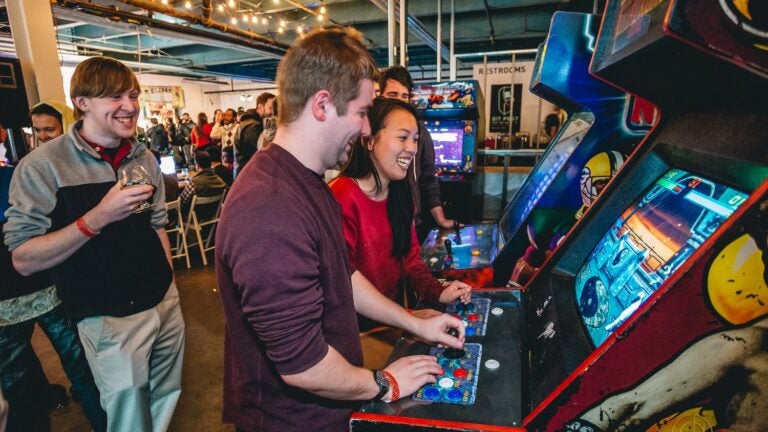 If your favorite bar doesn't have enough pinball machines for your liking, you'll probably want to check out Bit Bar Salem, a coin-operated arcade and restaurant that opens this weekend.
https://www.instagram.com/p/BG3Bwn6AU3Q/embed
Bit Bar Salem offers more than 30 arcade games and pinball machines, along with craft beer and spirits from local breweries and distilleries, and a menu of amped-up pub food from Executive Chef Eric Hammer. And cool factor alert: The restaurant occupies 3,000 square feet of space in the Old Salem Jail, located at the corner of St. Peter and Bridge streets in Salem.
This is the first permanent location for Bit Bar, but it got its start at Boston Bit Fest, a pop-up arcade event that brings games and trivia to venues like Aeronaut Brewery in Somerville. Now that they have a brick-and-mortar location, co-owners Gideon Coltof and Rob Hall will also offer movie nights and special events.
Bit Bar Salem features popular arcade games such as Teenage Mutant Ninja Turtles, NBA Jam, the Simpsons, Donkey Kong, Mortal Kombat 2, and vintage pinball machines Cue Ball Wizard, Cyclone, and more. The Addams Family and Star Trek from 1978 are set to arrive at Bit Bar Salem soon, and games will rotate per crowdsourced suggestions from guests.
Food-wise, Chef Hammer, previously of Tavern in the Square, is serving up twists on bar snack classics with Buffalo Spiced Popcorn, Pastrami Chicken Wings, White Bean Burger, and BBQ Shrimp Tacos. He's also created a few desserts, such as Pop Tart cake pops, Avocado Ice Cream with sriracha caramel, and a Salted Butter Ice Cream "Doughssant."
The arcade restaurant has a total capacity of 106 people and seating for 70, along with an outdoor patio that can hold an additional 60 guests. And yes, all arcade games will cost only a quarter.
Bit Bar Salem is open seven days a week, from 5 to 11 p.m. Monday through Thursday, noon to 1 a.m. Friday and Saturday, and noon to 11 p.m. on Sunday.