Restaurants
A New York City-based farm-to-counter chain will open in Boston next week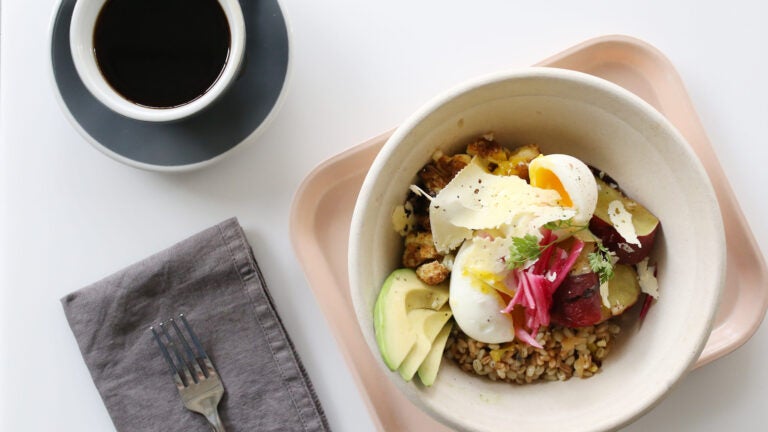 Dig Inn is bringing its "veggie forward" selections of seasonal ingredients to Boston this July.
The new Back Bay restaurant, located at 557 Boylston St., will open its doors on Monday, July 11, (Update: Dig Inn has moved the opening to Wednesday, July 13) to serve up Bostonians a cornucopia of locally-sourced proteins and creative vegetable-based side dishes seven days a week, according to founder and CEO, Adam Eskin, who's a Boston native.
This will be the fast-casual chain's 12th location, and its first restaurant outside of New York City, Eskin said—and it's the chain's largest location with 3,000 square feet, and both indoor and outdoor seating.
"We are just really excited to be a part of the fabric and the culinary community here," Eskin said. "Boston already has a great party going and we are looking to join it, not crash it, and we've felt extremely welcomed so far."
Eskin said the restaurant will be staying true to its mission of serving high-quality food by building relationships with both local farms and farms producing food through means of responsible agriculture.
For opening day, the restaurant will feature ingredients from upwards of 14 Northeast farms and growers, including Plainville Farms, Harvest Farms, Kenney Farm, Mapleline Farm, Square Deal Farm, Warner Farm, Queen's Greens, and Open Meadow Farms. Dig Inn announced in March that it's in the process of buying its own farm, following in the footsteps of the Boston-based burger company B.good.
"We believe really high quality, sustainable food—mostly vegetables—should be available to everyone, and thats what we're trying to accomplish," Eskin said.
Dig Inn's menu, curated by Culinary Director Matt Weingarten, is best known for its marketplates, allowing customers to choose between dishes like lemon herb chicken, pesto salmon, braised beef, and grilled tofu, and then pair it with two sides like roasted kale with caramelized onions, carrots and basil with a sunflower seed pesto, and farro and barley with leeks and apricot.
Eskin said the Boston menu will also offer specialty options like a "vegetable butcher block" program featuring seasonal vegetables like grilled cauliflower or squash as the center of the dish, and a "daily digs" program featuring daily specials like roasted duck and summer vegetable poke.
But the biggest difference for the new location will be the addition of a full-time breakfast menu, something that's only been tested at some of its New York locations.
Eskin said morning customers can expect to see dishes like savory avocado toast with house-made lemon zest ricotta, gluten free quinoa waffles, and harvest breakfast bowls served from 7-10:30 a.m. on weekdays, with extended brunch hours on the weekend. A beverage counter will also be available, allowing customers to sip on Counter Culture coffees and Macha Bar teas.