Restaurants
These are Boston's most popular dining destinations on Valentine's Day, according to Uber data
You may even be able to score a last-minute reservation.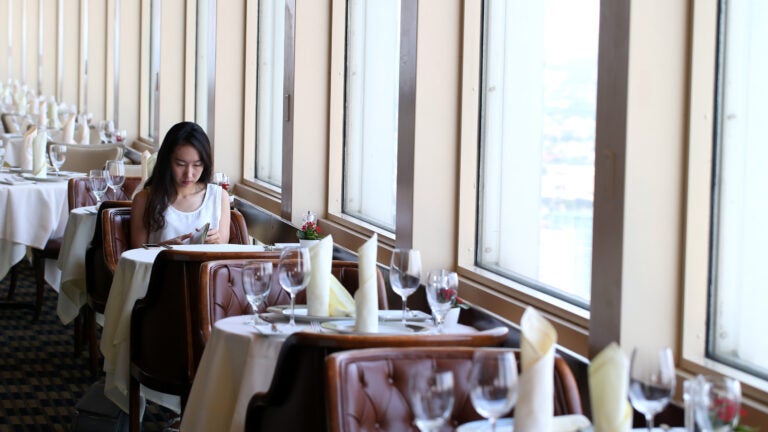 For every Valentine's Day procrastinator out there, the time has come to bite the bullet and pick up the phone for a last-minute reservation. While many restaurants are already fully booked for the holiday, it's worth trying your luck for last-minute cancellations due to the weather (or a breakup, perhaps?).
According to Uber traffic data, these restaurants were the most visited last year on Valentine's Day for users of the ride-hailing app. Looking for something a bit less traveled? A local dating pro says these are the best first-date spots.

This romantic North End restaurant offers homemade pasta and is still accepting reservations throughout Valentine's Day evening on OpenTable. (107 Salem St., North End; bacconorthend.com; 617-624-0454)
This waterfront Italian restaurant is completely booked for Valentine's Day, but reservations are available from Wednesday through the weekend for a later celebration. (520 Atlantic Ave., Financial District; neborestaurant.com; 617-723-6326)
Mamma Maria's intimate, homestyle dining experience is completely booked for Valentine's Day, but reservations are available on Wednesday, Thursday, and Friday. (3 North Square, North End; mammamaria.com; 617-523-0077)
This romantic restaurant complete with a view is also completely booked for Valentine's Day and the weekend, but limited reservations are still available for Wednesday and Thursday night. (800 Boylston St., Prudential Tower, Boston; topofthehub.net; 617-536-1775)
Impress your date at this Italian restaurant, located right on Hanover Street in the North End, over its extensive menu of dinner selections featuring pollo (chicken), vitello (veal), and frutti di mare (seafood). Valentine's Day reservations are still available before 5:30 p.m. or after 8:30 p.m. (416 Hanover St., North End; luciab.st; 617- 367-2353)
The North End's trendy, modern Italian spot has Valentine's Day reservations available before 4:30 p.m. and after 10:30 p.m., but don't let a later reservation deter you; Bricco is known for its late-night menu and cocktail list. (241 Hanover St., North End; bricco.com; 617-248-6800)
This farm-to-table urban tavern with keep you warm with one of  three fireplaces. Reservations are available up until 6:30 p.m. and after 8:45 p.m. on Valentine's Day. (406 Stuart St., Back Bay; post390restaurant.com; 617-399-0015)
This Latin-American restaurant is still taking reservations before 6 p.m. and after 8 p.m. if you want to celebrate your Valentine's Day with a few small plates and a splash of tequila. (222 Berkley St., Back Bay; ticoboston.com; 617-351-0400)
The sophisticated steakhouse chain is filled up for Valentine's Day dinner, but open for lunch during the day and available for early dinner reservations at 4 p.m. Reservations are also available for the rest of the week if you're celebrating a belated holiday. (900 Boylston St., Back Bay; thecapitalgrille.com; 617-262-8900)
This Back Bay chophouse offers steak, wine, and cigars for an elegant Valentine's dinner, with reservations still available before 6:30 p.m. (161 Berkeley St., Back Bay; grill23.com; 617-542-2255)