Restaurants
This wine bar is debuting an all-female winemaker list for A Day Without a Woman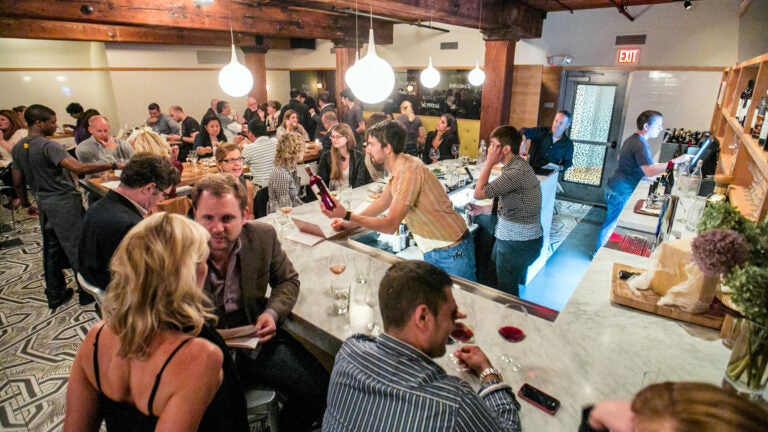 If you'd like to show your support for A Day Without a Woman on Wednesday, your evening might be well-spent at Belly Wine Bar in Kendall Square, where owner and Wine Director Liz Vilardi will be offering a list of wines by the glass produced exclusively by female winemakers.
The new glass pour list, titled "Nevertheless, She Persisted," honors the planned national protest from the organizers of the Women's March. The list will be featured for the next eight weeks, and throughout that period, 10 percent of its sales will be donated to nonprofit organizations such as Planned Parenthood, the ACLU, the NAACP, and the Trevor Project.
https://www.instagram.com/p/BRTl7_VA-Od/embed/
Belly just reopened in August of 2016 after a yearlong hiatus following a 2015 fire that also shuttered the adjacent Blue Room restaurant, which Vilardi co-owns with her husband, Nick Zappia, as well. Therefore, Vilardi said Belly is "not in a position to close," but she wanted to do something to support the values behind A Day Without a Woman.
"Our whole management team is women," Vilardi said. "I'm a female leader, and if we can't close, I want to make all the women who work for us and with us feel like we're doing something."
The "Nevertheless, She Persisted" list features wines made by women from Portugal, France, the U.S., Spain, and Italy. For guests considering a trip to Belly, Vilardi suggests selections from El Maestro Sierra, a female-owned and -operated sherry bodega in Spain's Jerez de la Frontera region. For a glass of Italian wine, Vilardi looks to the wines from Elisabetta Fagiuoli at her Tuscan winery, Montenidoli. The elderly producer is lauded for her skillful winemaking, as well as her decades-long endeavor to help foster and raise children with disabilities, according to Vilardi.
Donating sales to support organizations benefitting women is not a new practice for Vilardi. When her mother died from breast cancer, Vilardi decided to donate a portion of select rosé glass pour sales to the Breast Health Center at Tufts Medical Center. She has continued that practice every summer in the seven years since.
Vilardi considers this new gesture both a response to the current political climate as well as a show of support for women.  
In light of the Trump administration's release of a revised version of the immigration order on Monday, Vilardi said the first organization to receive donations from the new glass pour list will be the ACLU. Vilardi hasn't yet decided in what order the remaining organizations will be featured, but she plans to release the names of featured organizations every Monday on Belly's social media accounts.