Restaurants
Where to go (and what to order) for the best brunch in Boston
Mike & Patty's takes the top spot for Yelp reviewers.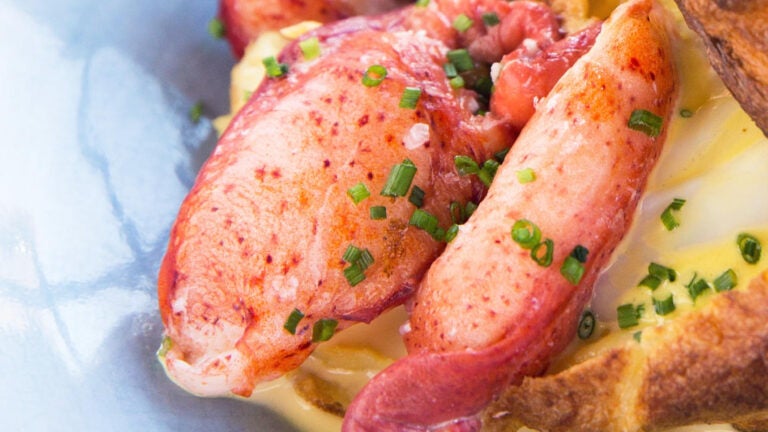 What's better than kicking off your lazy weekend mornings with brunch? This tasty portmanteau has become a staple for Boston weekends, but if you're going to brunch, you want to do it right.
With help from Yelp, we rounded up the best spots Boston has to offer. The list was compiled using Yelp data in Boston, Brookline, Cambridge and Somerville, since December 2016.
Mike & Patty's — 12 Church St., Boston
Located on the corner of Church and Fayette St. in Downtown Boston, this cafe offers eight breakfast sandwich varieties that are guaranteed to make your mouth water. While their best seller is hands down the "Fancy," which is avocado, eggs, bacon, red onions, house mayo and cheddar cheese on Iggy's multigrain bread, owners Mike Gurevich and Ania Zaroda love the runner-up, "Breakfast Grilled Crack," for its gooey, crunchy and cheesy goodness.
And if you're a Mike & Patty's regular who has already sampled everything on the board, consider trying the "Sean," a classic sandwich with cheddar cheese and house mayo, off their secret menu.
City Tap House — 10 Boston Wharf Rd., Seaport
With 60 brews on draft and 40 by the bottle, City Tap House has two words of advice for weekend brunch go-ers: "Come thirsty." Their "Beermosa" concoction of Allagash White, orange juice, Elderflower liqueur and sparkling wine pairs well with nearly any dish, but director of sales and marketing Liz Gartzke says their best seller is definitely "Chicken & Waffles," a classic-made Belgian waffle and buttermilk Cajun-marinated half chicken served with honey thyme butter, red pepper jam and Vermont maple syrup.
3 Little Figs — 278 Highland Ave., Somerville
To chef owner Katie Rooney, 3 Little Figs is a 3-in-1: bakery, barista-craft coffee shop and eatery. With vegan, dairy-free and gluten-free food and drink options, the cafe's diverse menu appeals to a variety of eating styles.
On a light morning, Rooney's go to is a cold-brew coffee with the "Greek Museli," a bowl of yogurt, oats, spices, chia, currants, dates with berries, toasted coconut and pistachios. But when she wants to splurge, Rooney opts for a cappuccino with the house "Black Pepper Biscuit," a breakfast sandwich with scrambled egg, VT cheddar and caramelized bacon.
Oat Shop — 22A College Ave., Somerville
Fresh off their grand opening in January, the Oat Shop serves up a full spectrum of sweet and savory oatmeal bowls, ranging from the "Almond Joy" to the "Sushi." Over the course of its first six weeks, owner Alan Donovan reports the shop's best seller has been the "Bacon and Eggs," which is cheddar cheese mixed in oatmeal topped with a fried egg, bacon and green scallions. Donovan's personal favorite, however, is the "Sriracha Fried Egg", for its kick.
Highland Kitchen — 150 Highland Ave., Somerville
If chowing down on Southern grub while listening to tunes off a Jukebox is how you like to spend your Sunday mornings, then Highland Kitchen is the spot for you. Located "up the hill" in Somerville, this restaurant will surely satisfy your comfort food cravings with beignets, hushpuppies and mac & cheese. According to assistant general manager Brice MacDonald, their best seller is the "Dirty Bird," which is a fried chicken breast with applewood smoked bacon, fried egg, and sausage gravy on a buttermilk biscuit.
Veggie Galaxy — 450 Massachusetts Ave., Cambridge
Dubbed as a diner that just happens to be completely vegetarian, Veggie Galaxy cooks up a plethora of vegan, dairy-free and gluten-free breakfast plates from 9 a.m. to 10 p.m. seven days a week. While co-owner Adam Penn loves both their pancakes and omelets, he usually orders the "Hash Benedict," which features a corned-beef seitan hash made from wheat gluten flour.
If you're looking for something on the sweeter side, co-owner Kathy Tanner suggests the "Stuffed French Toast," which is loaded with vegan vanilla cream cheese, caramelized banana butter, strawberry sauce, and maple syrup.
Loyal Nine — 660 Cambridge St., Cambridge
Just a short walk from Kendall Square, Loyal Nine puts a unique spin on all your classic brunch items. Executive chef and co-owner Marc Sheehan's favorite is the "Augusta Potato Rosti," which is cream-chipped beef on a hash brown, or as he likes to put it: s— on a shingle.
The restaurant's best seller is the "Lobster Popover," and has been on the menu since Loyal Nine started serving brunch at the end of the summer of 2015. It's a traditional popover popped with rendered pork fat and stuffed with local lobster, poached egg, and a classic Hollandaise sauce.