Restaurants
These are the best bagels in Boston, according to Yelp data
Reviewers can't get enough of Bagelsaurus.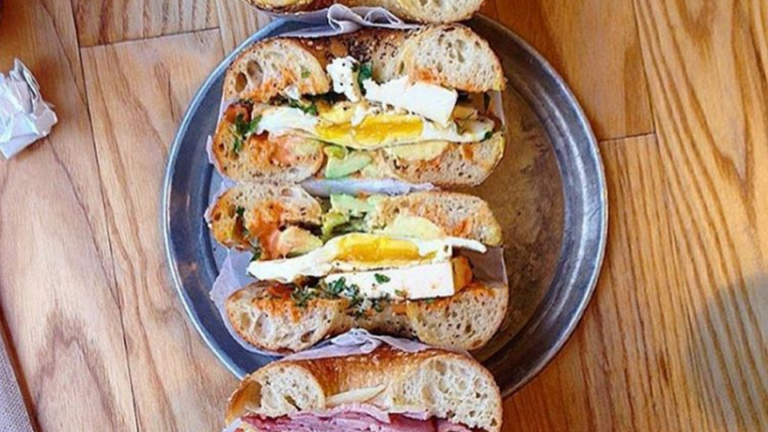 The quest for a high-quality bagel doesn't always have to end in New York City.
With help from Yelp, we rounded up the best places to grab a bagel right here in Boston. The list was compiled using Yelp data in Boston, Brookline, Cambridge and Somerville, since December 2016.
Bagelsaurus — 1796 Massachusetts Ave., Cambridge
Touting nine spread varieties (beet hummus, anyone?) and six unique sandwich offerings, the Bagelsaurus menu has no shortage of options to start your morning off on a delicious note. Their best-seller is the "Classic Jumbo," which has a free range over-medium egg and Cabot cheddar, but owner Mary Ting Hyatt's favorite combo is a cinnamon raisin bagel with mustard butter and griddled ham.
In addition to the recent revival of their famous pizza bagel, which is served every Monday starting at 11 a.m., this summer you can also look forward to fruit-flavored cream cheeses made in house from fresh berries.
Mamaleh's Delicatessen — 15 Hampshire St., Cambridge
If you're a firm believer that bagels are to be eaten for all three meals, then Rachel Sundet, owner and pastry chef of Mamaleh's, is right there with you. Open from 8 a.m. to 10 p.m. and located in the heart of Kendall Square, this Jewish deli serves breakfast all day, every day (with the exception of Mondays).
While their best-seller is the "House Lox," another popular menu item is the "Homemade Ricotta," which is paired with figs and honey. With seafood fillings ranging from sable to sturgeon and specialty bagels ranging from house-made mustard to poppy seed, the possibilities are endless if you want to make your own.
Kookoo Café — 7 Station St., Brookline
Kookoo Café's extensive baked goods selection makes this spot perfect for those who are in need of a bagel but can't quite resist their sweet tooth either. Owner Elie Dunford recommends ordering the "Green Egg & Cheese" to start, which is simply eggs, cheese, spinach, and housemade dijon mayo, and a chocolate espresso brownie to finish.
Thinking Cup — 236 Hanover St., North End
Although Thinking Cup is known for its high-end specialty coffee, their bagels are not to be taken lightly. Next time you visit one of their three locations, order a classic bacon, egg, and cheese, which is cage-free eggs, potato, nitrate-free bacon, and gruyere, to go along with your latte.
Michael's Deli — 256 Harvard St., Brookline
For New Yorkers on the hunt for traditional city goods, Michael's Deli in Coolidge Corner has got you covered. Owner Steven Peljovich regularly "imports" plain, sesame, and everything bagels from New York's own A&S Bagels in Franklin Square.
Any of the sandwiches on the menu can be prepared on a bagel, but a popular "off-menu" order is smoked salmon with house-cooked pastrami and scrambled eggs. Bagels can also be purchased par-baked, allowing customers to store them in their freezers and bake them using an oven in the comfort of their own home.
Green T Coffee Shop — 873 South St., Roslindale
Jump-starting your day with a spicy kick is a fairly easy task at Green T Coffee Shop. The "Eldora," their most popular bagel sandwich, features one egg, jalapenos, pepper jack cheese, and chipotle mayo. For something of lower intensity, try the "California Bagel," which has a hard-boiled egg, scallions, bacon, cream cheese, and spicy guacamole.
Levend Bagelry — 100 Hanover St., North End
On a mission to "bring back the traditional hand-shaped boiled bagel and fight the stigma against gluten," Levend boils and bakes approximately 300 fresh bagels on a daily basis, but come the weekend, that number can reach upwards of 600.
Owner and head baker Alex Jong's personal favorite menu item is the "Sweet Potato Sandwich" on a Herb Salt Flake bagel, which features fresh apples from Red Apple Farm, a fellow vendor at Boston Public Market. Partnering with local businesses is no foreign concept to Jong, who is currently working on a collaboration with a local brewery to produce seasonal beer bagels.