Restaurants
Why local restaurants are banning straws
Fairmont Copley Plaza's Oak Long Bar and Kitchen is one more restaurant joining the #SkipTheStraw movement.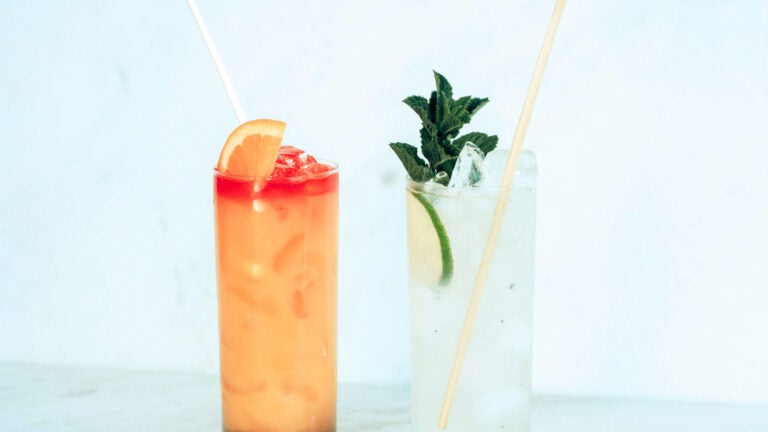 For an essential guide to the city, sign up for How to Boston, Boston.com's weekly culture and lifestyle newsletter.
This weekend, coinciding with Earth Day on Sunday, the Fairmont Copley Plaza's Oak Long Bar and Kitchen will join the #SkipTheStraw movement and become a non-plastic straw establishment.
According to the World Wildlife Federation, at current rate of use, the amount of plastics in the ocean will literally outweigh fish by 2050. The 500 million plastic straws used each day are one of the top beach polluters, according to 5 Gyres, a global health nonprofit organization against plastic pollution in special consultative status with the United Nations Economic and Social Council.
"Once you see a photo of a turtle with plastic stuck in its mouth, you feel you have to do something," said Oak Long Bar and Kitchen's general manager Patrick Mitchell, who began considering Oak's single plastic use last fall.
"The first thing, when we started to think about it was, What can we just do away with?" Mitchell said. "The stir stick straws were obvious: We don't have to replace those with anything. Mostly the straw gets tossed on the bar and isn't used anyway. By December, the stir stick straws were gone. The next step was rethinking drinks with straws."
The bar team created signature cocktails that don't require straws. For highball drinks, however, straws were deemed vital.
"Seventy-five percent of the drinks don't need a straw," said Mitchell, "but for a Collins, you need one. So we started looking at options."
Oak isn't alone in its concern about single-use plastics. This past week, Sonsie on Newbury Street led Boston-based Lyons Group's move to swap plastic straws for eco-friendly bamboo paper ones. Lyons' other venues — among them Towne Stove and Spirits, Scampo, and Summer Shack — will follow next week. (All takeout containers will be eco-friendly, too.)
As of March, Eastern Standard in Kenmore Square had eliminated all single-use straws for reusable ones made from either polypropylene or metal. Before, they had purchased an estimated 60,000 plastic straws annually. Sister spot and cocktail bar The Hawthorne has used metal straws since opening in 2012.
Hilton Boston Logan Airport switched over to 100-percent biodegradable straws last winter, too. The venue estimates it uses 250,000 of those straws a year.
At Oak, Mitchell opted for Hay! Straws, which are made from natural wheat stems and are 100-percent biodegradable, and found an aesthetic bonus.
"We make so much effort crafting a beautiful drink, then throw in this black, plastic straw that kills the whole look," he said. "It's like buying a Louis Vuitton suit and then adding a clip-on a bow tie from Target.
"We found that a Hay Straw enhances the drink; it actually looks better," Mitchell continued. "It pulls it to where it should be. These are slender, elegant straws."
Mitchell said that for the team at Oak, this is just the beginning of taking individual responsibility.
"As we start to do this one piece at a time, there will be more questions about, What do we need?" Mitchell said. "Can we get rid of it, or replace it with something that's better for the environment? We're starting a great conversation."